(Note: The links in this post are affiliate links, and we will be compensated when you make a purchase by clicking through our links. Read our disclosure policy here.)
If you are a fan of Mickey's Not So Scary Halloween Party, you will be glad to know that Disney also has a Disney themed cruise called Halloween on the High Seas that runs in September & October.  It is the perfect way to celebrate Halloween.
What you will find during Halloween on the High Seas Cruise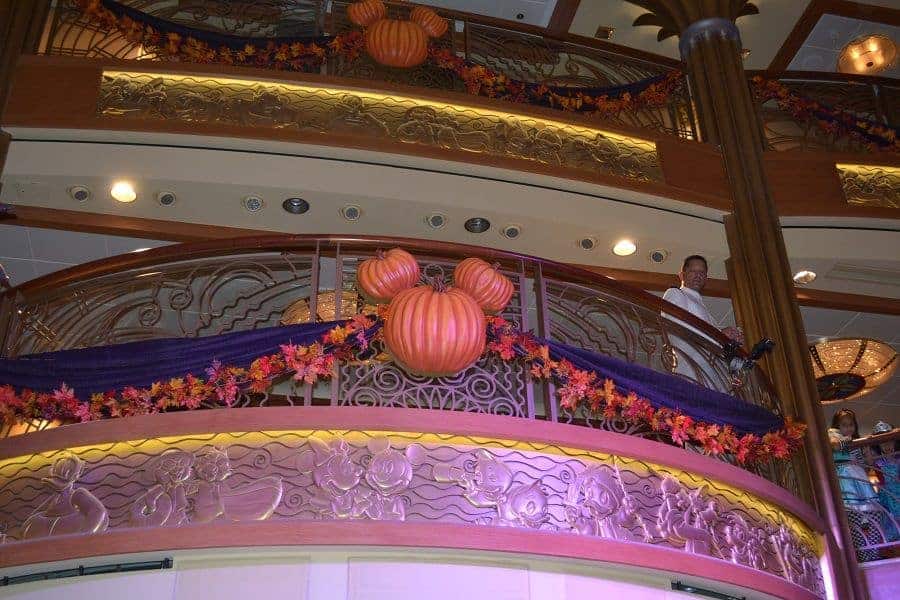 On board the ship, you will find tons of Halloween decorations!  Everywhere you turn there are pumpkins and fall decor. It is all in good family-friendly taste. Nothing is scary or spooky.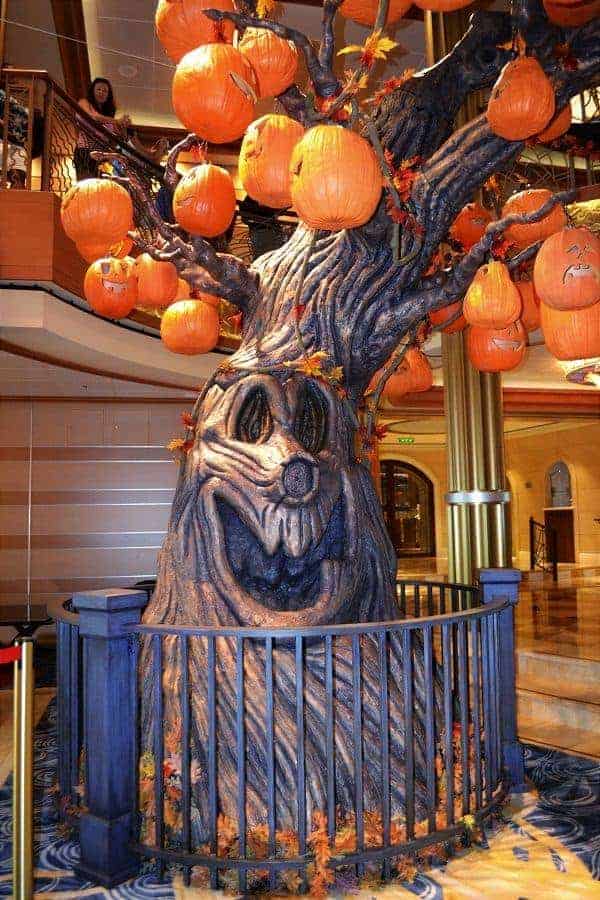 The Atrium seems to be the hub for all things Halloween. You will go there for storytelling, meeting characters, dance party, trick or treating & more. You will even spot an evolving Halloween Tree that magically grows pumpkins!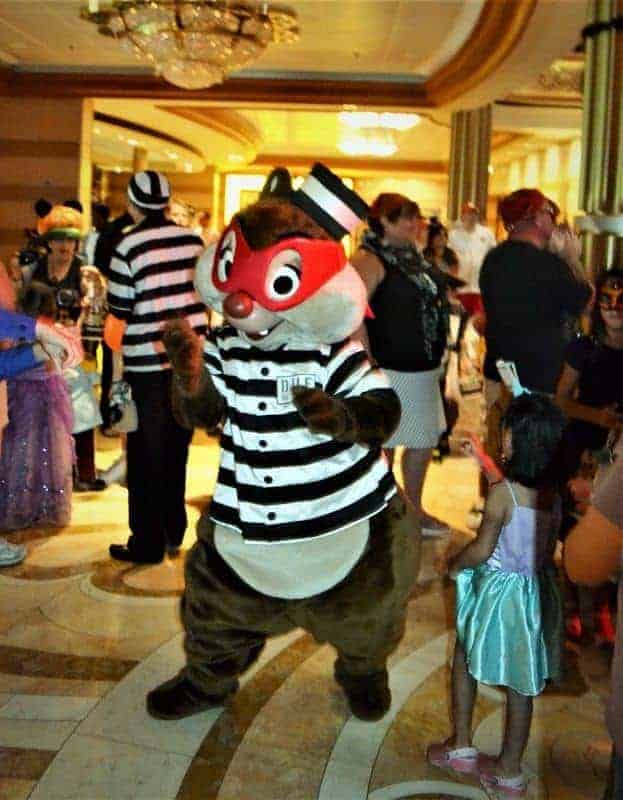 In addition to Pirate Night, the Halloween on the High Seas Cruise also has Mickey's Mouse-querade Party. This is a time where families can dress up and dance with the Disney characters while trick or treating! Your kids will definitely want to have their halloween costumes to wear for this event.
There is so much to do on board this ship, that you can't possibly do it all.  They have family crafts (like mask making) and even Pumpkin Carving contests for teens in the Edge.  If  you like Tim Burton's The Nightmare Before Christmas, it plays in the theater (it is actually an interactive movie experience where you're part of the action)!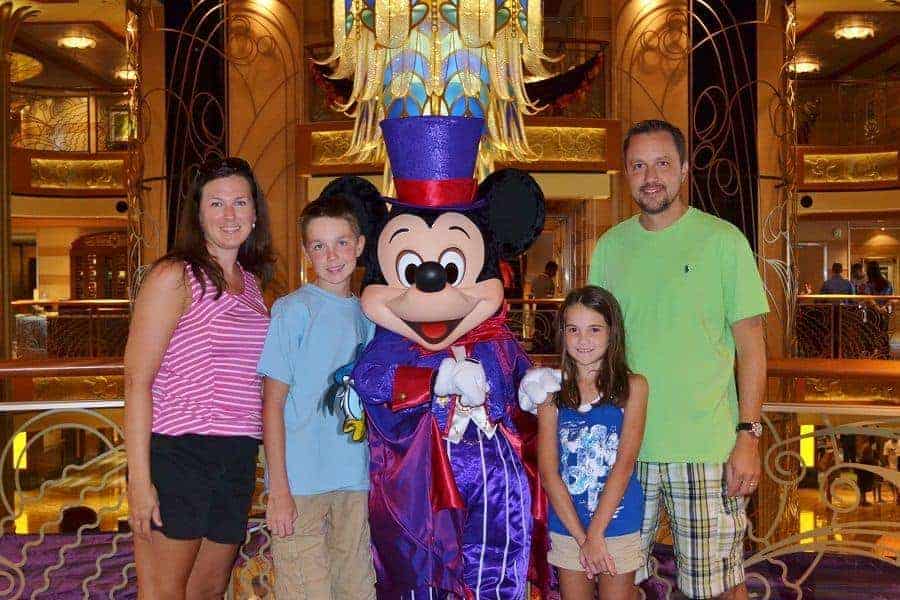 There are plenty of chances for meet & greet with the characters, but you will most definitely want pictures with the characters dressed in their Halloween Costumes! Don't worry if you don't catch them the night of the Halloween party, they will be dressed up the next morning as well.  One thing we forgot to bring was our Disney Halloween Shirts, so be sure to pack those when you go.
Several nights, there will also be a storytelling experience in the Atrium (near the Pumpkin tree). There will be a man who tells a story of why we celebrate Halloween with pumpkins.
Overall, Halloween on the High Seas was a great experience! The kids were able to take part in some pretty awesome things that they normally wouldn't do on a cruise and got to see their favorite characters dressed up in Halloween costumes.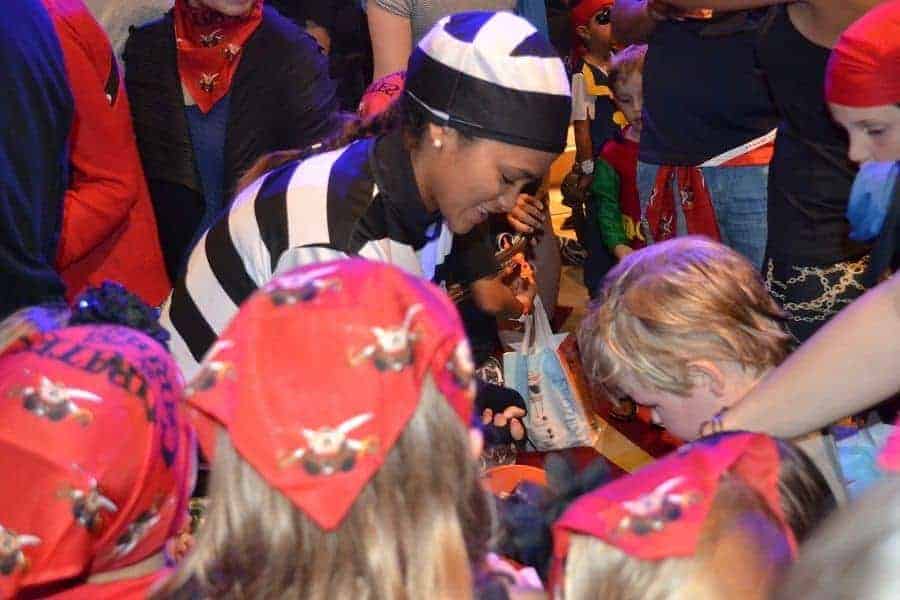 The only thing that I wished had been a little better run was trick or treating. We assumed that trick or treating would take place in more than one location, but all they did was have cast members handing out candy in different spots in the atrium. It was hard to spot the cast members because the atrium was very crowded since the dance party was also going on there.
Check out this video as an example of what you can experience during Halloween on the High Seas!

Have you taken a Disney Halloween Cruise? What was your favorite part?