One of the most popular treats at Magic Kingdom is a Dole Whip. If you have never had one, it is a something you need to try! This delicious frozen dessert is so popular that Disney even has started selling merchandise featuring the treat! What also makes it special is that it can only be found at a few places at Walt Disney World and only one place in the Magic Kingdom.
What is a Dole Whip? The traditional Dole Whip dessert is pineapple soft serve ice cream made by the Dole Company. It is smooth and sweet with just a touch of tang! You can get it in a cup or a cone. One of the main draws to this delicious treat is that it is vegan and dairy free. Wondering what's in a Disney Dole Whip?
Ingredient List for the Pineapple Disney Dole Soft Serve According to Packaging:
Sugar
Dextrose
Stabilizers (Cellulose, Gum, Xanthan Gum, Locust Bean Gum, Guar Gum, Karaya Gum, Pectin)
Coconut Oil
2% or less of the following:
Maltodextrin
Citric Acid
Natural and Artificial Flavor (contains Pineapple Juice)
Modified Food Starch
Malic Acid
Beta Carotene (color)
Mano & Diglycerides
Silion Dioxide (anticaking)
Vegan Statement: The ingredients used in this product do not contain dairy, therefore, the product is considered dairy free. The Rabbinial Guidelines classify this product to be kosher-dairy. Allergen control and sanitation procedures are in place and are strictly followed. In addition, this product does not contain animal based ingredients.
You can also get a Dole whip swirled with Vanilla soft serve. Just know that if you do this, you may find that it is no longer vegan and dairy free.
If you would prefer to drink your Dole Whip, you can do that too! Another variation on the popular dessert is the Dole Whip Float. It is simply Dole Whip on top of a cup of Pineapple Juice. It is equally delicious and refreshing for those sultry Florida afternoons!
Wondering where to get a Dole Whip at Magic Kingdom?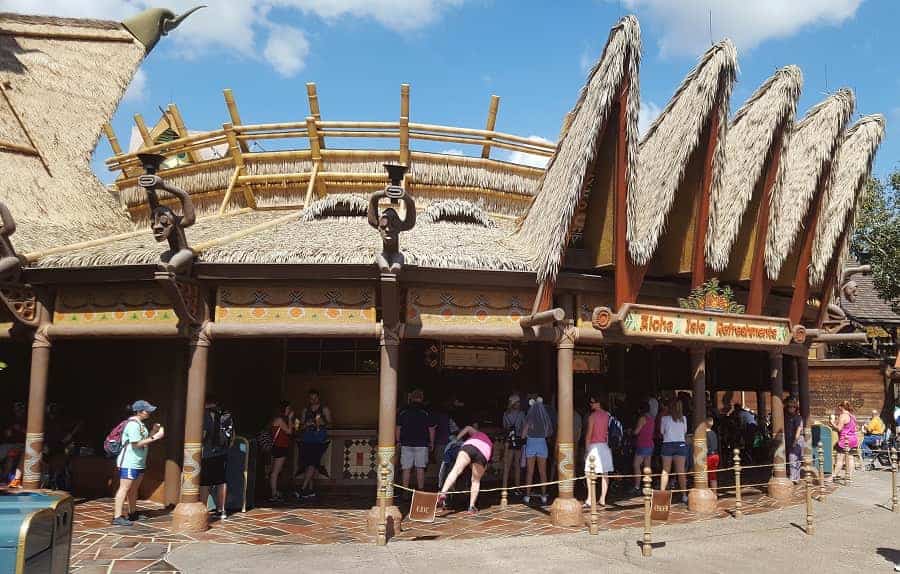 Aloha Isle Refreshments in Adventureland is where you will want to go to get your Dole Whip at Magic Kingdom. This large quick service location is behind Aladdin's Magic Carpets and adjacent to Tiki Tiki Room. One of the great parts of this location is that you can actually avoid the line altogether by taking advantage of mobile ordering through the My Disney Experience app! Simply show up at the left hand side of the counter to pick up your order!
TIP: If you are on the Disney Dining Plan, you can use a snack credit!
What is your favorite treat at Magic Kingdom?