(Note: The links in this post are affiliate links, and we will be compensated when you make a purchase by clicking through our links. Read our disclosure policy here.)
Disney's Animal Kingdom Lodge Resort  is by far the most spectacular of all the Disney Deluxe resorts.  There are many reasons why Animal Kingdom Lodge is so popular among guests, but probably the most important of what sets this resort apart from other Disney resorts is that it is set on a 43-acre wildlife preserve.  This allows you to experience the wildlife in its truest form all the while enjoying a full-on Disney resort experience.
Disney's Animal Kingdom Lodge Resort is divided into two separate resort areas; Jambo House and Kidani Village. Both Jambo House and Kidani Village have studio rooms and one, two, and three-bedroom villas.  Each of these also has it's own restaurants and pools, but the main hub of Animal Kingdom Lodge is Jambo House.
Animal Kingdom Lodge Resort: Jambo House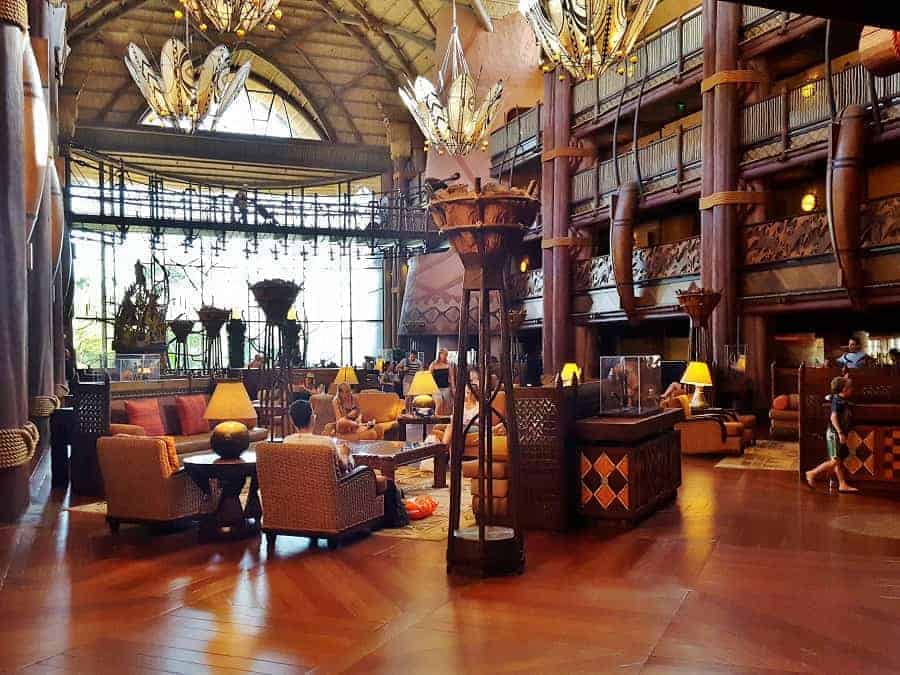 Designed by architect Peter Dominick, known for the Fort Wilderness Lodge, this resort makes you feel as if you are really stepping foot in an East African national-park lodge.  The theme will be found in all aspects of the design of this resorts, from the carved designs in the woodwork to the lighting.
Animal Kingdom Lodge Jambo House Rooms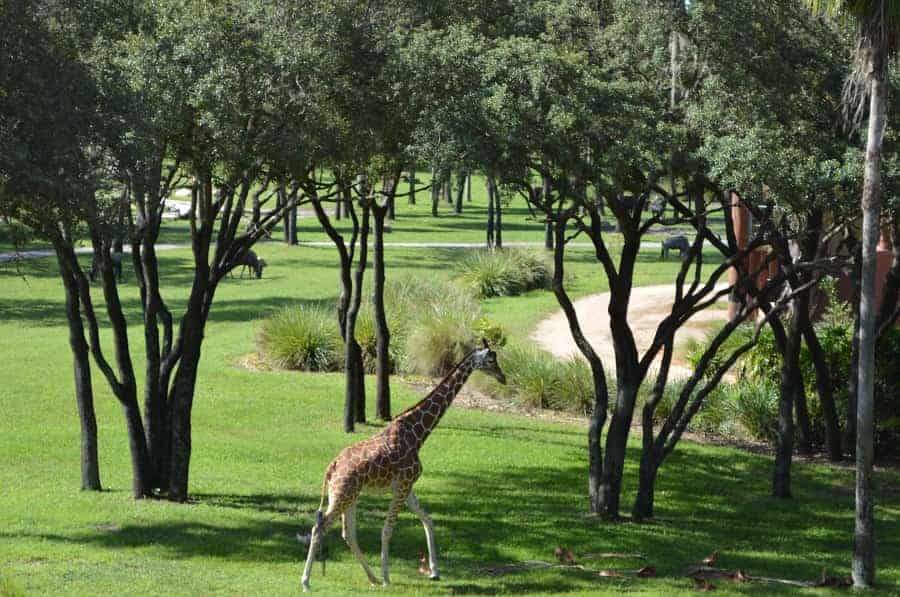 Animal Kingdom Lodge has several different types of rooms, but the most popular is the Savannah View rooms. If you get the luxury of having a Savannah view room, you will be able to observe free-roaming wildlife right from your balcony. We're talking giraffe, zebra, gazelles, wildebeest, okapi and more! Don't worry, if you can't afford the luxury of a Savannah room, you can go just outside the main lobby to an elevated rock platform to get an up-close view of the animals!
Animal Kingdom Lodge Jambo House Dining Options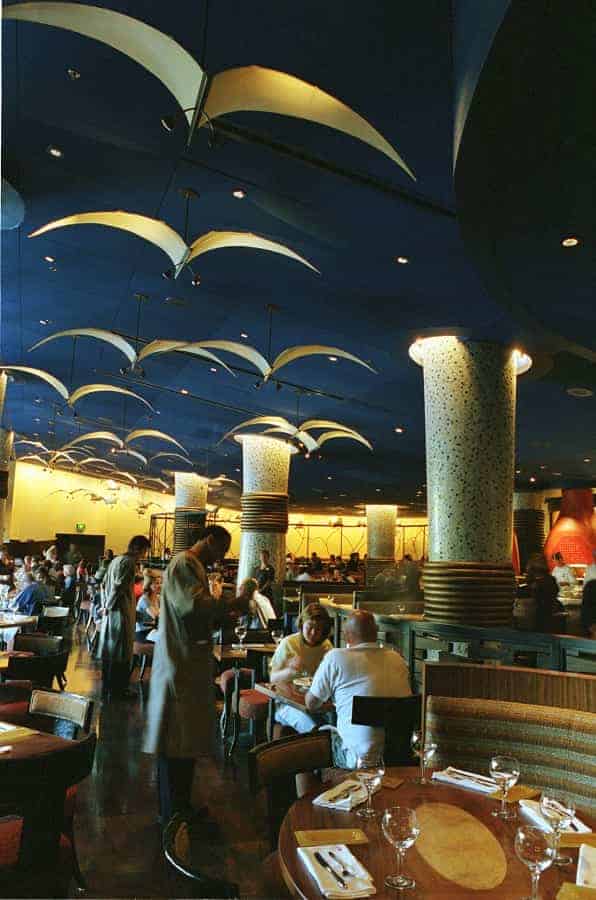 Foodies will love the food options at Animal Kingdom Lodge.  You will get the chance to eat at Animal Kingdom Resort's 2 award-winning restaurants: Jiko, The Cooking Place and Boma, Flavors of Africa. Boma's breakfast buffet is pretty standard as far as Disney buffets go, but the dinner at Boma if pretty fantastic. It features cuisine from over 50 African countries!
If you are looking for a quick dining option, you'll need to head over to pool and just past it is Mara.  They have wonderful selections on the menu that you won't find anywhere else. Be sure to try the Chicken Pita with Sun-dried Tomato Hummus, Cucumbers, Tomatoes, Mixed Greens, and a Mint Yogurt Sauce served with Couscous.
Jambo House Uzima Pool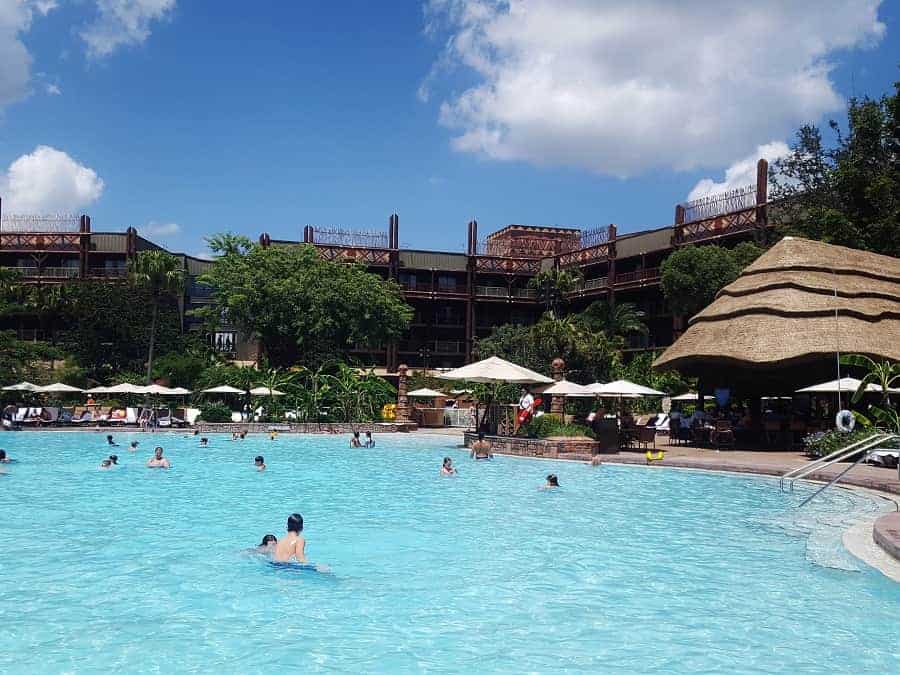 You will want to spend a little time lounging over at the Uzima pool located at Jambo House. This pool features a zero point entry, small water slide, and full service bar.
Animal Kingdom Lodge Resort: Kidani Village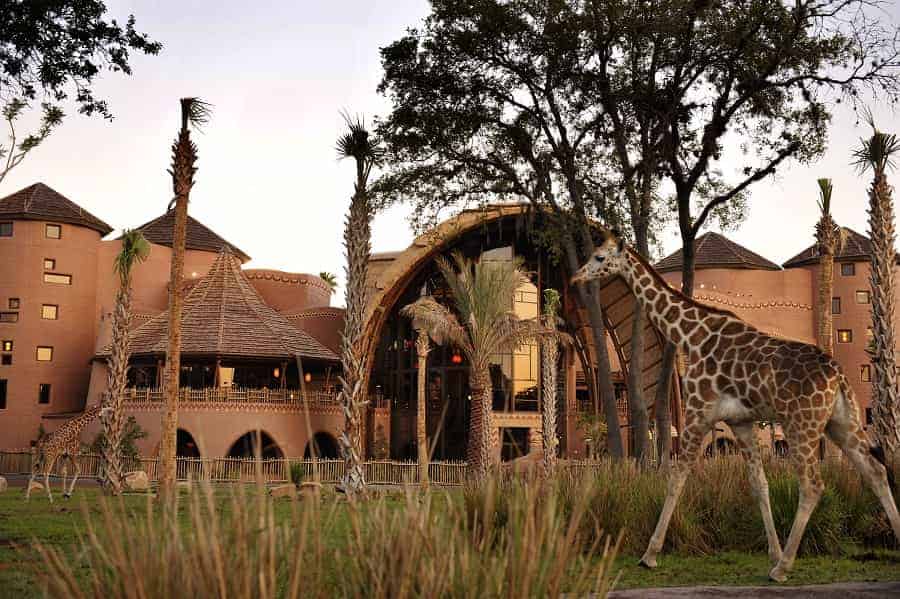 Kidani Village, a Disney Vacation Club property at Disney's Animal Kingdom Lodge was inspired by the traditional African kraal (traditional African village of huts, typically enclosed by a fence).  You'll find many areas fashioned in a circular themed, with seating and room design.
Rooms in Kidani Village
Rooms are very similar in styling to those in Jambo House with typical African themed bedding and decor. If you are staying in a studio villa, you will find a mini-fridge, sink, toaster, coffeepot, and microwave.
Samawati Springs pool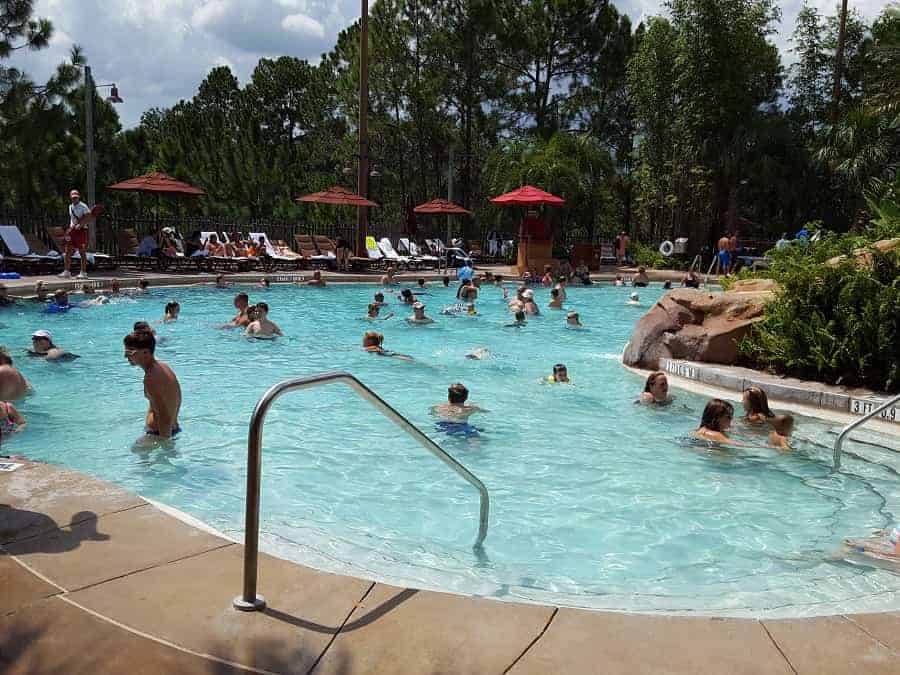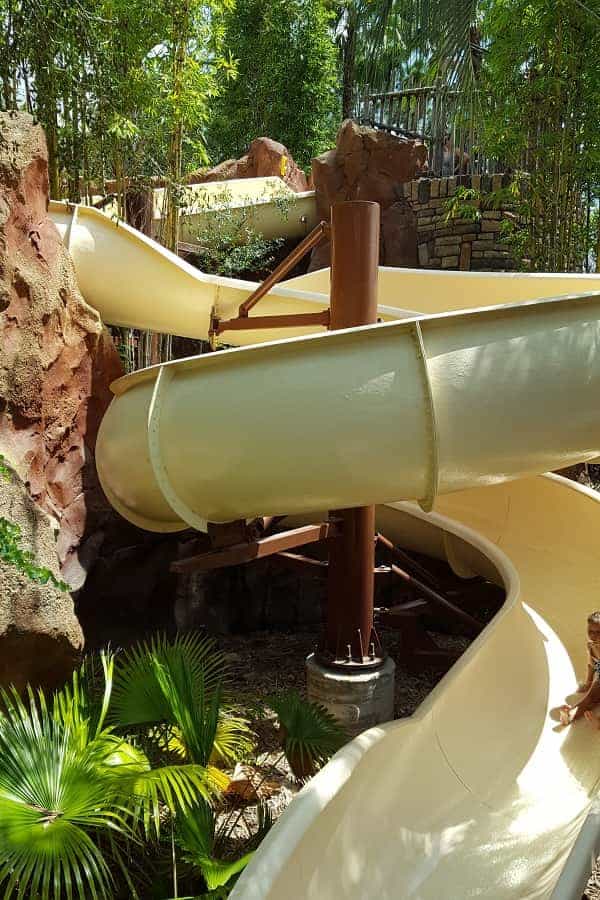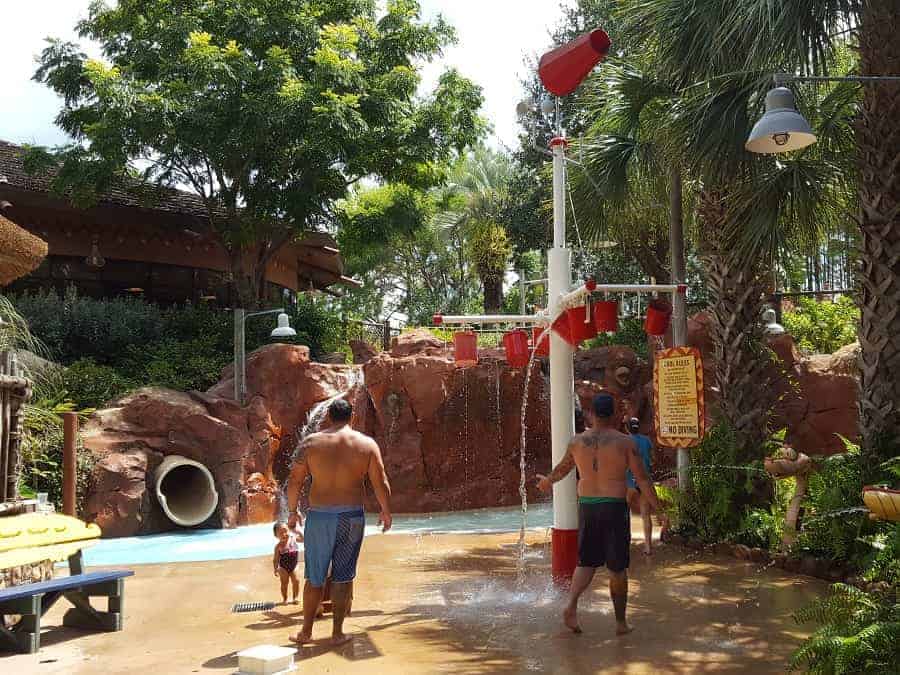 The Samawati Springs pool at Kidani Village is small, but nice. This pool has a much better slide than Uzumi, and the pool areas has kid-friendly features like a water-play zone and playground. You will find plenty of seating in the shade at this pool (and play area).
Sanaa Restaurant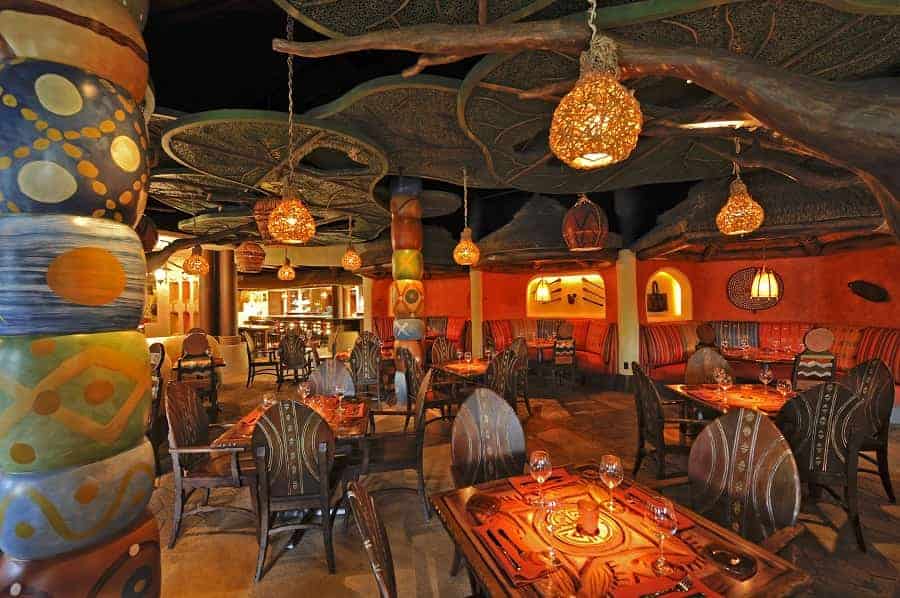 One of Disney's most sought after restaurants happens to be inside Animal Kingdom Lodge Resort. Sanaa is an East-African restaurant serving authentic African dishes with an Indian flair and sits right along the reserve so you can watch the animals as you dine. You will start your meal with Indian-style bread service that comes with 9 different accompaniments consisting of chutnies, hummus and butters.  Be sure to try them all!  Menu favorites include the Butter Chicken and African Triple Mousse for dessert.
Animal Kingdom Lodge Resort Activities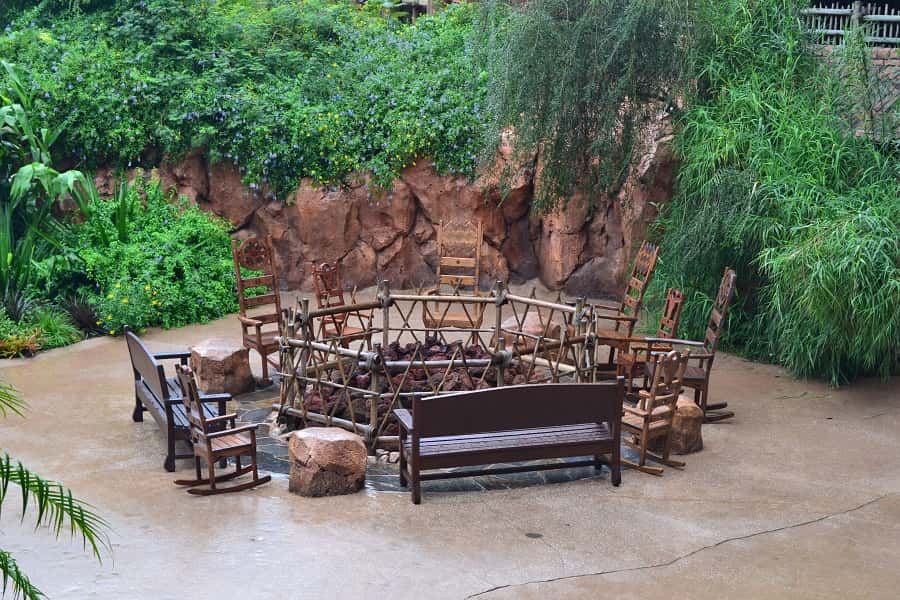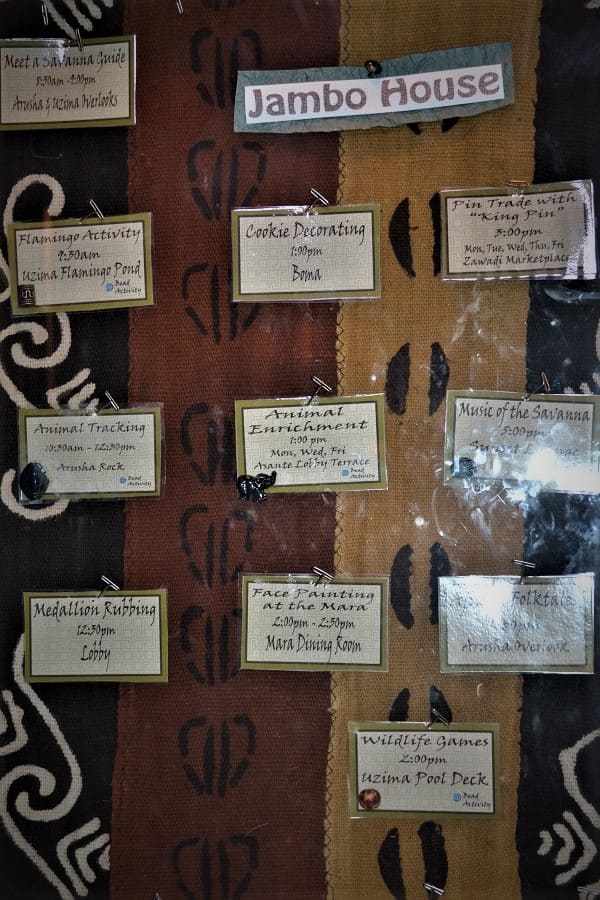 Kids will really love Animal Kingdom Lodge Resort because there are a ton of activities for them. Whether it is playing African drums, hearing stories old by African storytellers or roasting marshmallows, kids can stay busy during their entire stay. You'll find a list of activities by the front desk and at the bottom of the stairs near BOMA.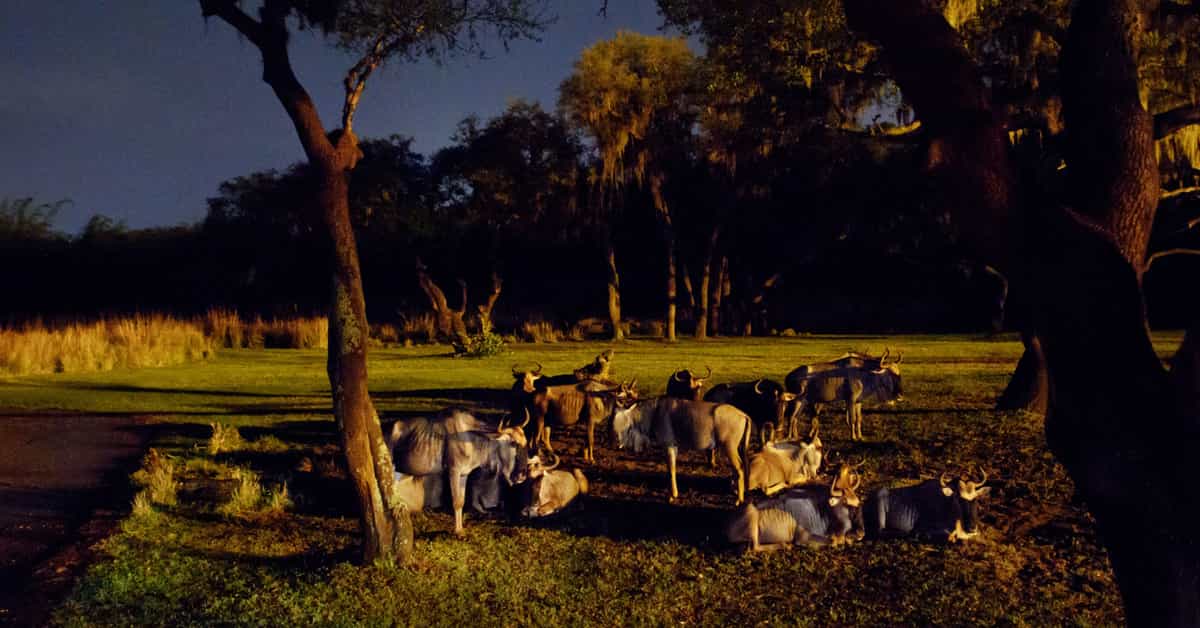 Looking for something new and different to do at Walt Disney World other than go to the parks? Why not book a Starlight Safari at Animal Kingdom Lodge?  This night-safari will take you on a journey through the savanna in an open air vehicle where you will see wildlife in a whole new perspective!  How will you be able to see the animals at night? You will be given a pair of Night Vision Goggles that turn the darkness into light!
Take time to walk through the interior and exterior of Animal Kingdom Lodge Resort.   There are many traditional African details placed in each & every place you go.  You can even hunt for Hidden Mickeys, or browse the really cool African themed The Zawadi Marketplace gift store!



Have you been to Animal Kingdom Lodge Resort in Disney? What was your favorite part?