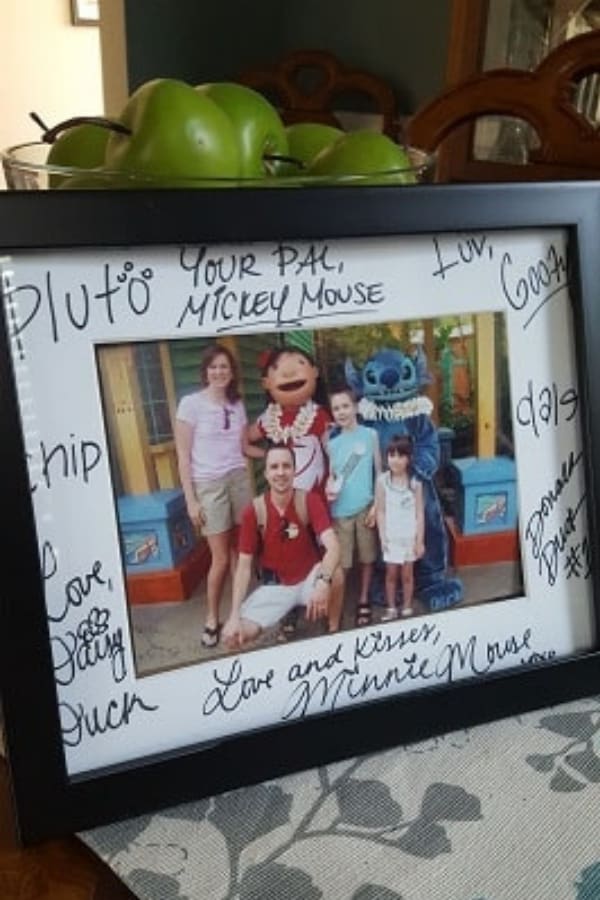 Do your kids like getting Disney character autographs at meet & greets, but don't really ever look at their Disney autograph books once they are home? Collecting autographs is a ton of fun and we know you want a better way to be able to enjoy them. Consider doing Disney autographed picture frame.
Creating a Disney Autographed Picture Frame
Instead of bringing an autograph book for Disney characters to sign, you just bring a photo mat.
You can find photo mats in different colors and styles at most craft stores and online at Amazon.
Pair it in a bag with a sharpie(s) and have each character you meet during your trip sign it.
If you want to add a little bit more pizzazz to your Disney autographed photo mat, you can even use color or glitter sharpies OR get a black photo mat and have the characters sign in silver or gold!
Once you are home, you can place your favorite photo in your own Disney Autographed Picture Frame to enjoy everyday!
Wondering where to go to get Disney character autographs for your photo mat?
What do you think about getting Disney character autographs on photo mats