If you are taking a Disney Cruise more than likely it will be out of Port Canaveral. You might find the entire Disney Cruise Port Canaveral boarding process a bit overwhelming if you haven't been to the terminal before.
There are a lot of lines, and a ton of people, and the last thing you want to do is to be stressed out as you are embarking on your magical vacation because you don't know what to expect.
Being prepared is one way to make the Disney Cruise boarding process a little easier.
Everything You Need to Know about Taking a Disney Cruise from Port Canaveral
Port Canaveral Parking
If you are planning on parking your car at Port Canaveral, you are going to want to make sure that you are prepared for the cost and factor that into your cruise budget. Cost is on average $17 a vehicle per day.
You do not need to pay in advance of your trip, just pay to park at the cruise terminal's designated parking area.
If you don't want to pay the hefty fee for Port Canaveral Parking another option is to park off-site and be shuttled to Port Canaveral. This is a much less expensive method and the one we personally use every time we cruise out of Port Canaveral.
You can park your car at ParkPort Canaveral, located at 500 Thurm Boulevard, Cape Canaveral, FL 32920. If you park for the duration of your cruise, you can receive shuttle service to Port Canaveral and pay per day.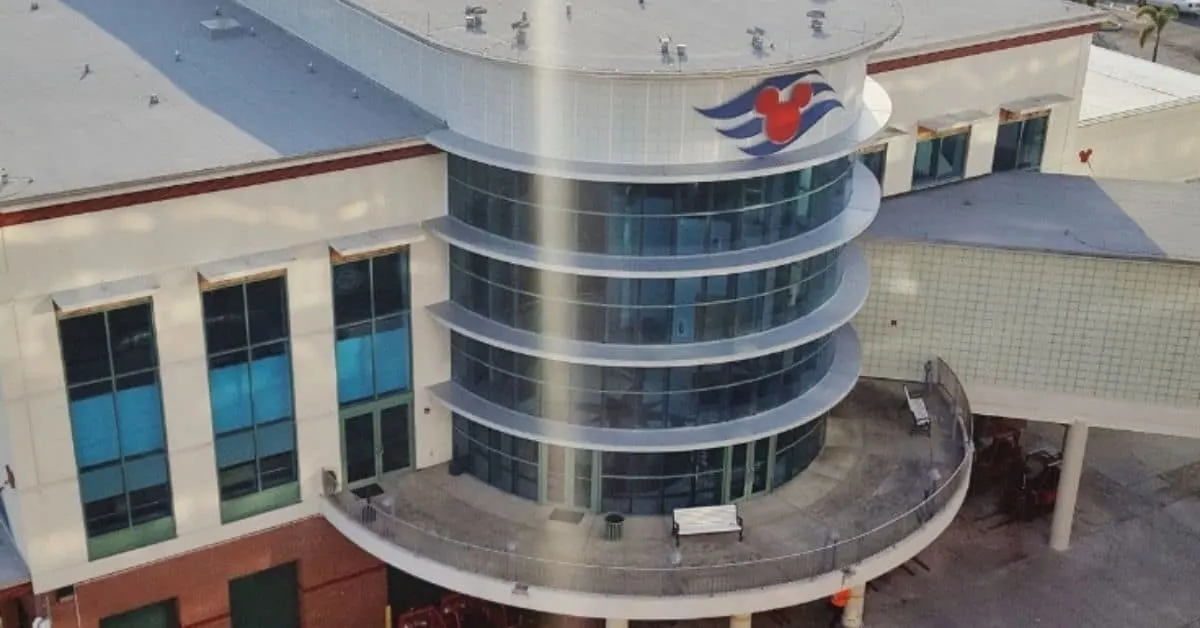 Luggage Collection at Terminal Gate
Once you park or are transported to the Cruise terminal, you will unload your luggage and hand them over (if you choose) to a luggage attendant.
When you received your cruise documents, you would have been given paper luggage tags for your belongings. Be sure to tag each of your bags and make sure that your cabin number is visible.
Make sure all your bags are securely fastened so the contents don't fall out.
Want to bring your own alcohol on board?
You can bring alcohol with you, but be sure you follow the Disney Cruise line Alcohol policy. If you don't, you might be wasting money having it thrown away before you even get to enjoy it.
Can you carry your own luggage on board?
Yes, you may carry your own bags. We found that if you are arriving after 1pm that you are better off bringing your luggage on board with you.
This way, you can go straight to your room with your bags rather than waiting (sometimes hours) for your bags to arrive.
Inside the Port Canaveral Disney Cruise Terminal
Once you enter the actual terminal building, you will find that the Disney Cruise Terminal is sectioned off into different areas and you will want to make sure you take your time when you arrive to familiarize yourself with where you are and where you need to go.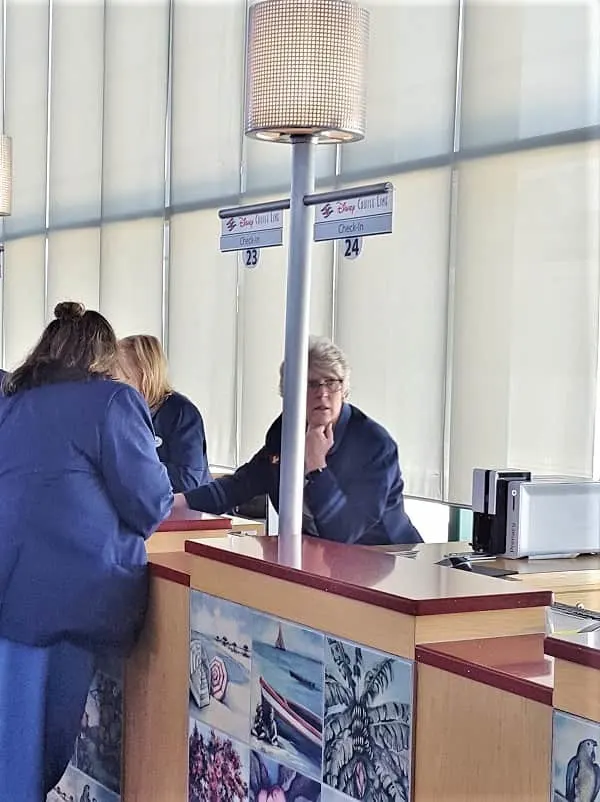 The first line will be for the check-in process and this is relatively painless.
The main thing to remember is to keep your family with you (each person in your party will need to be photographed).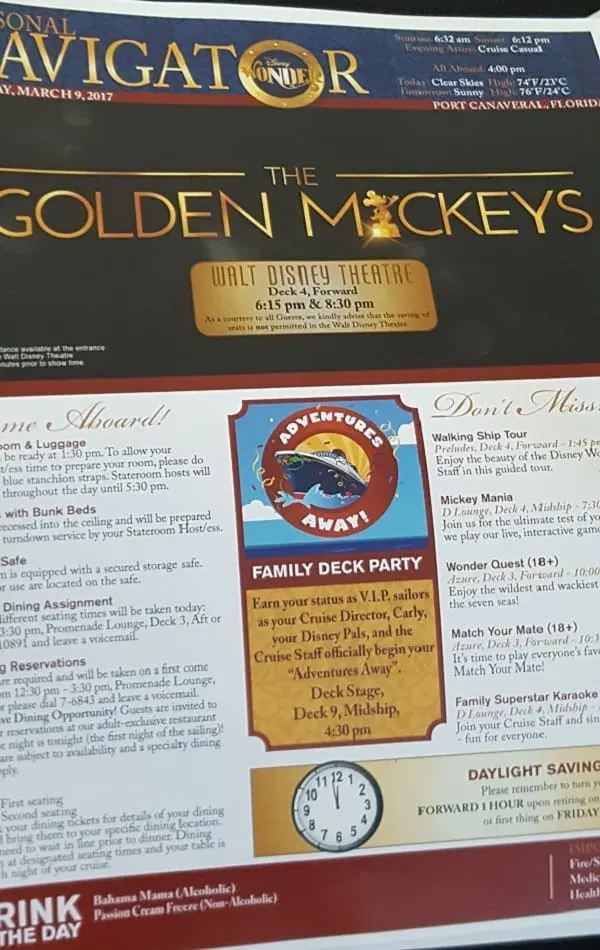 At this time, you will be given your stateroom key cards, lanyards, and a Cruise Navigator that gives you show times, activities on board the ship and other information.
You will then wait until your cruise boarding time is called to leave the terminal and get on the ship!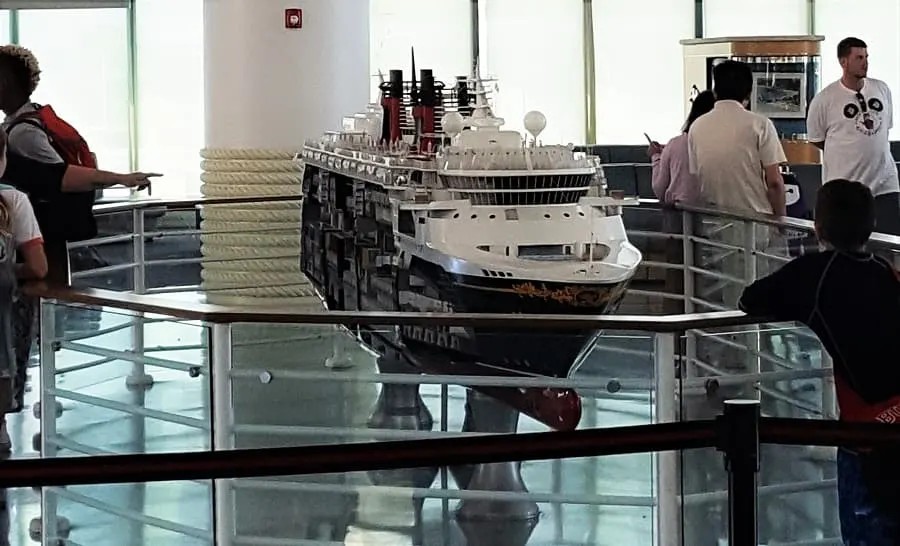 While you are Waiting to Board the Cruise Ship
If you have your camera, there will be an opportunity for your family to take a picture with Mickey before boarding. This line will form in the center of the terminal.
There will be plenty of times to pose with Mickey on the ship, so if you don't have time, don't worry. Mickey is on the ship and there will be MANY times available for you to have your picture taken with everyone's favorite mouse.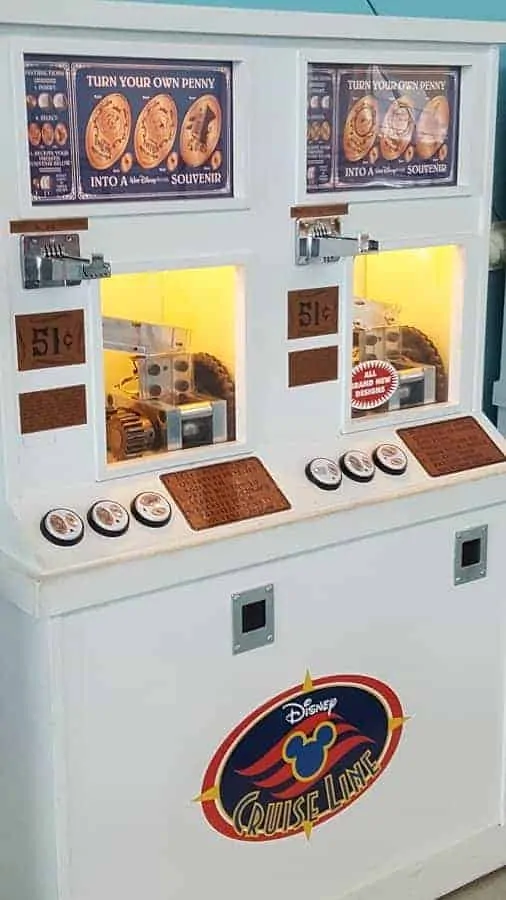 If you collect Disney Pressed Pennies, there is a Pressed Penny machine in the terminal. We loved those pressed pennies and this is the only place where you can get a Disney Cruise pressed penny!
If you have children and are planning to use the Kids Club, you will find a registration station located in the far right corner.
Here, you will register your children for the kid programs and they will be given a MagicBand similar to the ones you get at the Disney World parks.
This can also be done aboard the ship, but some find it nice to go ahead and get it out of the way. If you are in need of a bathroom or area to change into your swimwear before boarding the ship, you will find restrooms located to the right as you enter the terminal area.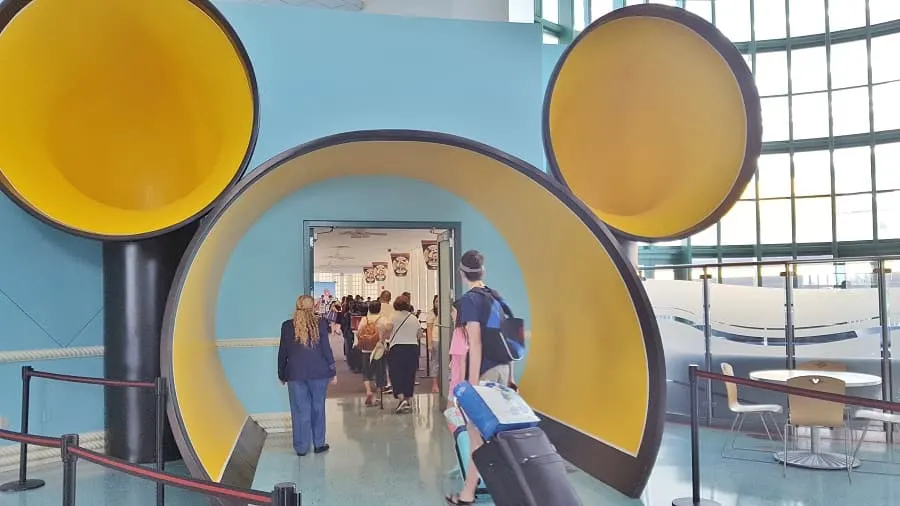 Boarding the Disney Cruise Ship
Once you pass through the large Mickey Mouse ears, you enter a hallway with another picture opportunity. This isn't a picture with Mickey, but with a backdrop showing the Disney Cruise ship.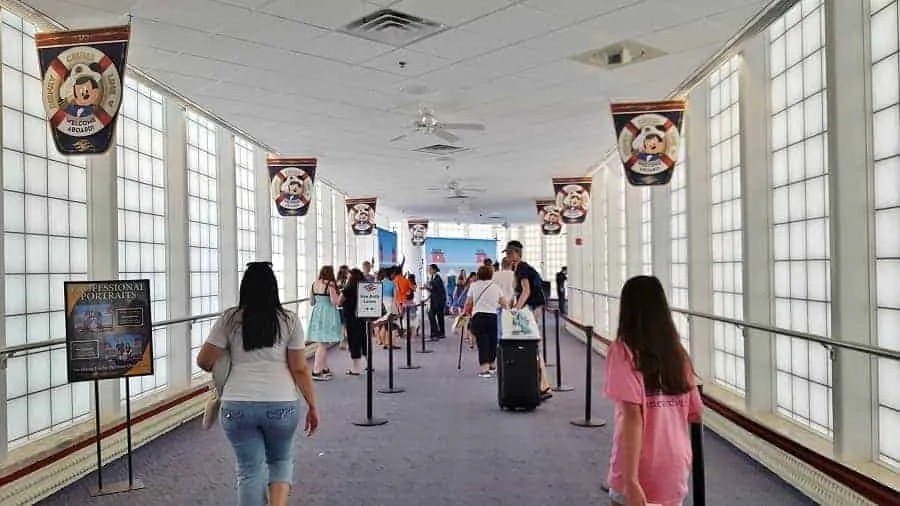 Here is a little Disney Cruise Secret: The line for this is LONG. If you move to the right, you will be able to bypass this completely and go straight to the ship!
When you board the ship, a cast member will greet you and ask for your party's name and if you are celebrating a special event. They will announce your event and your family's arrival once you board.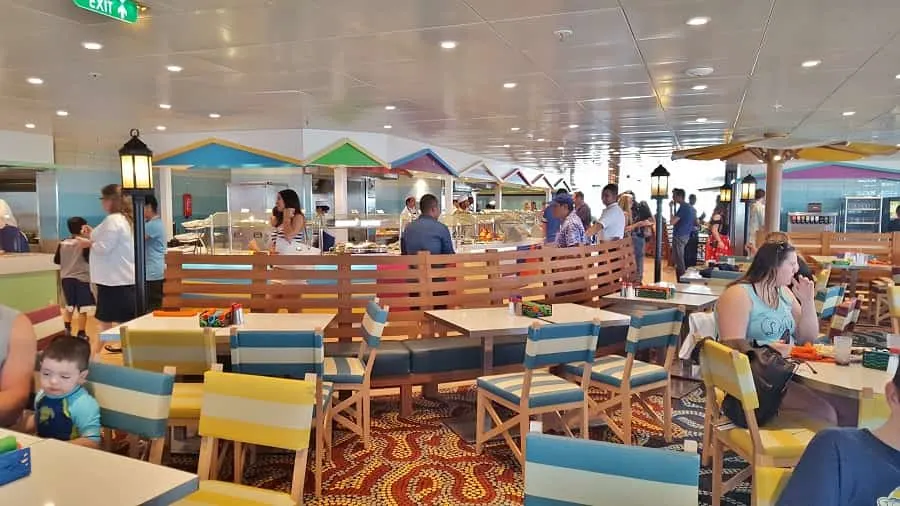 Once Onboard Your Disney Cruise Ship
Depending on the time you board your Disney Cruise, you may have to wait before going to your stateroom.
If it is after 1:30, you can go straight to your room and see if your luggage has arrived. If not, you can go straight to the lunch buffet or spend time at the pool.
If you didn't already wear your swimsuit or change at the terminal, you can change in the bathrooms near the pool.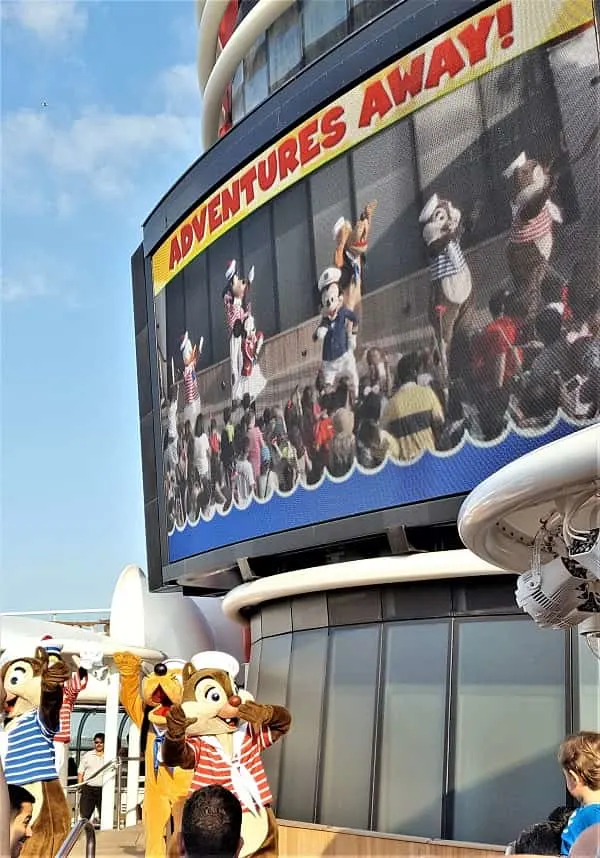 Sail Away Party
Later in the day (usually around 4pm), there will be a Sailing Away Party and you will want to make sure that you attend!
Overall, the boarding process for Disney Cruise is pretty basic, but when you walk in, you can very easily get lost in all the lines. I hope these little pointers help to make your transition from terminal to ship a little easier!
Need a Place to Stay in Port Canaveral Before Your Disney Cruise?
Those looking for a hotel to stay the night before (or after) your cruise, consider the Radisson in Cape Canaveral. Not only is it a nice hotel that is close to the port, it has on-site cruise parking through ParkPort Canaveral mentioned above!
You can book a Cruise package where you can stay at the hotel and then leave your car during the cruise (and get a shuttle to Port Canaveral).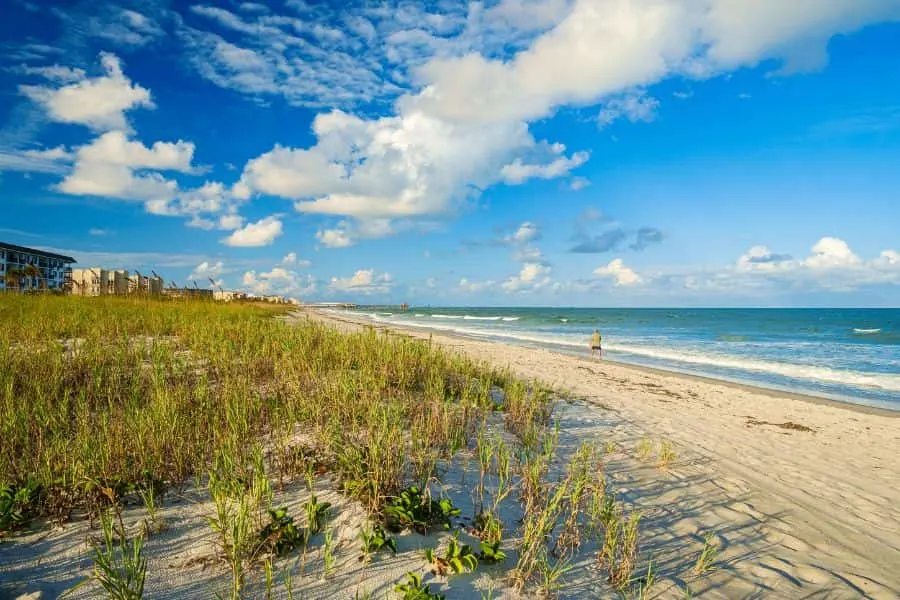 Another option is to stay in nearby Cocoa Beach. This beach town is just a few miles south of Cape Canaveral and definitely worth a visit if you are planning to stay in the area prior or after your cruise.
There are plenty of things to do in Cocoa Beach, but even if you just want a great beach day, it is well worth the trip.