If you haven't been to Cars Land in Disneyland California Adventure, you are really missing out on some fun! This part of the park looks like "the cutest little town in Carburetor County," and is filled with 12 acres of fun attractions inspired by the Pixar hit franchise, Cars. Here are some of the best things to do in Disneyland Cars Land.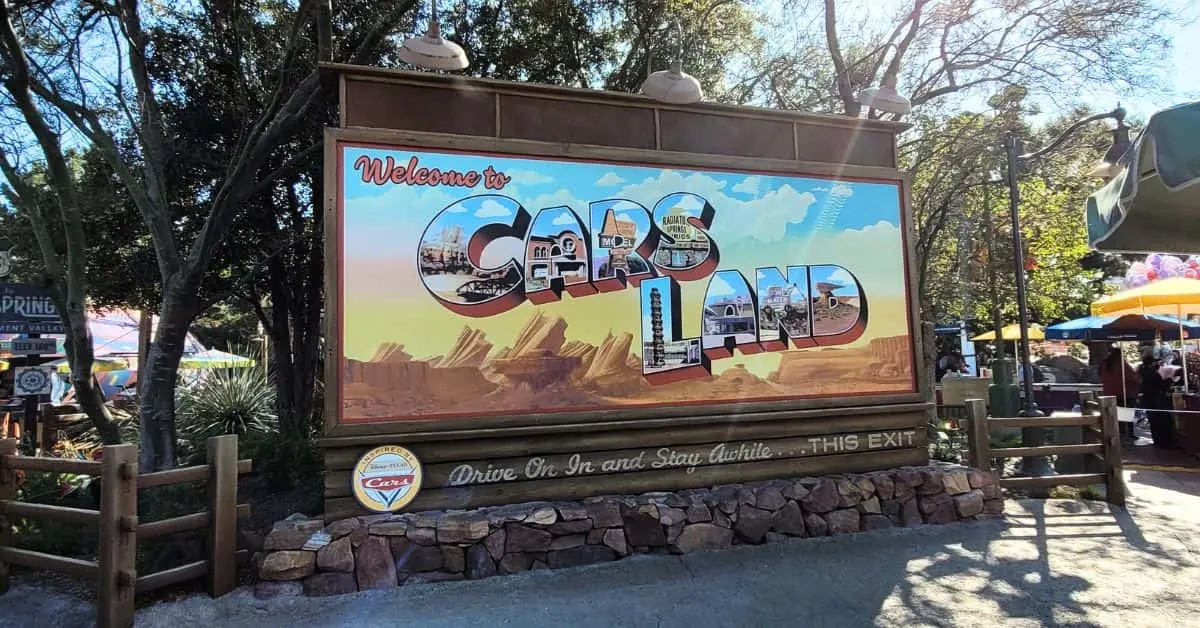 You don't have to be a fan of the Pixar movie to appreciate all Cars Land has to provide in terms of experiences. But if you are a fan of Cars, you are going to love this place even more! It looks just like the movie!
7 Disneyland Cars Land Rides & Attractions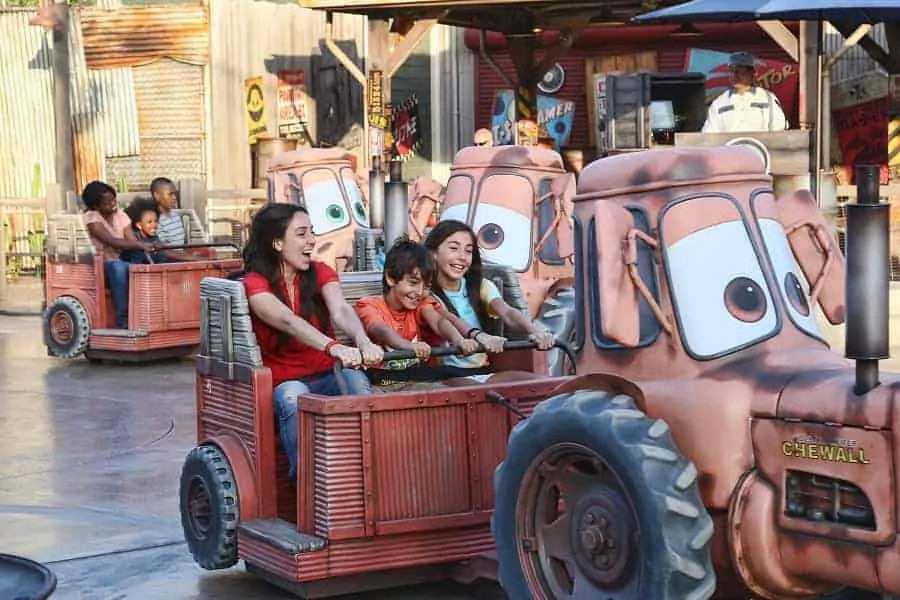 1. Mater's Junkyard Jamboree
Mater provides his own unique siren song, courtesy of a Junkyard Jukebox that has lured baby tractors into Mater's Junkyard Jamboree.
There, the tractors dance to Mater's hoedown tune, swinging guests around in trailers they are pulling behind them.
It's a "tow-si-do" square dance to a playlist of seven songs sung by Mater himself.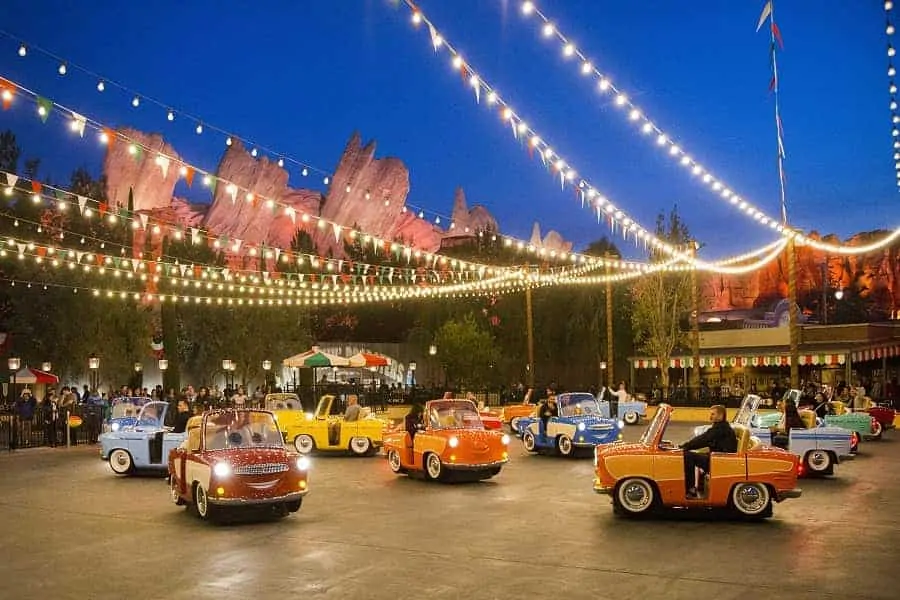 2. Luigi's Rollickin' Roadsters
Check out Luigi's cousins on this fun ride the whole family can enjoy.
Each dancing car has its own high-spirited personality and signature dance moves!
This means guests enjoy a different ride experience depending on which car they choose.
3. Radiator Springs Racers
Go on a twisting, high-speed adventure through Ornament Valley and the town of Radiator Springs in the cars from the movie!
This fun ride is the highlight of Cars Land and is not to be missed.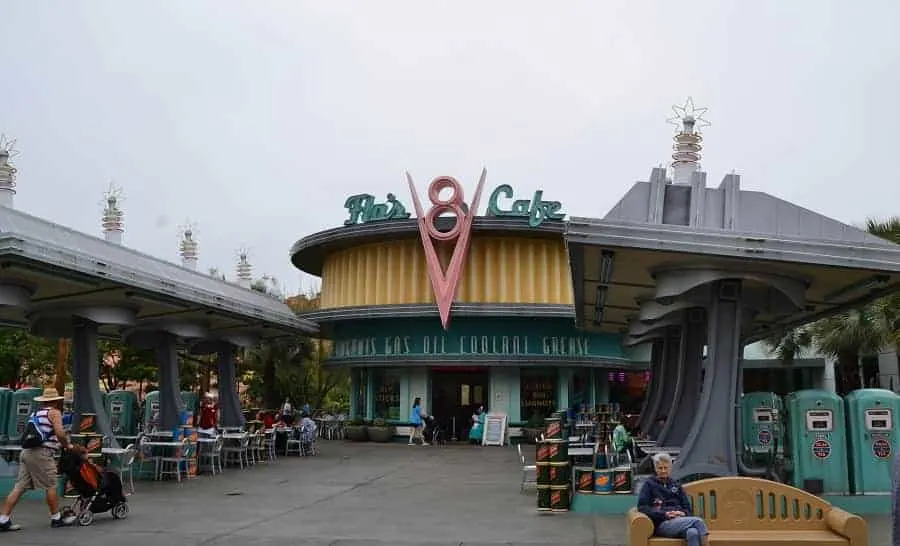 4. Grab a Meal at Flo's V8 Café
In this Route 66-inspired diner you will feel like you stepped right into the 1950s.
Flo's serves 50's style meals for breakfast, lunch, and dinner.
You'll find tasty breakfast dishes like chicken tamale with scrambled eggs, brioche French toast with salted caramel, and bananas.
Lunch and dinner are home-style classics like pork loin, New York strip steak, and everyone's favorite dessert: the house-made Pie-O-Rama for dessert.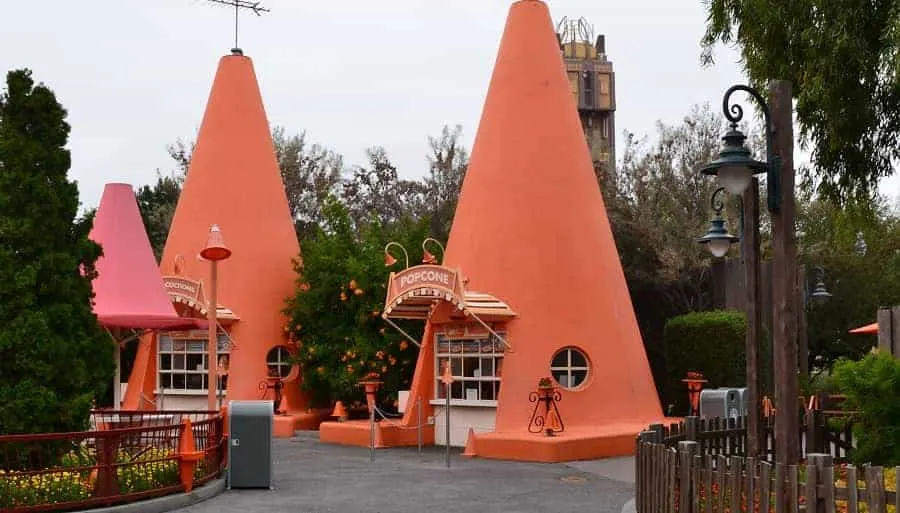 5. Have a Snack at Cozy Cone Motel
Cozy Cone Motel is inspired by the quirky "wigwam" motels along Route 66 and each of the five tee pees offers tasty "cone-themed" treats.
Grab an ice cream cone, chili "cone" queso, pop "cone" and other tasty "cone"-coctions!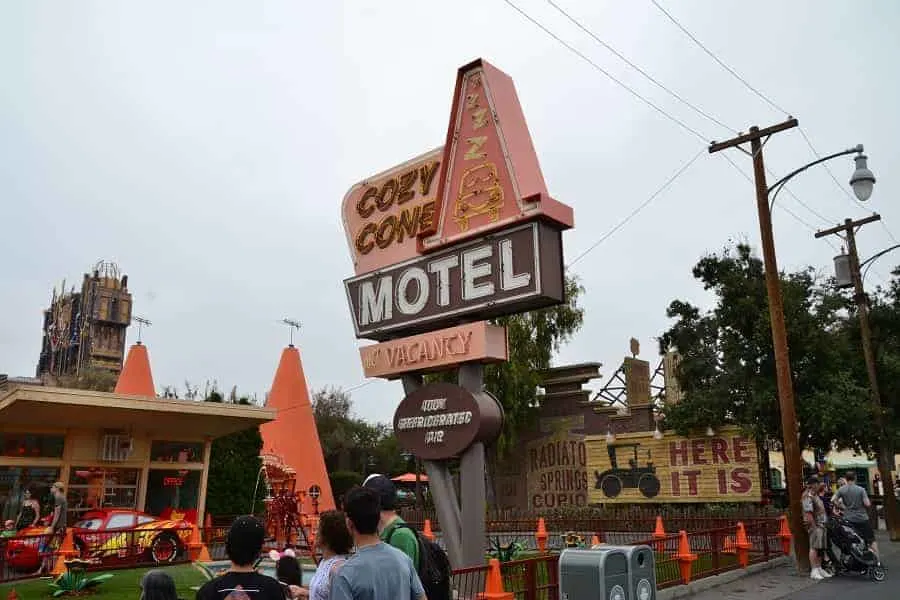 6. Meet & Greets in Cars Land
Not only will you be able to meet Lightning McQueen and Mater, but you will also get to see Cruz Ramirez from Cars 3 among other favorites.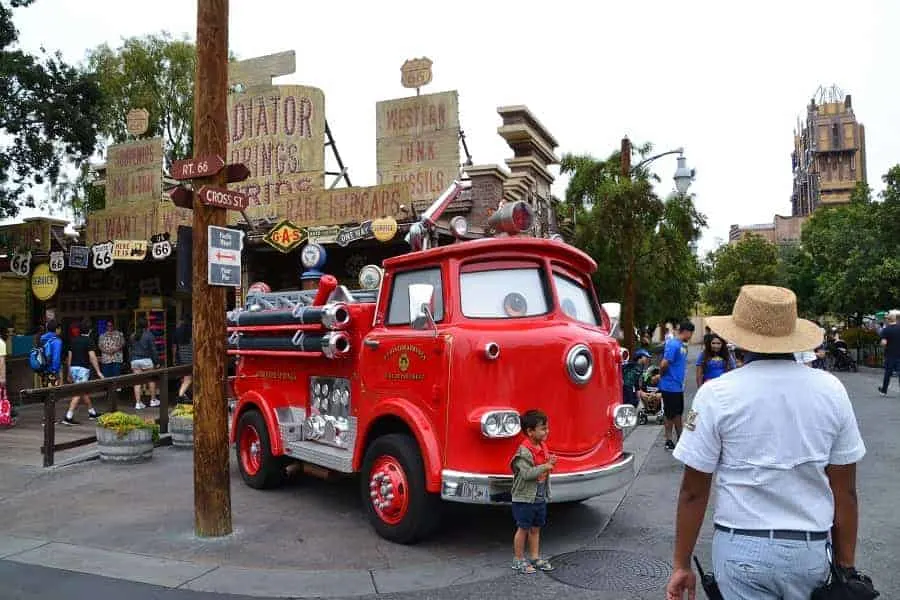 While many of the characters can be found at Crazy Cone Motel, make sure that you look around, because some characters will pop up for surprise meet & greets throughout the day.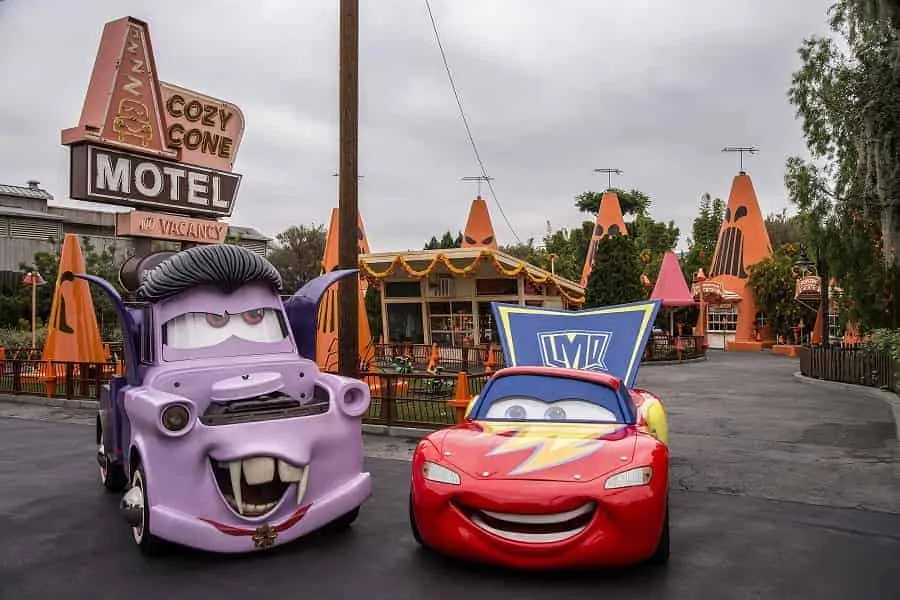 You will even find that the characters get dressed up for Halloween during Halloween Time at Disneyland.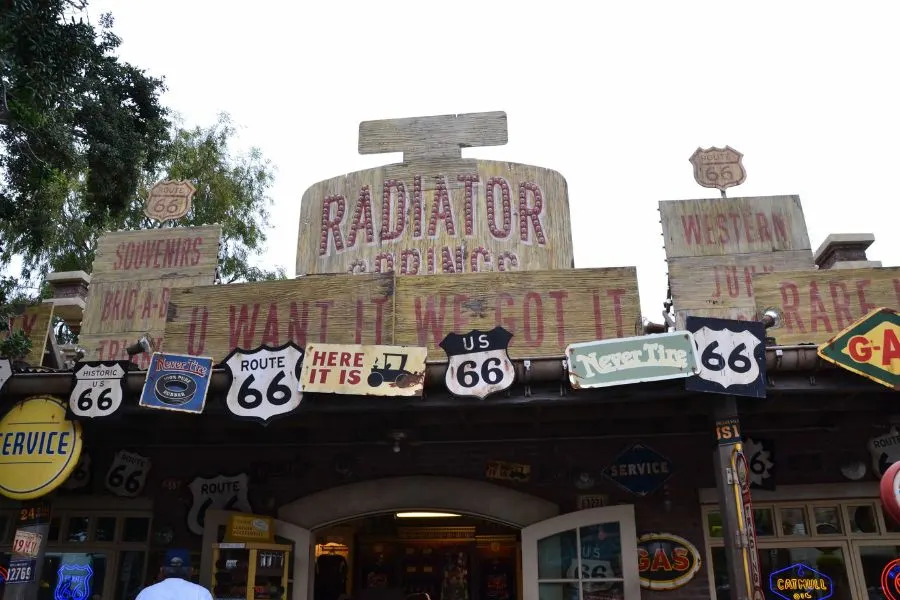 7. Check out the Mini Display
Not only will you find Cars T-shirts and Toys, but you can also find several mini-displays.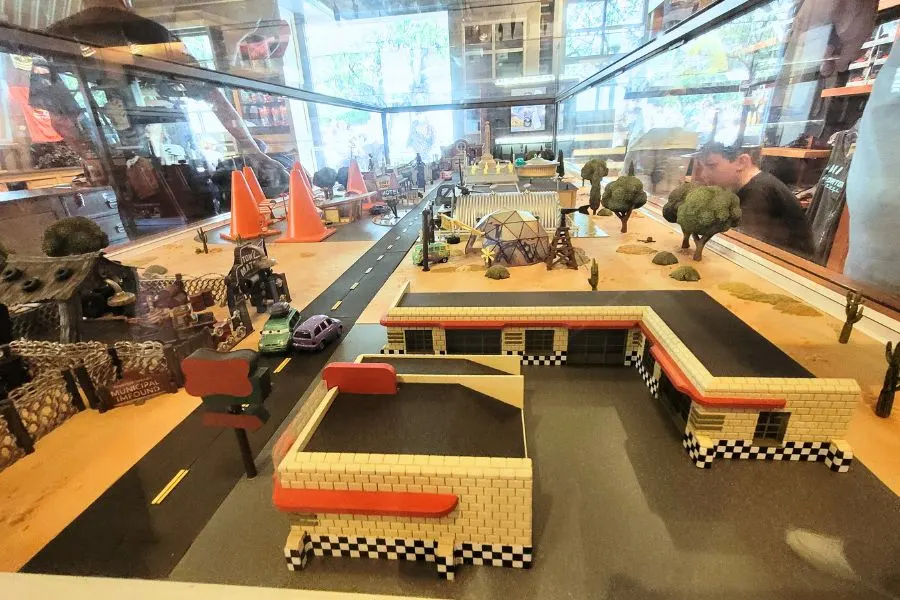 These displays feature everything from Radiator Springs to the Dinoco 400.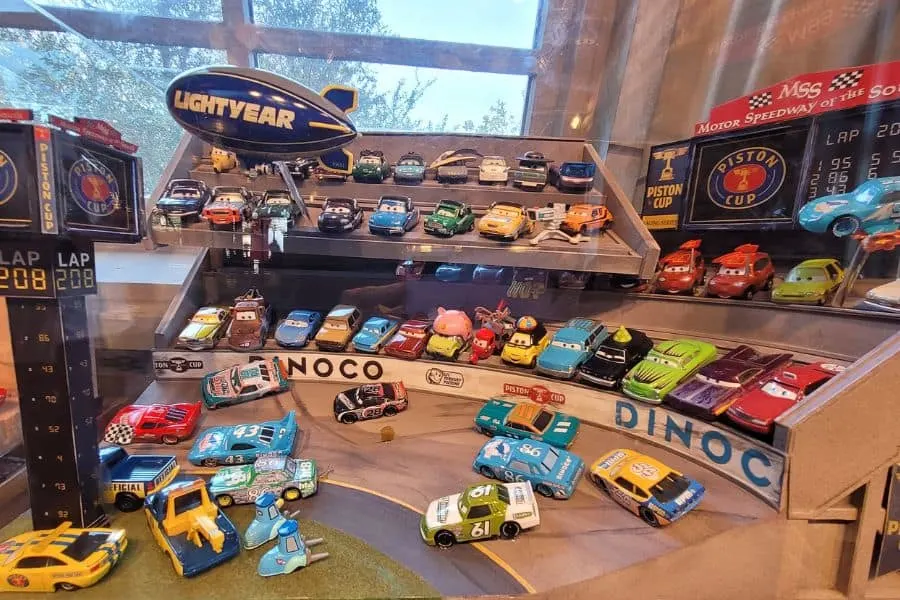 These are hidden gems that you probably wouldn't know about if you didn't visit the store!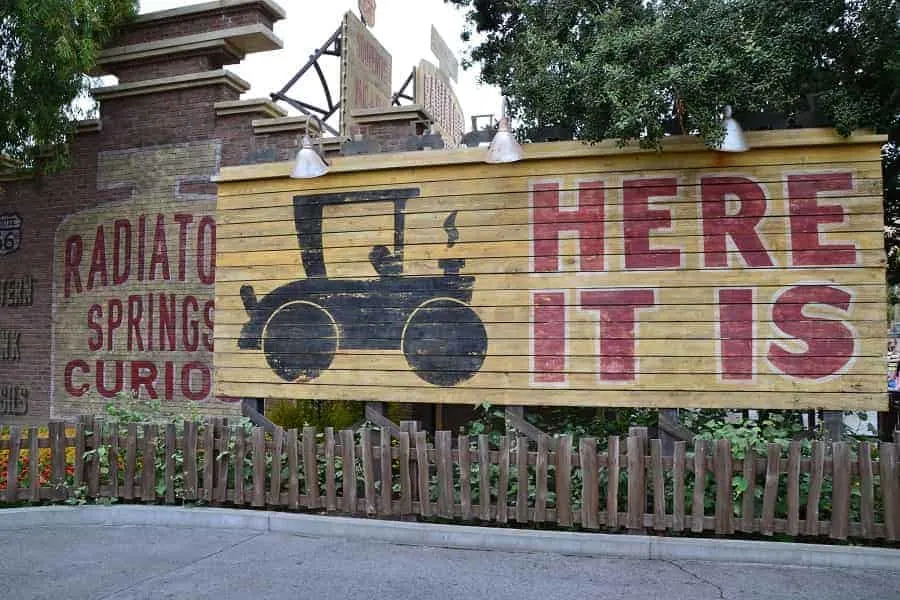 California Adventure has really hit the mark with this part of the park.
You will find the town of Radiator Springs come to life and it looks just like it did in the Pixar movie "Cars."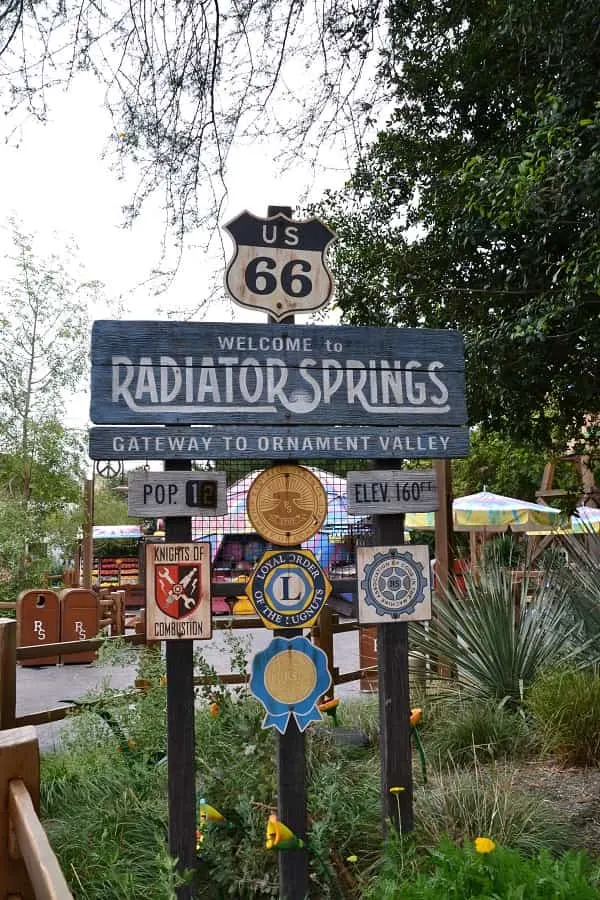 Have you had a chance to visit Cars Land & Disneyland California Adventure? What was your favorite part?