The Disney Dream is a luxurious cruise ship that offers an array of accommodation options for its guests. From cozy interior staterooms to spacious suites, there is a Disney Dream Stateroom for every type of traveler.
When you begin planning your Disney Dream Cruise one of the things you will need to decide on is the type of stateroom you want to book.
For first-time cruisers, it can be hard to understand the differences in the Disney Dream Staterooms.
Types of Disney Dream Staterooms
There are four types of Disney Dream Staterooms: Concierge, Verandah, Oceanview & Inside and about 10 different categories of rooms including handicap accessible staterooms.
To keep things simple, this guide will only include the four major Disney Dream stateroom levels.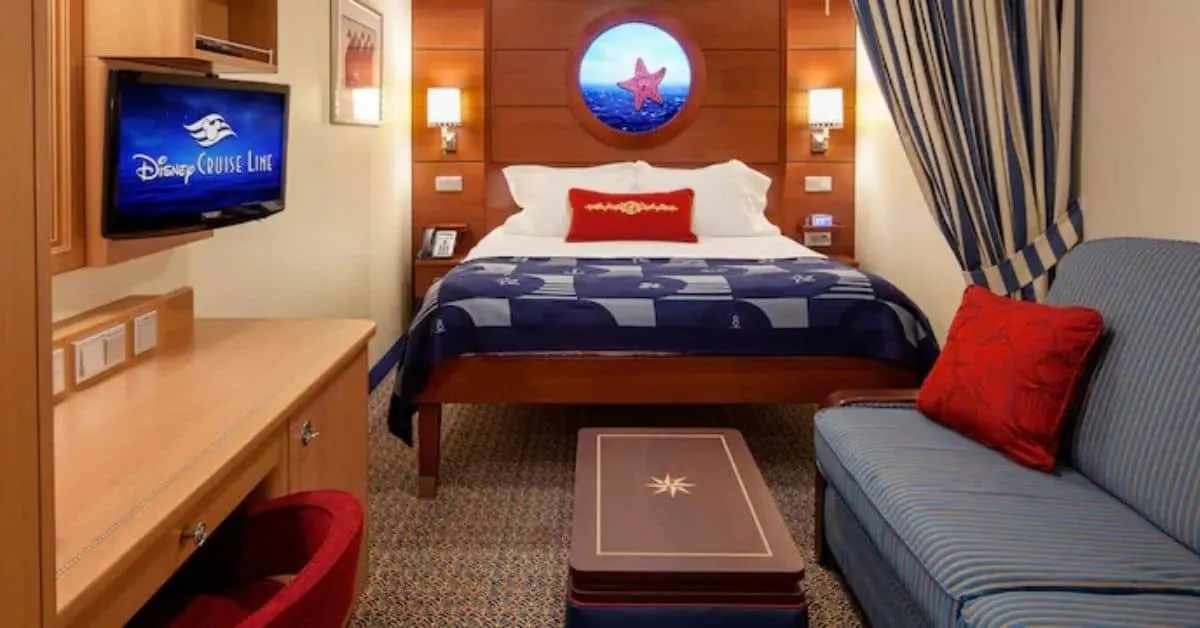 Inside Stateroom
This is one of the smallest rooms on the ship with 169-204 square feet and has no view of the ocean.
It can sleep 3-4 with one Queen-size bed a single convertible sofa & pull-down bed and has a split bath with tub & shower.
One of the unique features of interior staterooms is the virtual porthole. This
One of the benefits (besides price) is that interior rooms usually do not have as much sway as other rooms because of where they are located on the ship.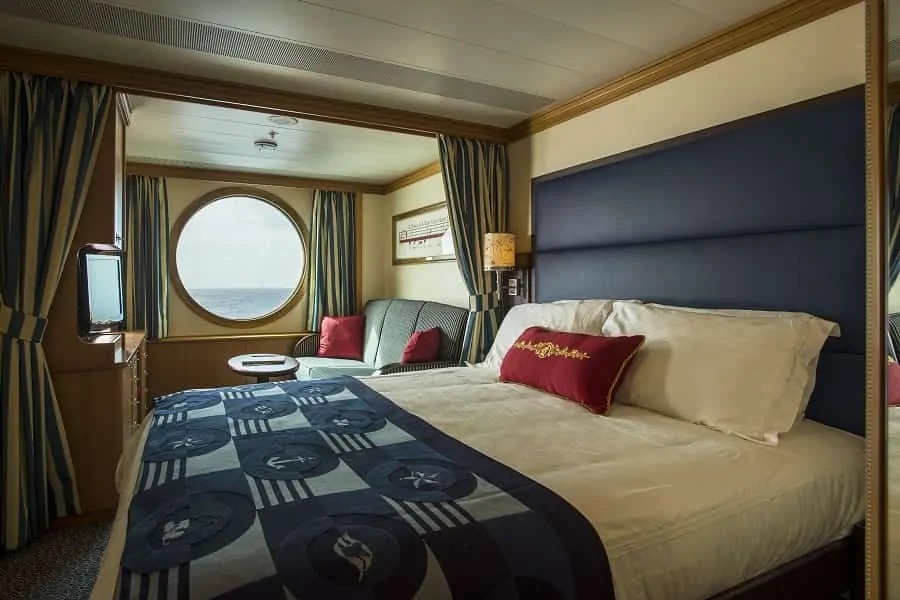 Oceanview Stateroom
At 204-241 square feet, Oceanview Staterooms can sleep between 4-5 people.
There is a Queen-size bed, single convertible sofa, and pull-down bed with a split bath with tub and shower.
For additional light and views of the outside, there will either be one large porthole window or one or two small porthole windows.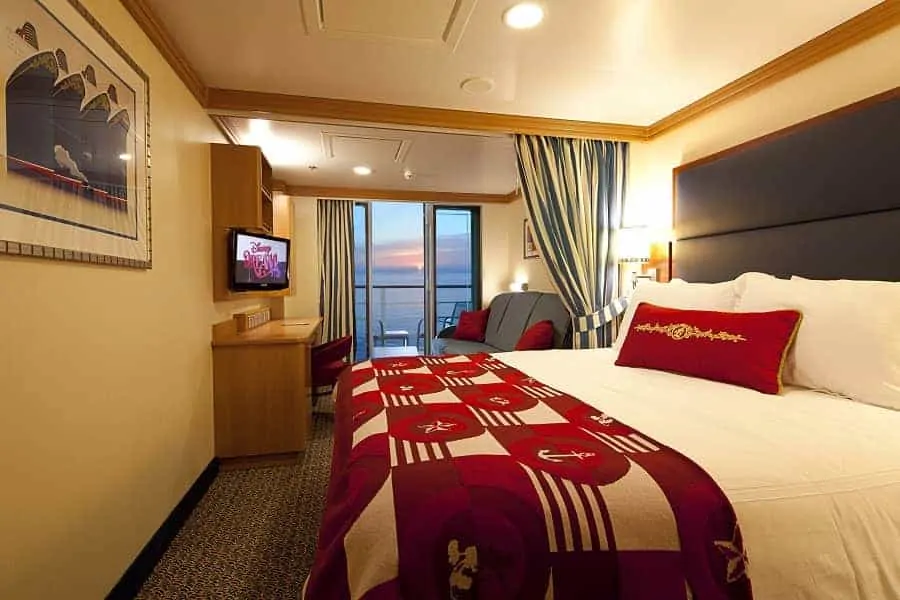 Oceanview Stateroom with Verandah
Slightly larger than the Oceanview rooms, those with verandahs have 246-299 square feet.
Each room sleeps 3-4 with a Queen-size bed, single convertible sofa, pull-down bed, and split bath.
These rooms offer the added feature of outside space that features one or two chairs and a small table.
Concierge Family Oceanview Stateroom with Verandah
At 306 square feet, this room sleeps 5 quite comfortably.
There is a Queen-size bed, a double convertible sofa, and a pull-down bed, with a split bath.
The private verandah also adds some extra outdoor space.
The reason this Disney Dream Stateroom is so much more expensive is due to the concierge service that is included and the following special features:
Down Duvets
Choice of hypoallergenic, feather, and therapeutic memory foam pillows
Personal Robe and Slippers
Complimentary Wi-Fi Internet Service: Enjoy up to 100 MB at no extra charge. (Usage fees apply after 100 MB.)
All guests staying in a Concierge-level stateroom on the Disney Dream have access to the Concierge Lounge.
This private space gives guests an optional place to relax and unwind.
They can watch TV, access the internet and enjoy complimentary food and nonalcoholic beverages throughout the day.
There is also a private sun deck for concierge members to enjoy with cushioned lounge chairs, cool water misters, and a refreshment bar.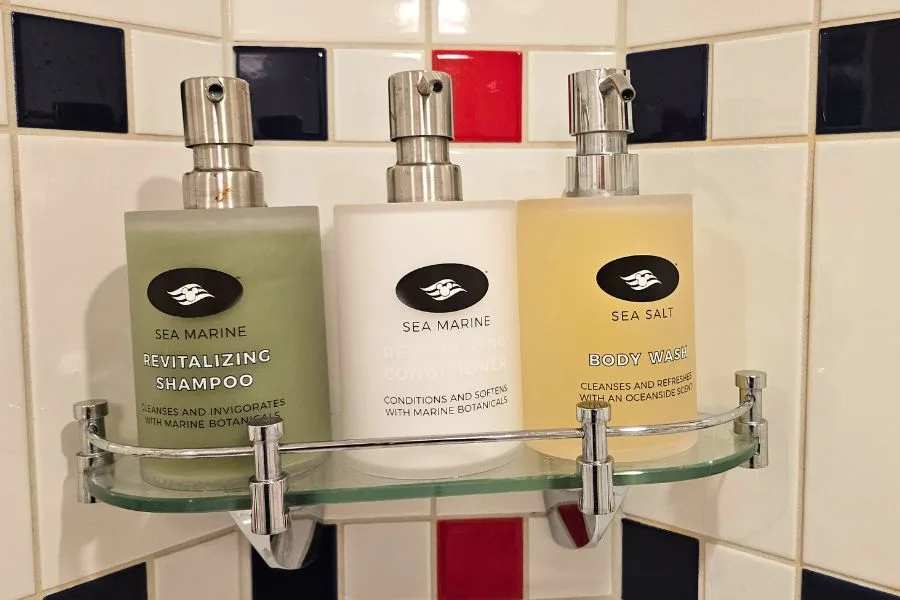 Included in All Disney Dream Staterooms
There are some items you will find in all the Disney Dream Staterooms:
Mini Fridge
Safe
Hair Dryer
Post Cards & Stationary
Ink Pen
Toiletries (Hand Soap, Shampoo, Bodywash & Lotion)
Blanket
Wave Phones
These items are standard throughout all the Disney Cruise line ships.
Have you taken a trip on the Disney Dream? What type of stateroom did you stay? What did you think?