(We may earn a commission via affiliate links in this post. Read our full disclosure policy.)
If you are planning on taking a Disney Cruise out of Florida or Texas, more than likely, you will get to go to Disney's private island, Castaway Cay! You could spend the entire time on the beach, but if you did, you would miss out on all the other fun Castaway Cay activities.
10 Best Disney's Castaway Cay Activities
1. Get a Post Card Stamped at the Castaway Cay Post Office
In the desk of your state room, you will find 2 Disney Cruise Postcards. Take a few dollars (your Castaway Card won't work for postage) with you to the Castaway Cay Post Office and have them stamped with the official Castaway Cay Postmark!
Talk about a cheap souvenir or memento for your scrapbook.
Another perk about stopping by the post office is that you will likely see a few of your favorite Disney Characters hanging out!

2. Go down the Pelican Plunge Waterslides
If you have kids, they are going to love spending time flying down the slides at Pelican Plunge. These dual slides will allow you to race or go at your own pace.
Be prepared to do some swimming to get to the slides. You will need to be able to swim a short distance in deep water.
If you are not a seasoned swimmer, you can opt to wear a swim vest. There is a swim vest station right on the beach near the slides.
3. Take a Bike Ride
One of my favorite Castaway Cay activities is taking a bike ride along the trails on the island.
Bike rentals can be done in advance or on the spot.
There are bikes for every age level; even for the smallest of riders who need training wheels.
Be sure to give yourself enough time to bike out to the Observation Tower.
You can walk up to the top & see a one of a kind view of the cruise ship from the other side of the island!

4. Visit In-Da-Shade-Games
Once you've had your fill of sun and surf, be sure to check out In-Da-Shade-Games.
Choose to shoot some hoops, play a relaxing game of checkers or a round of ping-pong.
Even if it rains, there are many covered activities at Castaway Cay to keep you and the kids busy!

5. Walk around Spring a Leak
Little ones will love being able to splash about in Spring a Leak, where they will find a splash pad with fountains that sprout up from the ground.
6. Do some Snorkeling
One of our favorite activities at Castaway Cay is snorkeling. For a small fee, you can rent snorkeling gear on the island.
There is a section of Castaway Cay that is reserved just for snorkeling and you can see some pretty amazing things you won't find anywhere else in the Bahamas!
Best part is that you can go at your own pace. You can book your gear in advance or pay for it on the island.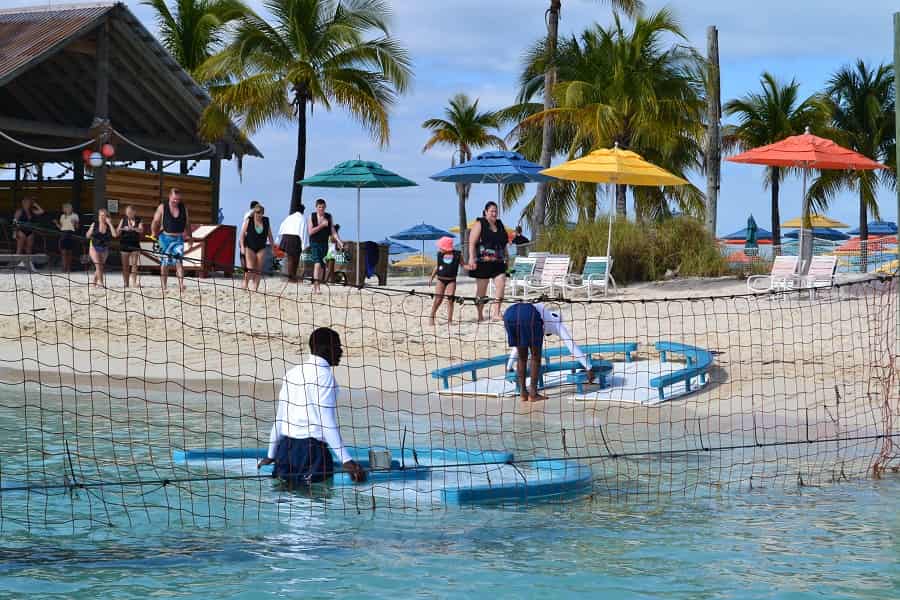 7. Swim with Stingrays
Don't worry, the Stingrays aren't swimming freely throughout the waters of Castaway Cay! There is a section where you can swim with them, though!
You will be taken with a guide and the rays will swim right up to you and onto the platform so that you can touch them! You should book this encounter before you arrive.

8. Take a Paddle boat out for 30 minutes
Go into Castaway Cay as a family on board a Paddle boat!
These are super fun for the whole family and if you work together, you will have no problem maneuvering this lightweight boat out into the ocean.
Other water boat excursions are available like Kayaking and Motorboats.

9. Get Your Pictures Taken with some Disney Characters or Join a Dance party
You will find your favorite Disney characters on the island t and Chip & Dale even host a dance party!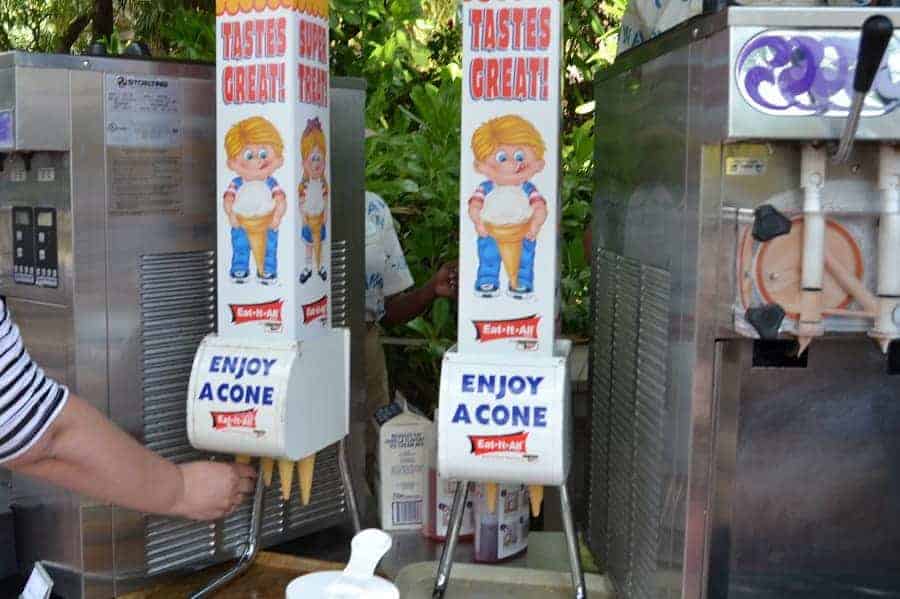 10. Take Advantage of Eating FREE Ice Cream
Not only will you get a full buffet lunch on the island, you will also get free soda and ice cream. The same all you can eat ice cream on board the ship is available on Castaway Cay!
I'm fairly certain that Disney thought about everything when creating Castaway Cay. There is so much to do there that you will have no trouble spending the entire day on the island!
Remember, these are only my top 10 Activities at Disney's Castaway Cay. There are more things that I didn't include, like shopping for Castaway Cay souvenirs!
What are your favorite Activities at Disney's Castaway Cay?