(Note: The links in this post are affiliate links, and we will be compensated when you make a purchase by clicking through our links. Read our disclosure policy here.)
A trip to Disneyland is on just about every child's wish list. It is a time to ride fun rides, see Disney characters and eat things that are in the shape of Mickey Mouse.
For parents, the thought of planning a trip to Disneyland can be overwhelming. There is so much to think about and sometime it creates so much anxiety that the vacation loses some of that magic!
Here at Disney Insider Tips, we want to take some of guess work out of the vacation planning part of your Disneyland vacation.
If you are looking for tips for saving money & time at Disneyland, we have a few you should know about!
Tips for Saving Money at Disneyland
Saving Money on Disneyland Tickets
First thing you need to know is that you should purchase your Disneyland Ticket(s) in advance from a reputable Disney Ticket Seller. You don't want to waste time standing in a ticket line at the park.
You are going to find that the longer you go to Disneyland, the cheaper the ticket price will be per day.
And if you stay on Disneyland property and book a Disneyland package, you will save even more.
If you are ready to book a Disneyland vacation, be sure to check out Get Away Today! We love finding ways to save money at Disneyland. You can take an additional $10 discount off your vacation package when you use our exclusive promo code INSIDER .
Insider Tip: Once you have your ticket, take a photo of the back of your ticket with your phone.
If you were to lose your ticket, this is the only way to be able to trace it. Guest Relations can replace any lost ticket if they have the right information.
Saving Money on Food at Disneyland
The best way to save money on food at Disneyland is by bringing your own drinks & snacks. Disneyland allows you to bring food and drinks into the park (no glass and no alcohol).
We love to pack a small cooler of water bottles and a backpack with individual snacks.
This will save you a ton of money and allow you to spend your vacation fund on things you really want (like a Dole Whip).
Free Disney Souvenir
If you are celebrating a special occasion or if it is your first time at Disneyland, you will want to make sure that you get your FREE Disneyland Button that commemorates the occasion.
Wear it with pride all day long and take advantage of the extra attention it gets you.
Cheap Disney Souvenirs
One of the things that can really break the bank on a trip to Disneyland, is souvenirs.
One of our best tips for saving money at Disneyland is to buy inexpensive souvenirs.
By far the cheapest souvenir you can buy at Disneyland are Disney Pressed Pennies.
These pennies feature popular Disney Characters, rides and attractions.
Each is .51 so be sure to have both quarters and pennies for the machines.
Tips for Saving Time at Disneyland
You will want to make sure that you get to Disneyland when it opens.
This will allow you to get to be one of the first to ride the rides allowing you to avoid the longer lines that grow throughout the day.
If you are staying on Disney Property, you will be able to take advantage of Extra Magic Morning and Extra Magic Hours.
This is a time when only Disneyland resort guests can enter the park.
Disneyland Fastpass System
Use the FastPass system in Disneyland. For those unfamiliar with the Fastpass system, this is a way for you to "Jump the line" so to speak for certain rides & attractions.
Disneyland Park Fastpass Rides & Attractions
Big Thunder Mountain Railroad
Buzz Lightyear Astro Blasters
Fantasmic!
Haunted Mansion
Indiana Jones Adventure
"it's a small world"
Matterhorn Bobsleds
Roger Rabbit's Car Toon Spin
Space Mountain
Splash Mountain
Star Tours – The Adventures Continue
Disney California Adventure Park Fastpass Rides & Attractions
Goofy's Sky School
Grizzly River Run
Guardians of the Galaxy – Mission: BREAKOUT!
Incredicoaster
Radiator Springs Racers
Soarin' Around the World
Toy Story Midway Mania!
World of Color
Look for a Fastpass distribution kiosk where you can get a Fastpass ticket for whichever ride you choose (you can find a list of Fastpass rides on your Disneyland Park Map).
You will need your park ticket to be able to get the Fastpass ticket. Once you scan your ticket, your FastPass ticket will print.
It will tell you the time window you have to actually ride your chosen ride and all you have to do is show up with your Fastpass during the time frame given.
Order Your Dole Whip online & Avoid the Line
Everyone wants the chance to taste the popular Disney treat so the lines can get REALLY long.
Don't waste time standing in line when you can order your tasty treat on the Disneyland Park App with Disneyland Mobile Ordering.
Just place your order and pick it up when it's ready.
Avoid Spending Time Waiting for Disney Characters
One of the best way to meet a lot of characters at one time is with a Disney character meal. Plaza Inn serves breakfast daily & is located inside Disneyland Park, off Main Street near Tomorrowland.
It offers the largest selection of characters you can meet in one place while also enjoying a meal.
Don't forget to bring your autograph book and pen so that characters can sign!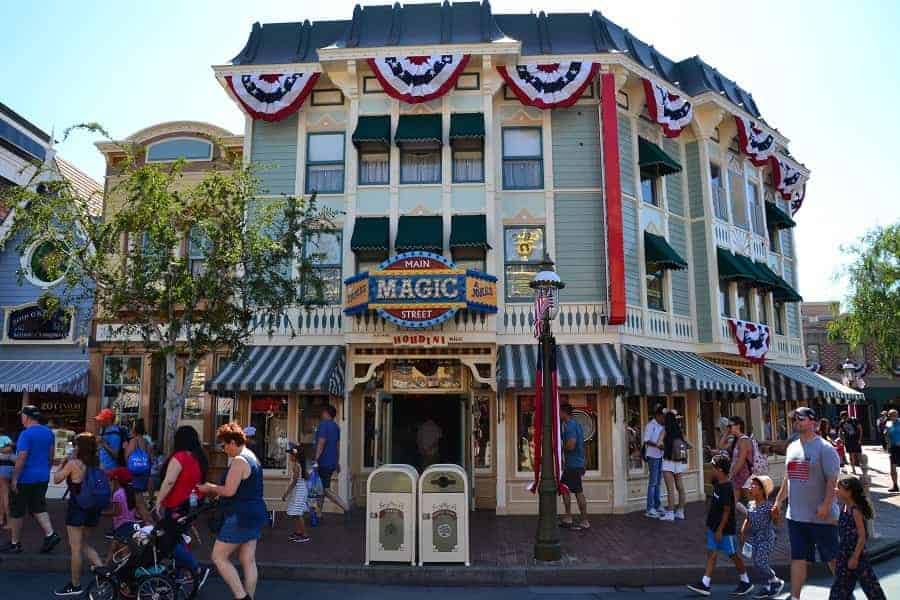 We hope that these tips for saving money at Disneyland & time saving advice help you when you are planning your Disneyland vacation.