Taking a Disney Mediterranean Cruise is a wonderful way to travel and see the world. One of the main destinations is Rome, Italy. We've been to Rome a few times and once during a Disney Cruise to the Mediterranean. While we aren't experts, we do have some Disney Mediterranean Cruise Tips for Rome to share.
During your Disney Mediterranean cruise, you will dock in the port city of Civitavecchia. While a beautiful city, you really won't spend time in Civitavecchia.
Your main destinations is Rome and The Vatican and you will need to make some decisions on how you get from the port to these destinations.
Getting from Port Civitavecchia to Rome
For our trip into Rome, we decided to hire a semi private tour.
This was nice for us because we were able to go in with another family (so total of 8 people) for a MUCH CHEAPER rate than any of the bigger tours (through Disney or elsewhere) was charging (I'm talking 50% less).
We had a van with driver (who spoke good English ~ not great, but good enough to tell us what we needed to know) and were able to pretty much plan our day according to what we wanted to see.
I would not have done it any other way!
Disney Mediterranean Cruise Tips for Rome
Go to the Port City Information Sessions
Disney provides information sessions on each port of call and destinations near the port cities. Typically, these are the night before you arrive.
I found these very informative because they gave background information about things you might have wondered about but did not already know.
For instance, the lady leading the information session for the Disney Mediterranean Cruise to Rome was able to fully explain the meaning and significance of the Latin terms written on the Pantheon.
Get Rick Steves Rome Book
Something else I found helpful was having a copy of Rick Steve's Book on Rome. I think we have 4-5 of Rick Steve's guide books and they are truly an essential piece to bring for each stop.
He gives great advice on everything from getting here to there to best places to grab a bite to eat.
You also can download his walking tour of sites for absolutely free (be sure to download before you leave to avoid having to pay roaming charges to download).
Be Prepared for Scaffolding & Refurbishments
Because you are visiting an ancient city, be ready for scaffolding and refurbishments. When we were at Rome in 2014, there was no water in the Trevi Fountain. In 2016, there was scaffolding along the Spanish Steps.
Take it all in stride.
This is an ancient city and they have to do these improvements and restoration to keep it beautiful for all future generations to see.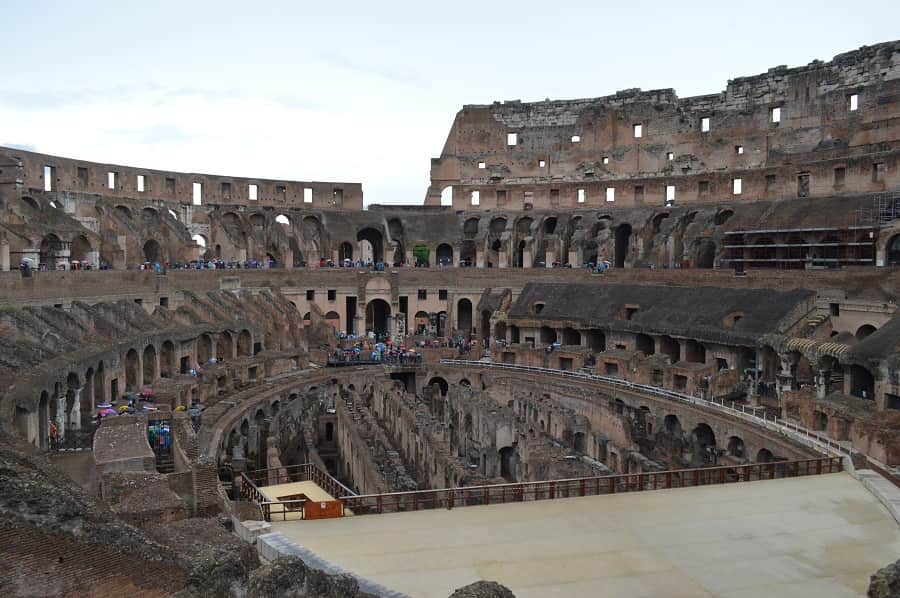 Buy Tickets for Sites in Advance
There are many popular sites to see in Rome and when all you have is one day in Rome, you are going to want to make sure that you aren't stuck standing in lines all day.
Buy whatever attraction tickets you can in advance. This can save you not only time, but money!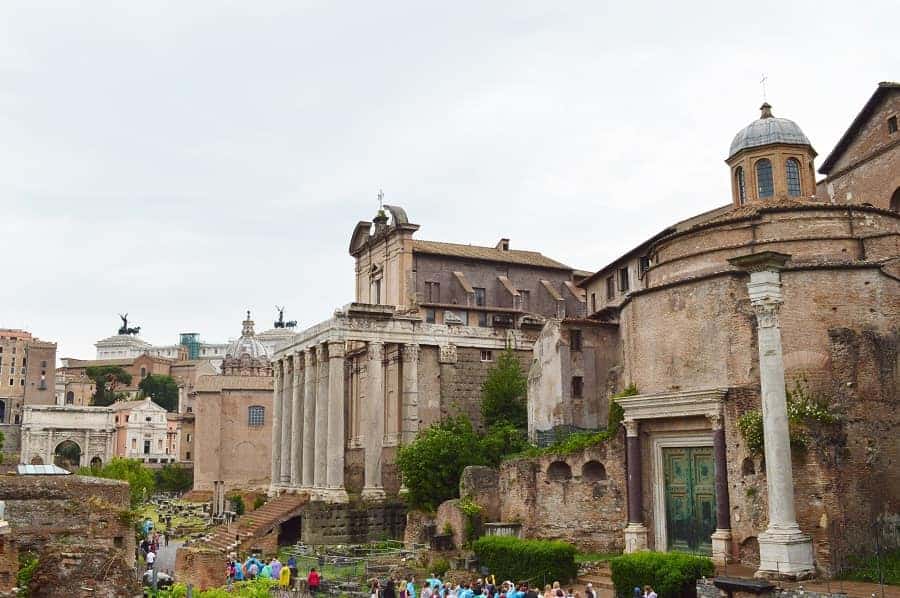 Skip Audio Tours & Download Rick Steves Instead!
Most of the places you visit in Rome will have an audio tour option. Typically, they are also in a separate line.
Opt out of the audio tour and use the FREE Rick Steve downloads instead. One of the best ones is for the Roman Forum.

See the Disney Characters Dressed up in Rome
One of the great parts about taking a Disney Mediterranean Cruise is getting to see the characters dressed up in costumes based on the country you are visiting.
You will find that Mickey, Minnie, Donald and Goofy dressed up in their Italian Costumes while visiting Italy!
---
Want a full Itinerary of how to see the most famous sites in Rome in a day? Our sister site, Day Trip Tips has a great Guide to spending one day in Rome.
If you are thinking about visiting both Rome & the Vatican, take a look at our Vatican itinerary.
Have you taken a Disney Mediterranean Cruise to Rome? What was your favorite part?