One of the best parts of taking a Disney Cruise is the food. Whether you choose to eat at the buffet, poolside or at any of the Disney Dream restaurants, you will be guaranteed to eat well!
You can even eat in your stateroom (Disney Cruise's room service is available all day & totally free to use!).
Wondering what you can expect in terms of dining experiences on the Disney Dream? We've compiled a list of all the Disney Dream restaurants along with casual dining options.
Disney Dream Restaurants
Before you take your Disney Dream cruise, you are going to want to choose your dining time.
You are given two options, early dining or late dining.
Each are the same, but depending on the one you choose, you will either go to the nightly theater show before or after your meal.
Rotational Main Dining
On all Disney Cruise ships, guests can enjoy rotational dining. Each night you will have a different restaurant, but the servers will remain the same!
This way your servers get to know you on a more personal level while giving you an entirely new dining experience.
There are three different Disney Dream restaurants in the dining rotation.
Enchanted Garden– Deck 2
Enchanted Garden is a restaurant inspired by the gardens of Versailles.
When you arrive, you will find white trellises, floral stained glass light fixtures and a fountain in the center of the room with a Mickey Mouse statue at its pinnacle.
At breakfast and lunch, the restaurant is lit with a blue-sky marking day, but in the evening during dinner, the ceiling transitions from day to night with a constellation of twinkling stars.
Dinner at Enchanted Garden has wonderful meals like slow-roasted prime rib, pan-seared sea bass, and roasted wild boar tenderloin.
If you love soufflé, this is where you will find a Grand Marnier soufflé. Along with that, you can enjoy a Tahitian vanilla crème brûlèe or mango cheesecake for dessert.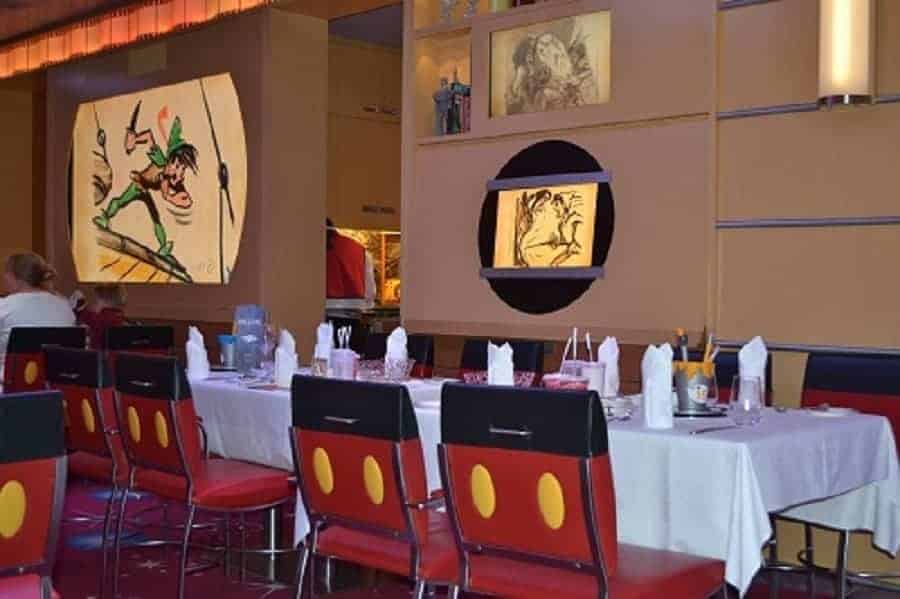 Animator's Palate– Deck 3
Animator's Palate brings the magic of Disney animation to life. You'll find scenes and characters from popular Disney and Pixar movies through out the restaurants.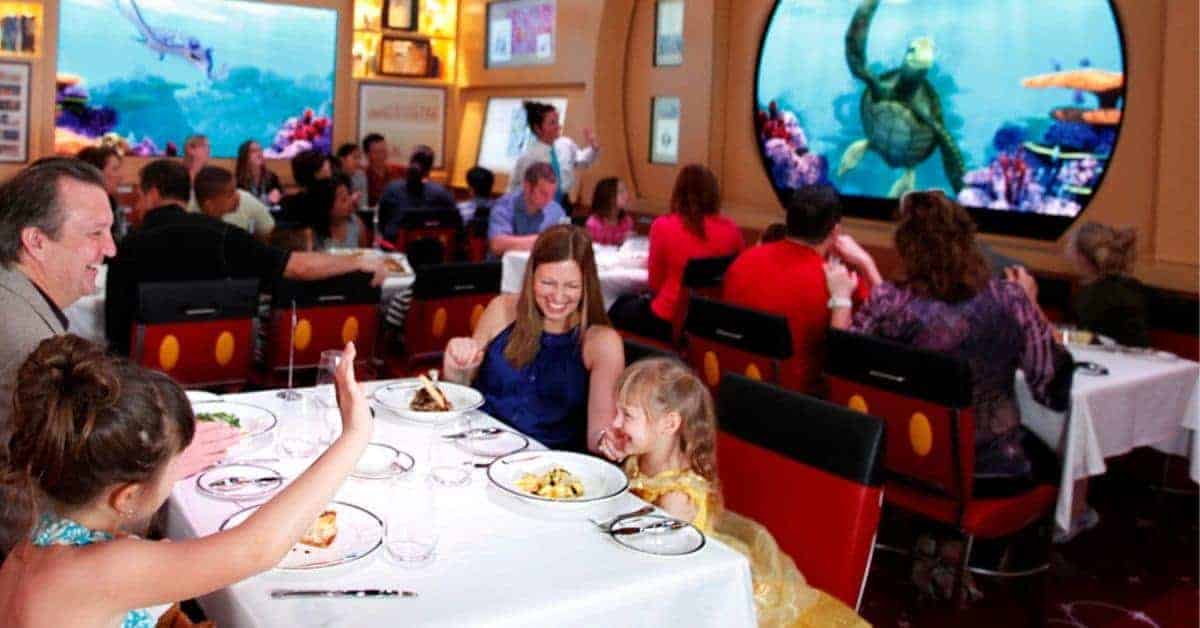 As you dine, the restaurant goes through a transformation. The screens become a fish tank where guests will get a surprise visit from Crush, the sea turtle from "Finding Nemo."
Meals at Animator's Palate are just as good as the entertainment! You will find such entrées as ginger-teriyaki tenderloin, Salmon or wild mushroom risotto.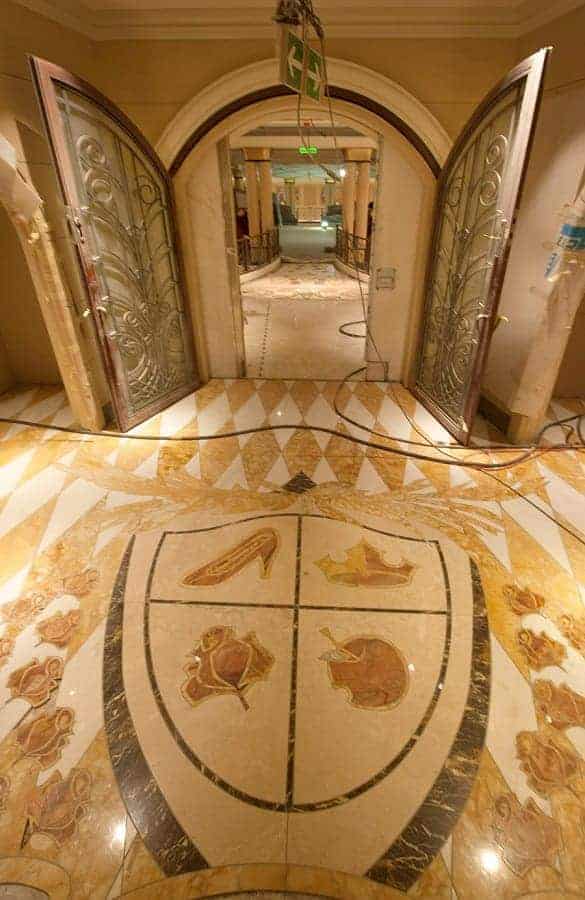 Royal Palace– Deck 3
Royal Palace is royal dining at it's best! You will feel like a princess in this elegant dining room that has such decorative details as glass slippers, roses, tiaras and painted portraits of Disney princesses.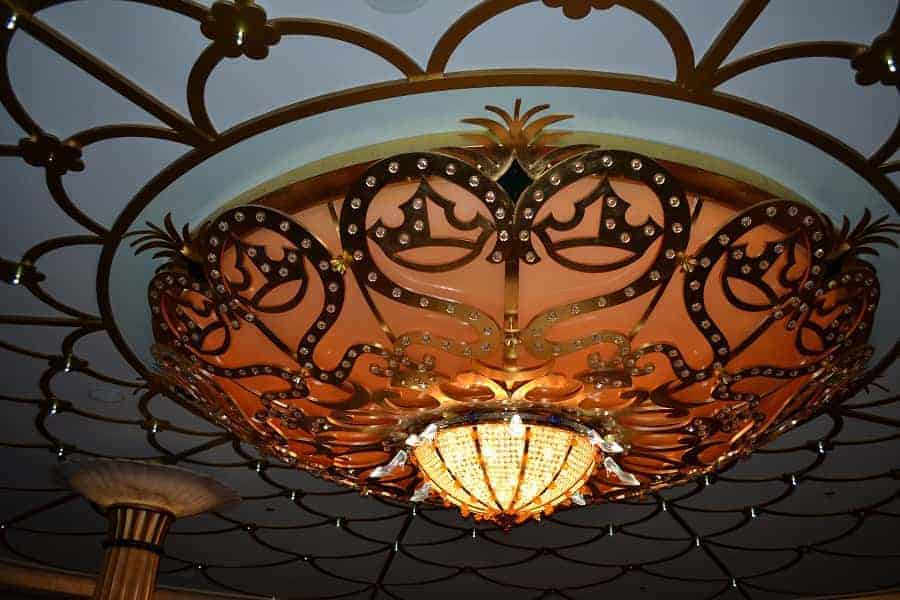 The Royal Palace fluted columns and iron railing work are taken straight from the "Cinderella" ballroom scene. Wall sconces are designed to match those in "Beauty and the Beast."
Dinner here is classical French cuisine with menu offerings such as Roasted rack of lamb and beef tenderloin with garlic shrimp.
Adult Only Dining on the Disney Dream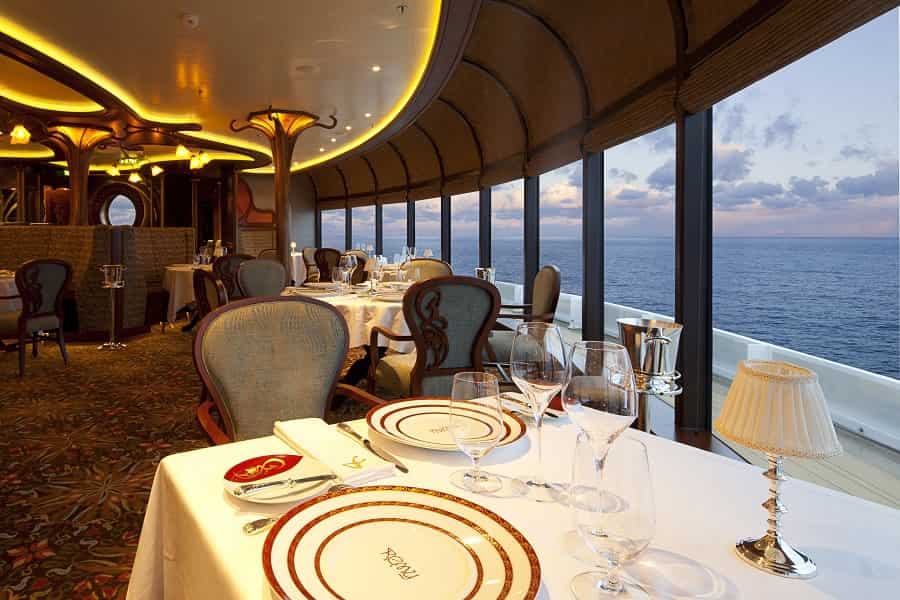 Remy adult-exclusive fine dining– Deck 12
Remy features a French menu with optional wine pairings.
Dinner Price is $125 per person, plus the cost of wine and other alcoholic beverages.
Remy also offers an elegant Champagne brunch on days at sea and days at port. The brunch is a six-course French-inspired meal with a selection of Champagne.
Brunch at Remy is $75 per person and includes one complimentary glass of Champagne. An optional Champagne pairing is offered at an additional $30 per person.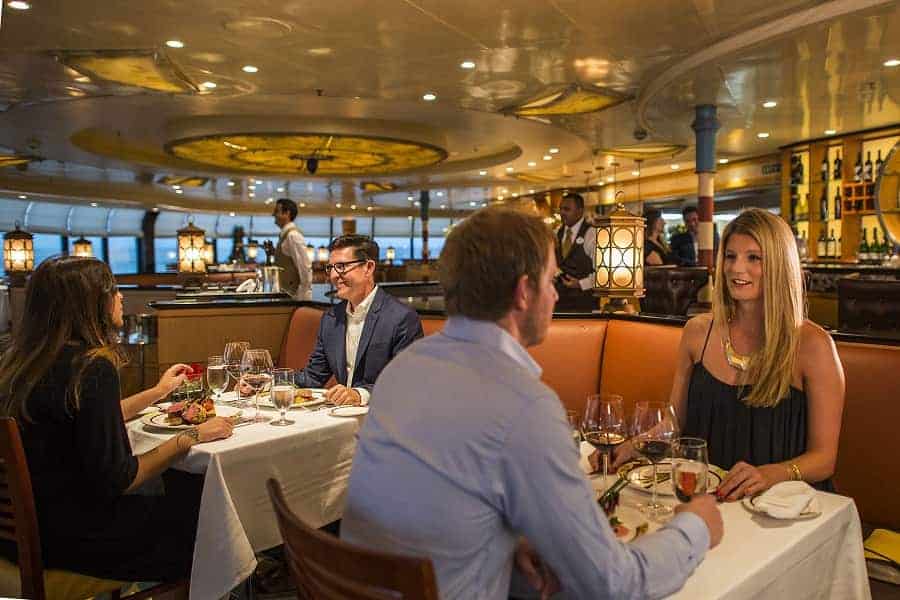 Palo adult-exclusive fine dining– Deck 12
Palo is a sophisticated Italian restaurant that has beautiful views.
Meals begin with cold and hot antipasti selections. Main dishes include fresh pastas and seafood and meats prepared with Italian touches.
Desserts include classic tiramisù, chocolate soufflé and panna cotta with a strawberry-basil sorbet.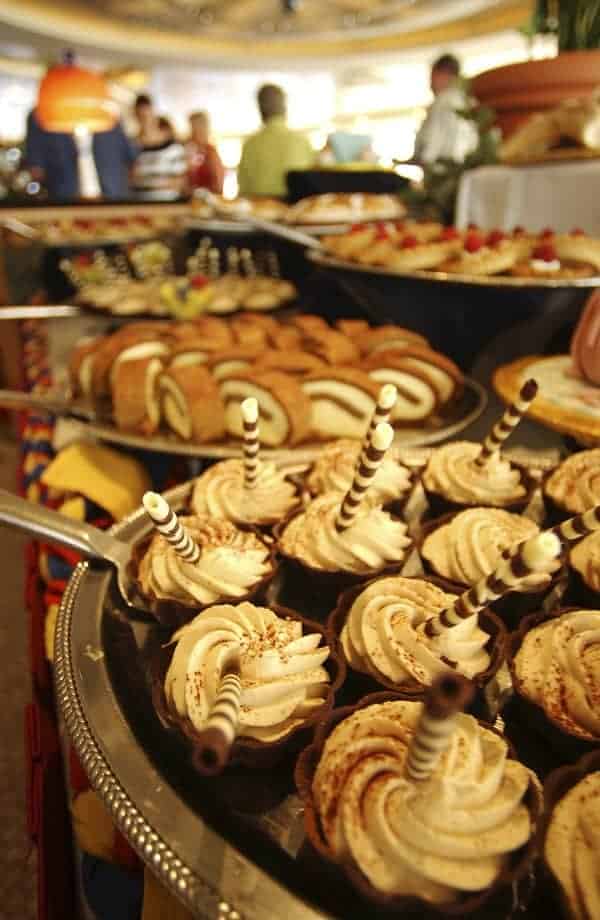 Palo also offers an adult-only Champagne brunch on days at sea and at port.
The brunch features Palo's signature pizzas, made-to-order entrées, seafood, a selection of international cheeses, fresh breads and pastries, desserts, served with champagne and mimosas
Reservations are required for all Palo dining experiences. There is a $40 charge for dinner and brunch, plus the cost of alcoholic beverages.
Casual Dining on Disney Dream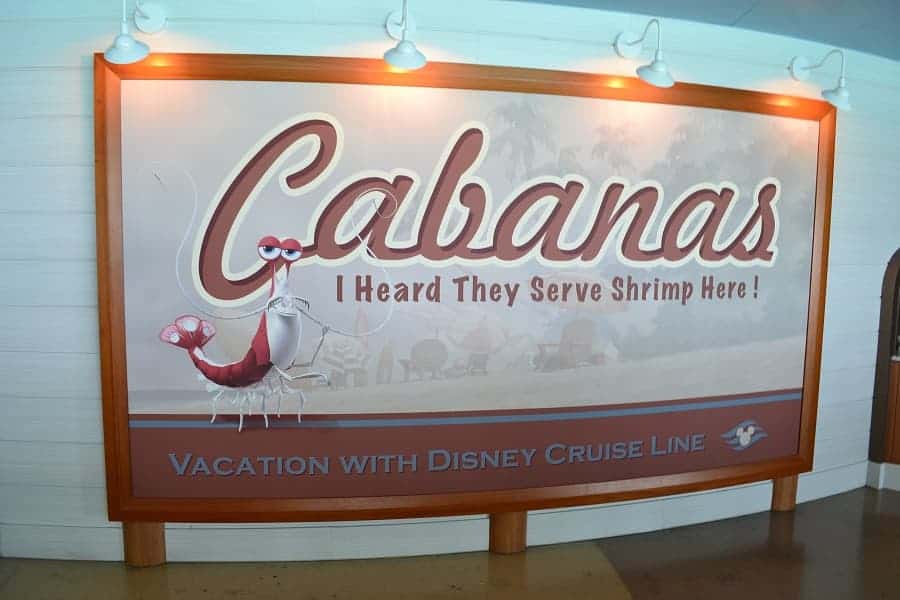 Cabanas Buffet – Deck 11
Cabanas food court is a free-flow buffet where guest can choose from a variety of food options for breakfast & lunch (16 food stations in all for lunch).
For breakfast, you will find a full American buffet with omelet station.
At lunch, there is everything from soups & salads to sushi & stir fry. There are even carving stations.
There is both outdoor and indoor seating areas.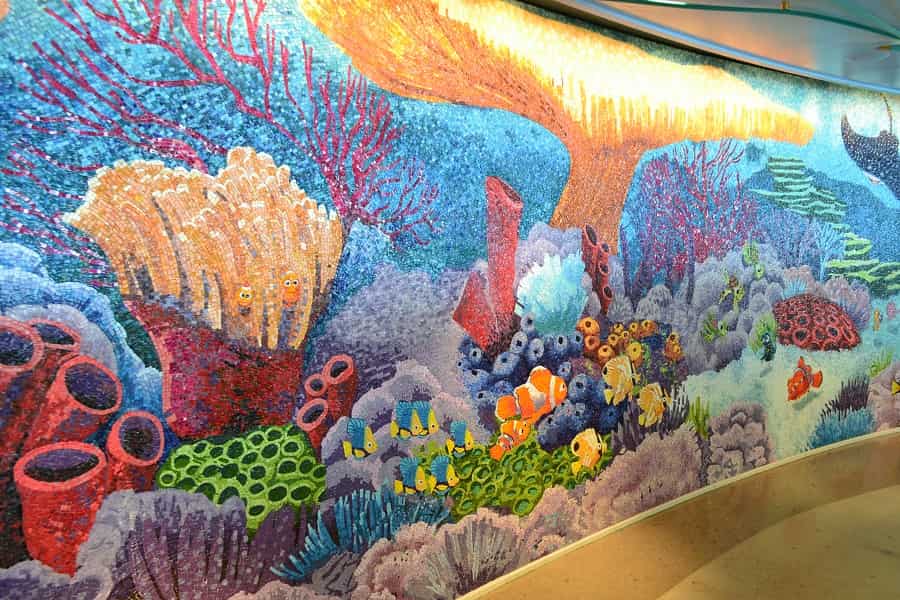 Inspiration for the decor of Cabanas comes from "Finding Nemo" with a flock of seagulls and two hand-crafted mosaic tile walls depicting an underwater scene from the animated movie.
For dinner, the restaurant transforms into a table-service casual dining experience, where dinner entrees are cooked to order. You can choose to forgo your rotational dining to eat here at your own convenience.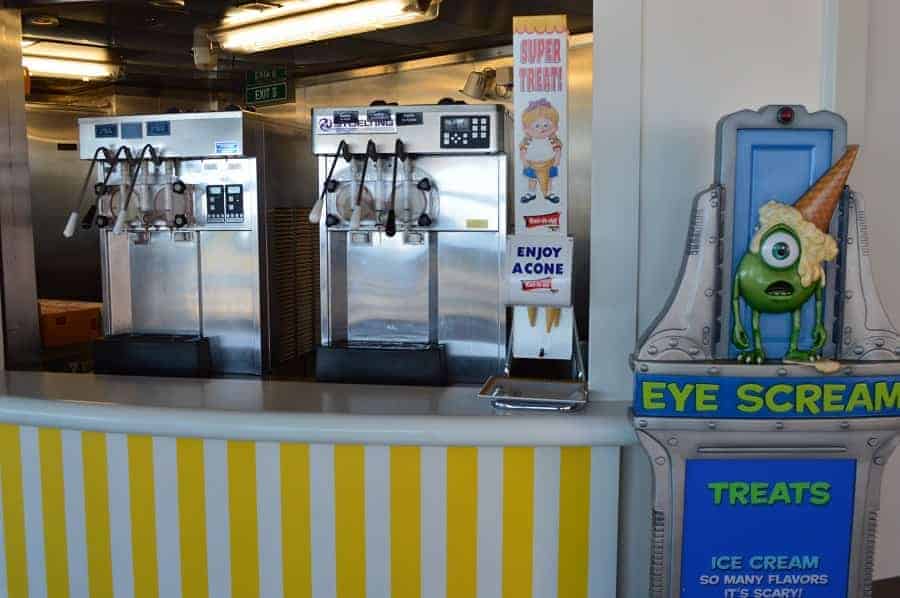 Quick Service Poolside Options– Deck 11
Luigi's Pizza- serves pizza by the slice
Tow Mater's Grill- chicken tenders, grilled burgers and sausages.
Fillmore's Favorites- Made to order Grilled Sandwiches and Paninis
Flo's Cafe has salads and sandwich wraps.
Eye Scream ice cream offers soft-serve ice cream
Frozone Treats mixes fruit smoothies (added cost)
Vanellope's Sweets and Treats– This sweet shop takes on a "Wreck-It Ralph" theme with candy by the pound, fresh gelato and ice cream, and an assortment of treats that are available for purchase.
You are going to eat well on the Disney Dream! With so many great choices, you aren't going to want to miss a meal!
Wondering what else you will do on the Disney Dream cruise ship besides eat? Read our list of cruise tips for your day at sea.