If you are wanting to take a family cruise to the Caribbean that everyone will enjoy, consider the Disney Fantasy. The Disney Fantasy Cruise ship is the fourth ship in the Disney Cruise fleet and it is packed full of activities to keep families busy.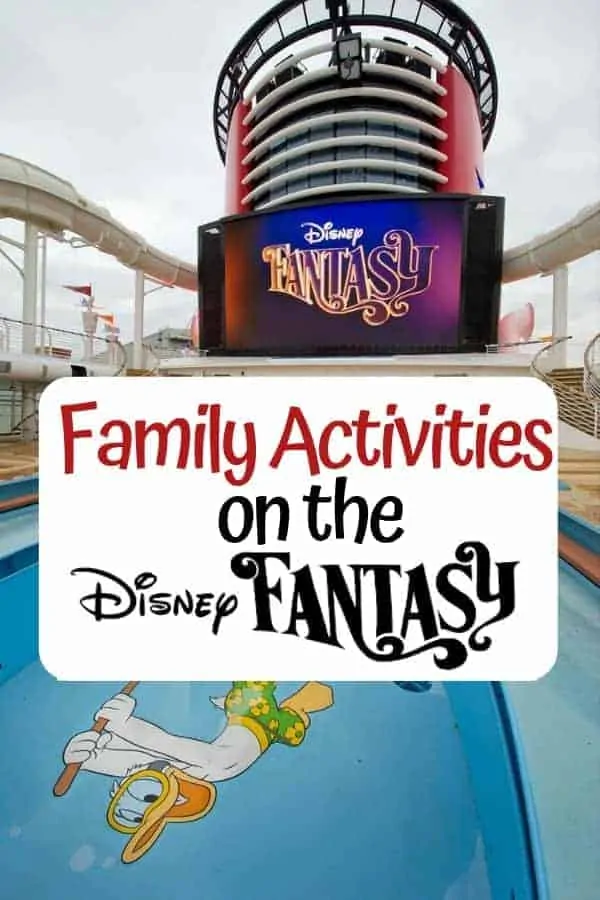 BEST Disney Fantasy Cruise Family Activities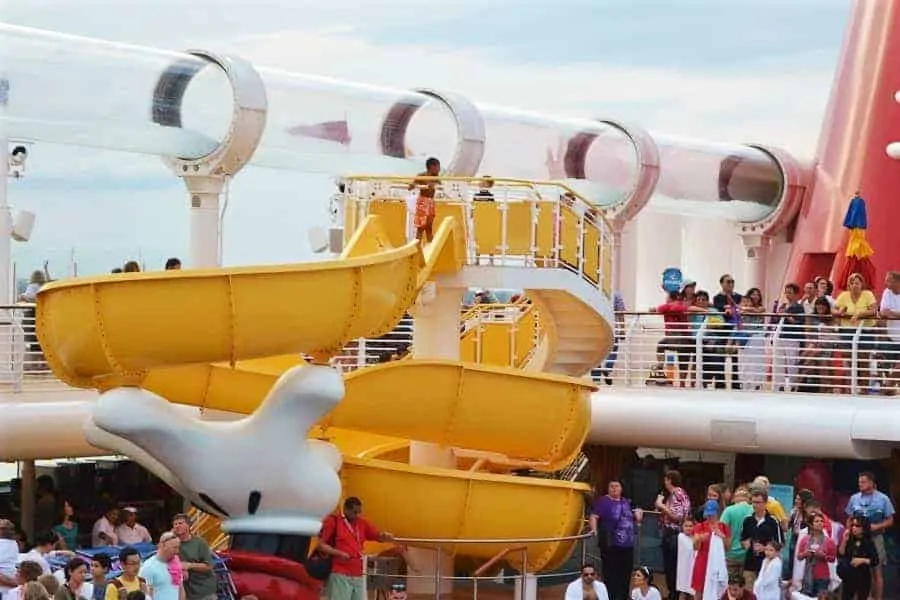 Outdoor Water Fun on the Disney Fantasy Ship
You'll find Mickey's Pool with an oversized version of Mickey's hand holding up a yellow winding slide that ends near the pool.
Kids will also enjoy splashing around in the AquaLab This water lay areas features jets, geysers and bubblers and plenty of activities to keep the kids splashing for hours!
Little ones will love playing in Nemo's Reef, a water-play area featuring interactive figures from Finding Nemo that move and spray water. They even have a min-water slide shaped like Mr. Ray.
Donald's Pool is the family pool. Kids can play while parent enjoy relaxing with the drink of the day watching a movie on the HUGE Funnel Vision movie screen.
One of the best features of the Disney Fantasy ship is the Aqua Duck. This water slide takes guest on a journey from one side of the ship to the other on a raft ride. During the journey, you will even go 12 feet over the side of the ship!
Family Fun and Games
If you are looking for family fun, you will want to keep track of what's going on in the D Lounge. Throughout the day, D Lounge hosts family fun and games. Here are some of the things you can look forward to participating in:
Pirate's Life For Me – Families participate together and enjoy swashbuckling competition with others during this game show, with pirate props, rollicking music and "Yo ho, yo ho" fun.
Goofy's Rock Stars and Guitars Family Dance Party – The whole family 'rocks' at this interactive dance party filled with classic rock and roll! Goofy is the Party Master as families compete for the "Golden Rock" award.
ESPN Monday Night Football Call It! – During video highlights of memorable Monday Night Football games, the action stops and fans recall (or not) what happened next.
Family Fusion – Guests are live, on stage, in a quest test of their knowledge of their loved ones and how well they can work together as a family in a variety of challenges.
Disney Movie Night
Ready for a family movie night? Aboard the Disney Fantasy Cruise ship, you can watch Disney movies all cruise long!
The Buena Vista Theatre shows the newest Disney films including first-run motion pictures. They even have Disney Digital 3-D.
Wondering what movies you might see on the Disney Fantasy? We have a current list of Disney movies playing on the Disney Fantasy.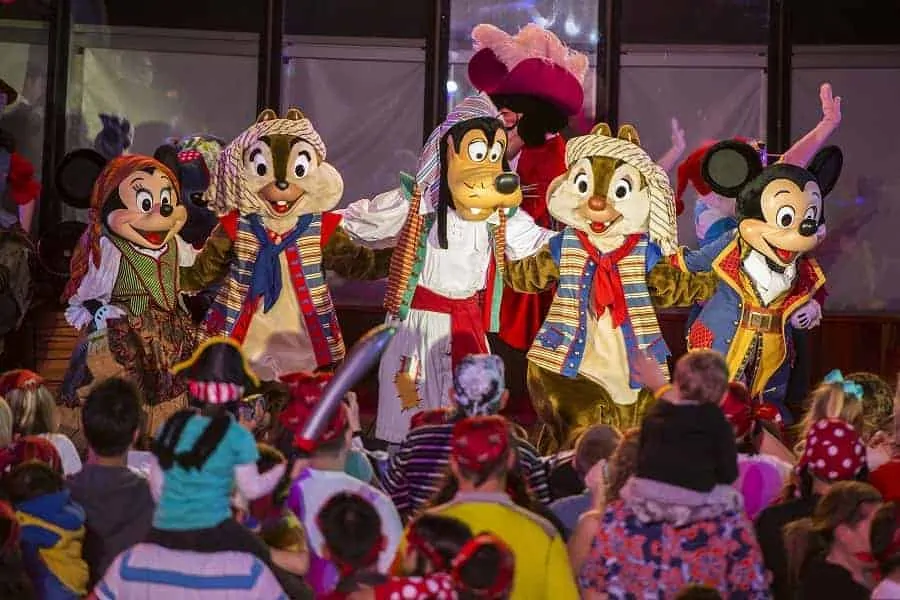 Pirate Night
During your Disney Fantasy cruise you will probably have a Pirate Night. This is a night when the entire ship transforms into a Pirate ship.
The evening begins at dinner with a full on meal fit for a Pirate. You'll find the restaurant featuring Caribbean food with a pirate flair and your servers dressed in their pirate best.
On the Donald's Pool stage, you will get to enjoy "Mickey's Pirates IN the Caribbean," an interactive show where your family will become part of Mickey's Pirate Crew.
You'll end your evening with the"Buccaneer Blast." This firework show is NOT to be missed!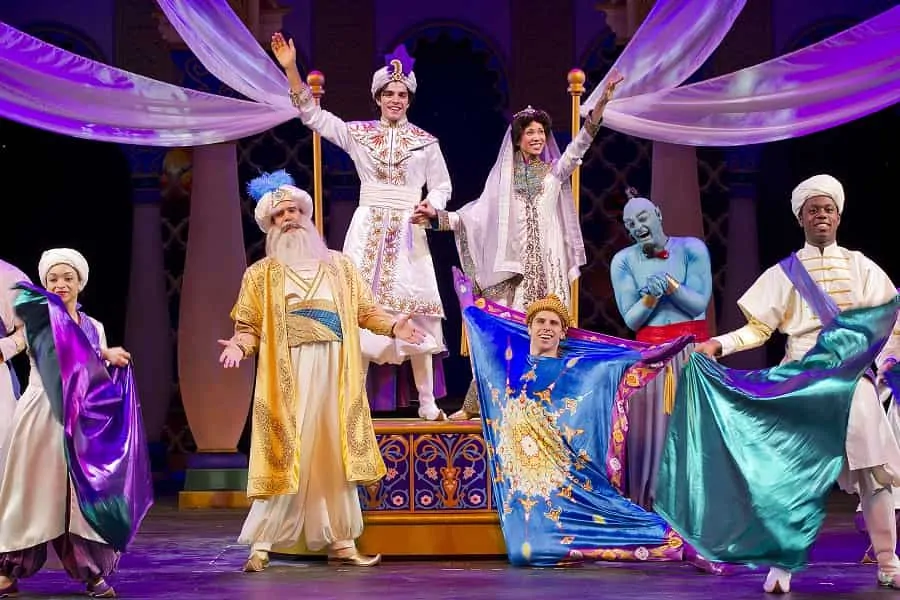 Broadway-like Theater Shows
Your entire family will enjoy the amazing shows on board the Disney Fantasy ship. Each night you will want to head over to the Walt Disney Theater to see the amazing productions.
Each ship features different shows. On the Disney Fantasy, you will get to see:
"Disney Wishes" is a musical about three best friends who discover the secret to being a grown-up is staying connected to their inner child.
"Disney's Aladdin – A Musical Spectacular" stars the Genie and other characters from the classic animated Disney Film "Aladdin."
"Disney's Believe" tells the story a father who reconnects with his daughter and learns a valuable lesson about what is important in life.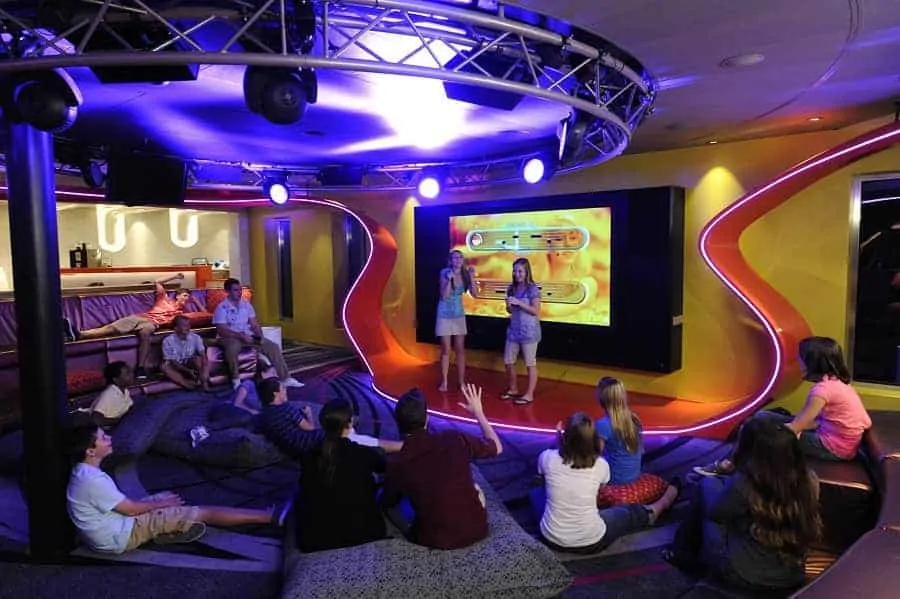 There is so much to do on this ship that you will never get bored. And while we know you will love doing things as a family, there are times when the kids might want to do things on their own. You will find that the kids clubs and teen spaces have just as much going on!
Are you planning a Disney Fantasy Cruise for 2021 or beyond?