Disney pin trading has become a popular activity to do at the Disney parks. Part of what makes Disney pin trading so much fun is that you never know what you might find and where you might find them.
One the best Disney pin trading secrets we can share with you involves finding pin trading locations. While all most Disney cast members where pins to trade, there are also hidden pin boards scattered through out the Disney parks where you can find pins as well.
Before we get to our Disney pin trading secrets, you first need to make sure that you fully understand all there is to know about this fun past time!
How to get Started Trading Disney Pins
The first thing you will need to do is buy a few Disney trading pins. If you are a first time pin trader, you might want to start by purchasing a set of pins that come with a lanyard. You'll find that this is the most affordable option since you will get a lanyard along with an entire set of Disney trading pins.
If you are worried that you might love the pin collection too much to trade, another option is buying a set of Disney pins in bulk on Amazon. Keep the ones you love, and trade the rest.
Where to Buy Disney Trading Pins
Disney trading pins can be purchased at ShopDisney online, in each of the Disney parks, Disney resort gift shops and in Disney Springs at Pin Traders and the World of Disney store.
You are going to find that the larger shops like Pin Traders and The World of Disney Store at Disney Springs will have the largest collection of pins.
The Disney trading pins are typically divided into sections based on categories like popular characters, rides, attractions and holidays. You can purchase individual pins, pin sets, and even mystery pins (where you don't know what pin you get until you open it).
Many avid pin traders place their pins on lanyards to wear around their neck, and some hard-core Disney pin traders place their trading pins in a book-like binder.
This isn't a requirement, but if you plan on collecting pins, it is probably a good idea to have one or the other.
How to Trade Disney Pins
When you travel to the Disney parks, you will see Cast Members wearing a lanyard or satchels with Disney trading pins.
Ask politely to see their pins and search to find a pin you'd like. If you don't find one you are interested in, just politely say thank you for letting you look and walk away.
You are by no means obligated to trade. If you do find a pin you would like to trade, simply ask your Cast Member if they would be willing to trade. They ALWAYS say YES! There you have it, a NEW Disney souvenir pin to take home!
Certain stores in the Disney parks and Disney Springs also have Disney Pin Trading Boards. Often, they will be visible at the counter. There are some that are hidden pin trading boards (like this one) and you have to know to ask for them.
If you really love pin trading, consider attending a Disney pin trading event. These events are held throughout the year at Disney parks and allow you to meet other pin enthusiasts for open trades. Even if you don't want to trade pins, it is a neat place to see the pins that others have collected.
Pin trading can be addictive and it is a great way to explore the parks while also interacting with Cast Members. Just be sure to keep in mind these Disney pin trading tips:
Disney Pin Trading Tips
Ask to see the pins without grabbing on touching their lanyard/book.
If you choose not to trade, thank the Cast Member for allowing you to look.
If you choose to trade, let the Cast Member know which Disney trading pins you are interested in.
Trade only one pin at a time with a maximum of 2 pins.
Take your own pin off your lanyard, and place the rubber back on prior to handing it to the cast member.
Hand them your pin and open your hand to receive the trade.
Thank the Cast Member and place your new pin on your lanyard/ book
Disney Pin Trading Secrets: Hidden Pin Board Locations
While you can always spot Disney pins on a Castmember lanyards, there are some Disney pins that are not so obviously displayed. These hidden boards are sometimes hidden behind the counter or disguised as something else altogether (like the trashcan pictured above).
Here is where you can find some of these Secret locations of Disney pin boards:
Magic Kingdom
Stroller Rental
Guest Relations on Main Street USA
Town Square Exposition Hall
The Emporium Shop on Main Street USA
Main Street Confectionary (Oven Mitt)
The Chapeau Hat Shop (Hat)
Guest Relations at Liberty Square
Momento Mori
Sir Mickey's (Sword and Shield)
Big Top Store in Dumbo's Circus (Popcorn)
Frontier Trading Post
Epcot
Stroller Rental
MouseGears
Starbucks
Norway
America Showcase gift shop (hat)
Morocco Kidcot
Japan World Showcase Store
United Kingdom Pin Cart
Animal Kingdom
Stroller Rental
Guest Relations
Island Mercantile (bee hive)
Dinosaur
Various locations: Trashcan pin board
Hollywood Studios
Stroller Rental
The Tower of Terror gift shop
Rockin' Roller Coaster (Pin Drum)
Way to Display Disney Trading Pins
When you head back home on vacation, you may be wondering what you can do to preserve your pins or how you can display them.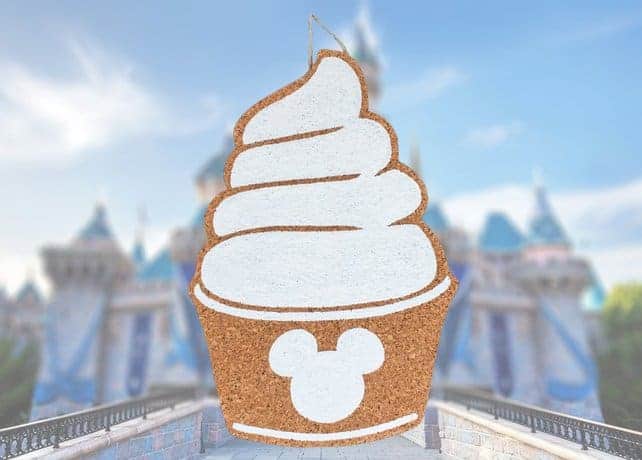 There are a few different ways to show off your Disney trading pins, but one of my favorites is with a cork board. There are plenty to purchase online and this cork board that looks like a Disney Dole Whip is definitely my favorite!
You can also find Disney pin shadow boxes and pin holders.
---
Do you trade or collect Disney Trading pins at the park or know of other Disney Pin Trading secrets to share?