(We may earn a commission via affiliate links in this post. Read our full disclosure policy.)
In the months of November and December Hollywood Studios transforms itself into a winter wonderland. Not only will you be able to experience Jingle Bell, Jingle Jam!, you can visit Santa, see the Hollywood Studios Christmas displays and see it snow!
These are just some of the reasons you should visit Hollywood Studios at Christmas.
Hollywood Studios Christmas Celebration is AMAZING
It is a magical time throughout Disney World and when you get to Hollywood Studios, you are going to be amazed at how they welcome the holiday season!
Take a look at what you can experience this time of year…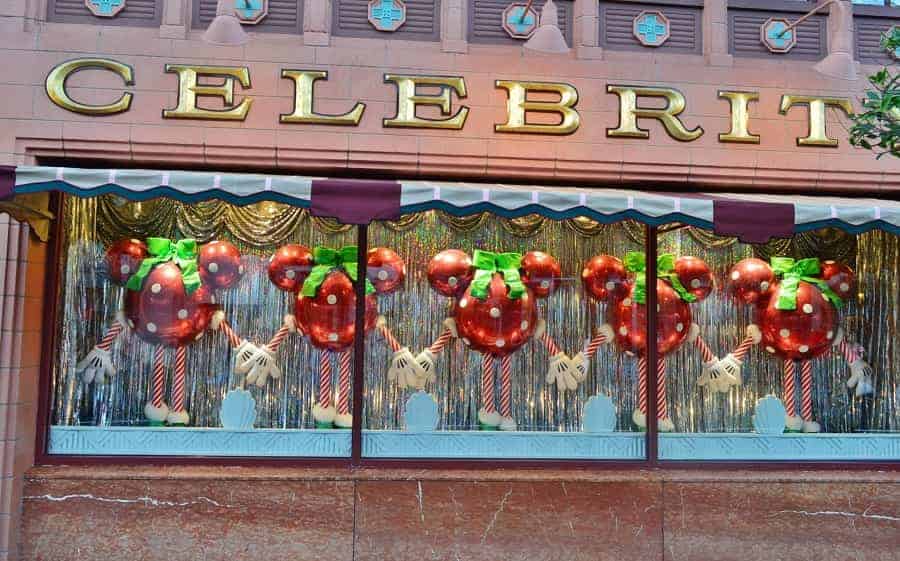 Hollywood Studios Christmas Decorations
When you enter Hollywood Studios at Christmas, you will find that Hollywood Boulevard has been transformed with holiday decorations.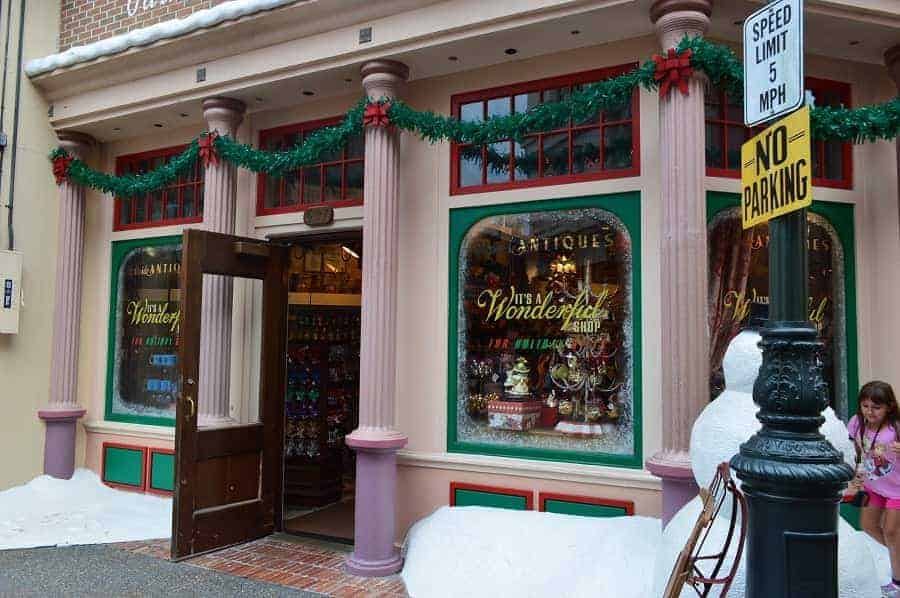 Garland hangs above the street, store windows feature Christmas displays and Christmas music fills the air.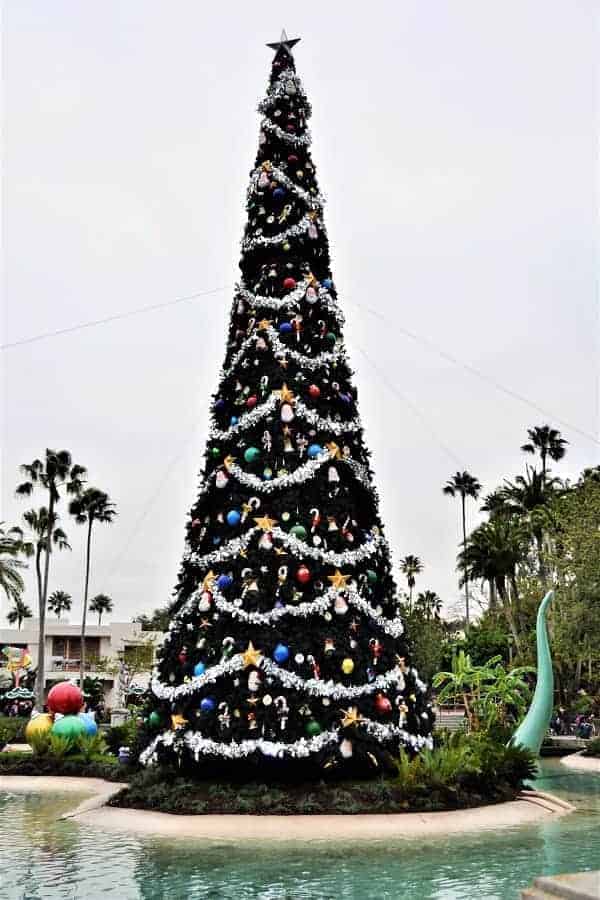 Be sure to stop by Echo Lake to see the magnificent Christmas Tree sitting in the middle of the lake.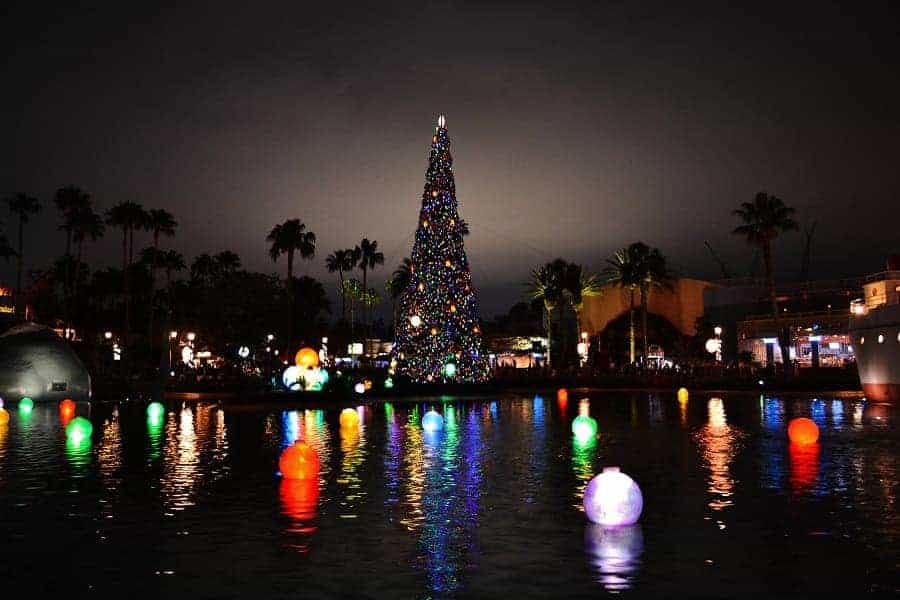 The Christmas tree on Echo Lake is 65 feet tall, with a 25-foot-wide base. At night, the 40 floating ornaments light up & reflect on the water.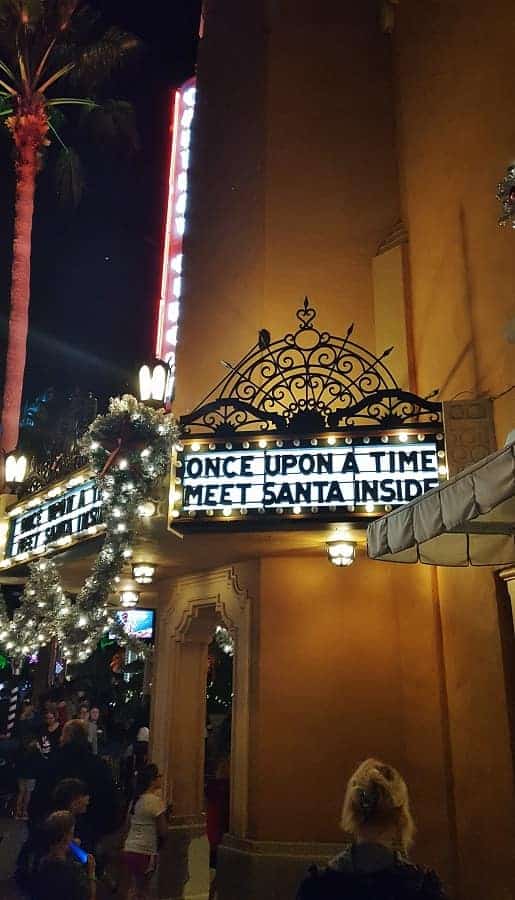 Santa comes to Hollywood Studios
If you are looking to have a meet & greet with the big guy, you'll find Santa Claus over at Once Upon a Time on Sunset Boulevard from November 10th through Christmas Eve.
The line isn't usually too long and the room is decorated beautifully. It would make a lovely family picture for your Christmas card.
If you are coming December 25th-31st, you will find it is Santa Goofy.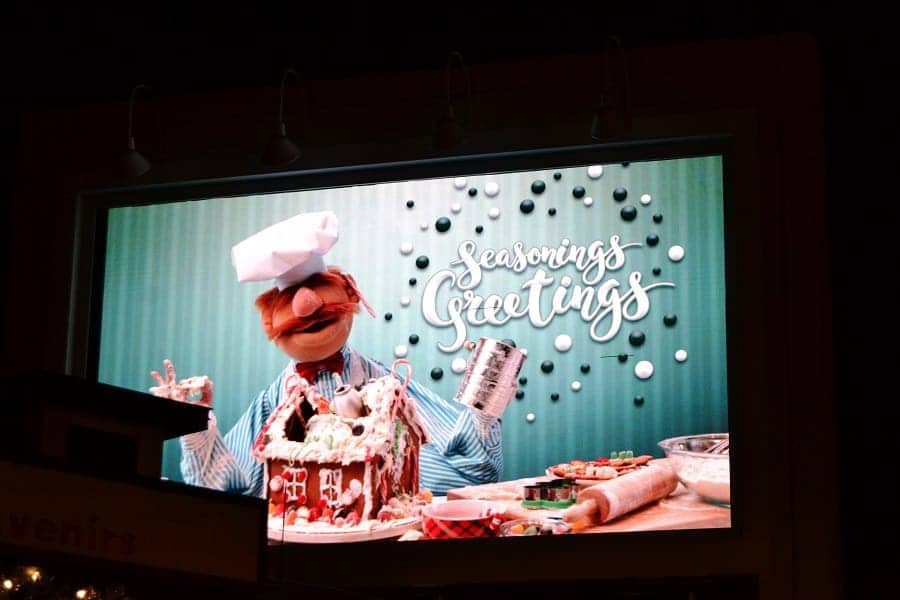 Sunset Greetings Christmas Billboards
Sunset Boulevard is also where you will find Sunset Seasons Greetings.
This is a new holiday celebration taking place as soon as the sun sets.
Billboards suddenly transform into a cartoon that features popular Disney characters discussing their love for the season.
Hollywood Studios Christmas themed Tower of Terror
At the end of the cartoon, the Hollywood Tower Hotel (The Twilight Zone Tower of Terror) magically transforms, bringing the stories to life.
There are currently 4 different cartoon clips: Mickey and Minnie reminiscing about a hometown Christmas, the Toy Story characters guessing which new toys are coming this Christmas, the Swedish Chef from The Muppets babbling, and Olaf pining over his holiday wish.
At the end of Sunset Season's Greetings, Snow will begin to fall on Sunset Boulevard.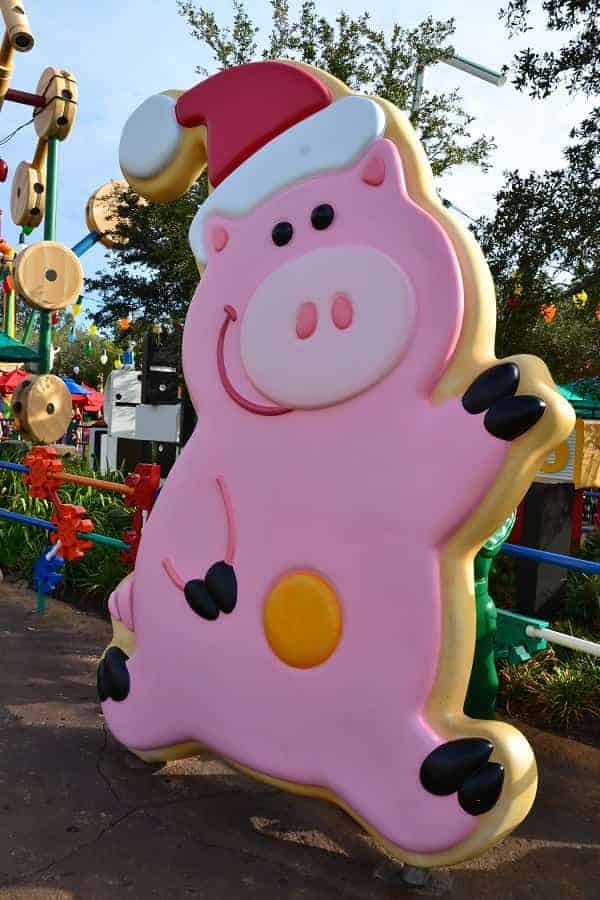 Toy Story Land at Hollywood Studios during Christmas
In the new Toy Story Land, you will find special seasonal fun too. Don't be surprised if you hear holiday tunes on Alien Swirling Saucers or hear sleigh bells ringing on Slinky Dog Dash.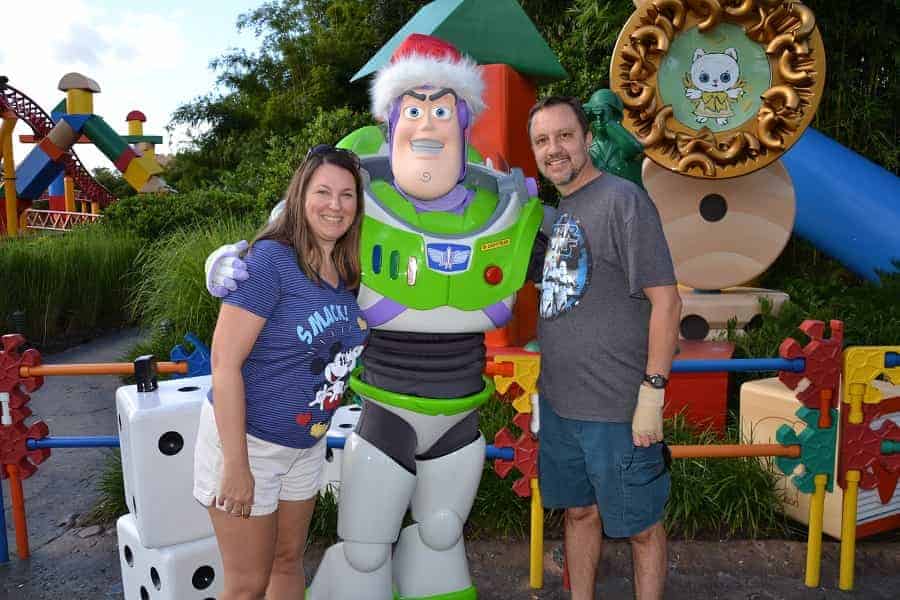 Toy Story characters will be wearing their Holiday Attire for the season. Woody and Jessie will wear special holiday vests and Buzz Lightyear will be wearing a Santa hat.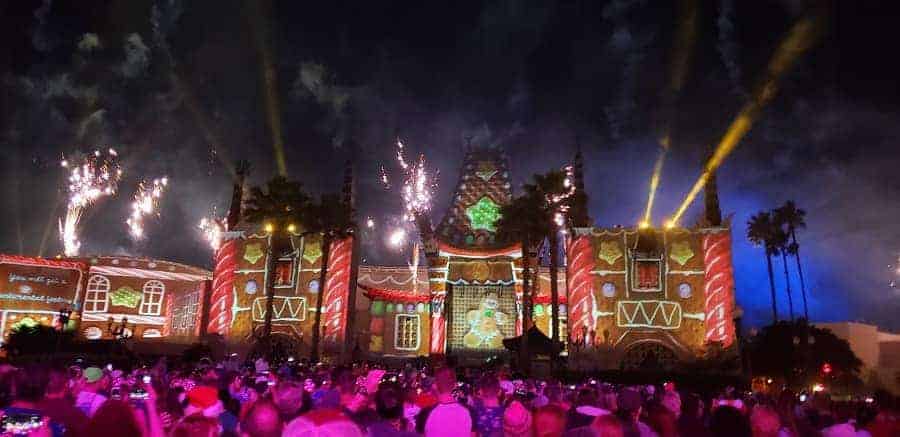 Hollywood Studios Christmas Show: Jingle Bell, Jingle Jam!
At 8:30pm, you will want to head back over to the Chinese Theater where you can watch Jingle Bell, Jingle Jam featuring Prep & Landing.
In this state-of-the-art projection feature, Prep and Landing are on the search for Santa who has gone missing. It's up to them to find Santa in time for Christmas! You will only see this show at Hollywood Studios at Christmas!
After Prep & Landing, you can watch the Chinese Theater come to life with scenes from Mickey's Christmas Carol, Beauty and the Beast, and Tim Burton's The Nightmare Before Christmas followed by a fireworks display!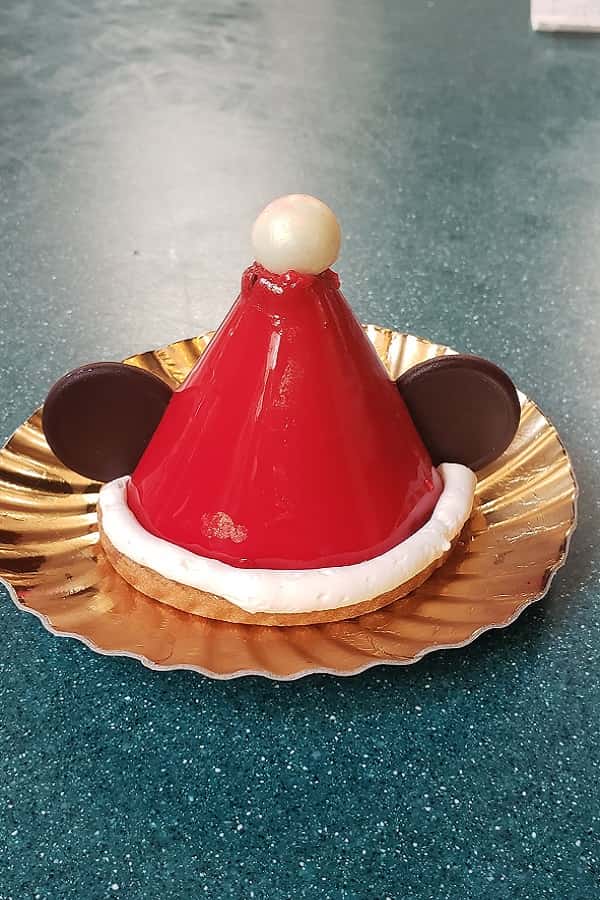 Unique Holiday Treats at Hollywood Studios
If you are looking for special holiday treats during holiday celebrations at Hollywood Studios, you will find the following:
Gingerbread pops and gingerbread straws
Mickey Mousse Santa Hat
"Prep and Landing" cupcakes
Alcoholic and non-alcoholic hot chocolate beverages
Cinnamon Apple Cranberry Tarts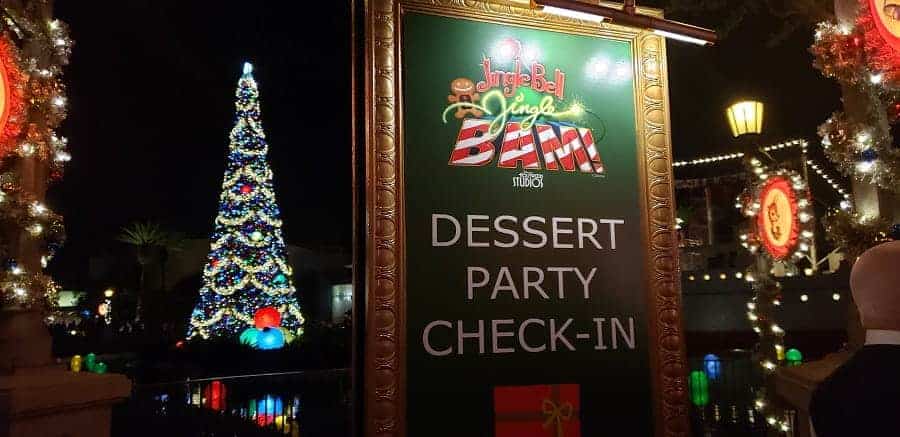 Jingle Bell, Jingle Jam Dessert Party
Speaking of desserts, You will get to eat all sorts of delicious treats while you enjoy a special view area along Echo Lake to see the projection show on Chinese theater!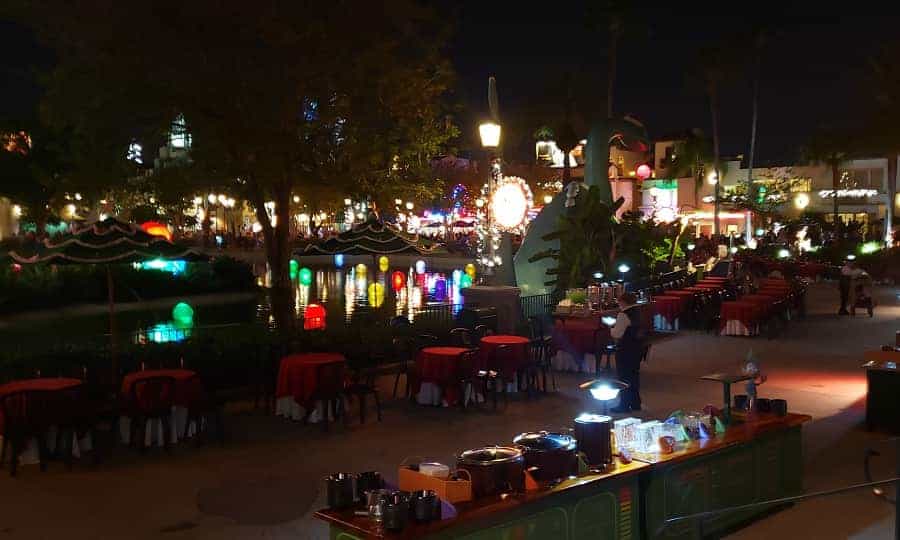 On the menu this year are items including warm cheese fondue with pretzel bread, roasted onion dip with kettle chips, winter-spiced trail mix, Yule log cake, caramel apple verrine, and of course, Christmas cookies!
Drinks include beer, wine, a gingerbread martini and hot chocolate.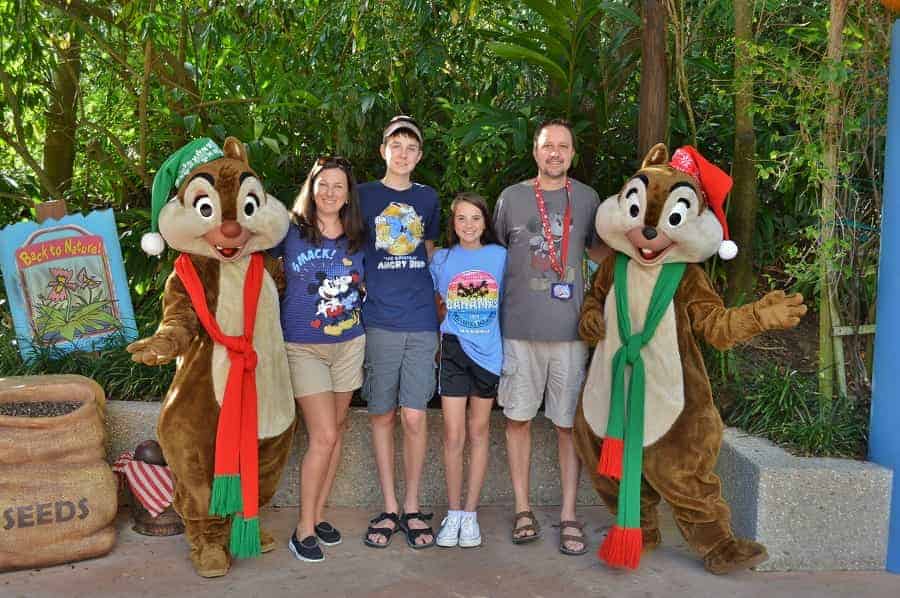 Chip and Dale will even be there for you to party with!
This festive dessert party occurs November 8, 2019–January 5, 2020 and prices vary depending on when you attend:
November 8 to December 21, 2019: $89 per adult; $53 per child ages 3 to 9 (tax and gratuity included)
December 22, 2019 to January 1, 2020: $99 per adult; $59 per child ages 3 to 9 (tax and gratuity included)
January 2 to January 5, 2020: $89 per adult; $53 per child ages 3 to 9 (tax and gratuity included)
---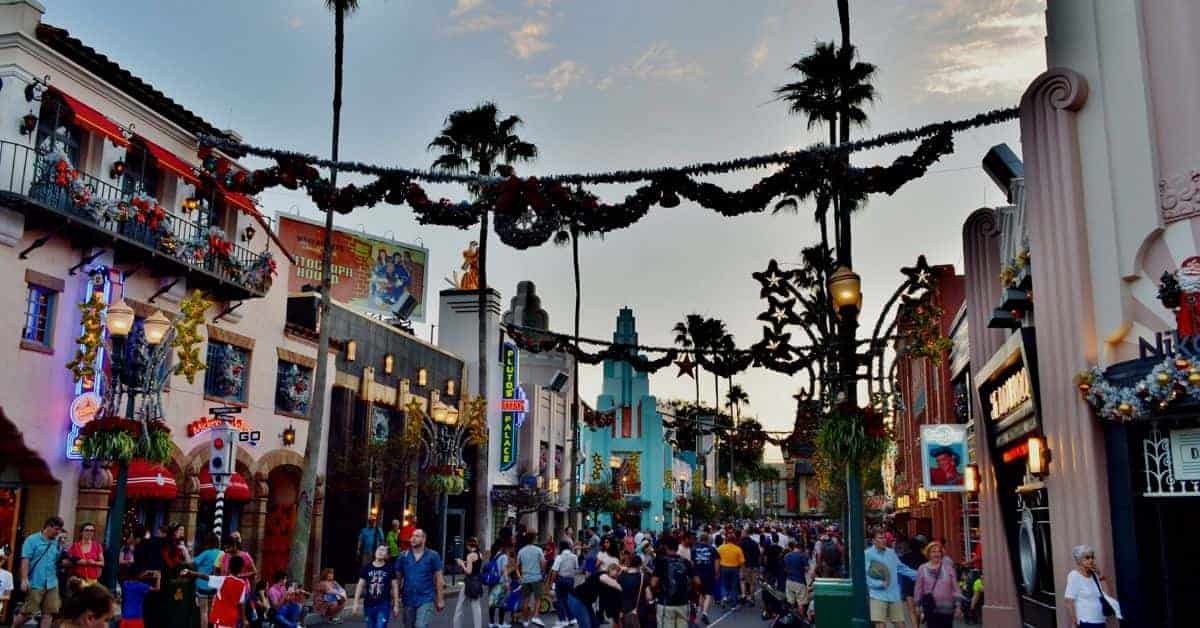 Many people overlook Hollywood Studios during the holidays because they don't expect that much to be going on. I hope this shows you how much you will be able to experience in Hollywood Studios at Christmas!
Have you had a chance to visit Hollywood Studios at Christmas? What is your favorite part?