In November and December, Hollywood Studios transforms itself into a winter wonderland. Not only will you be able to enjoy a holiday display on Hollywood Tower of Terror & see Billboards on Sunset Boulevard come to life, but you might also find Santa driving around in a convertible!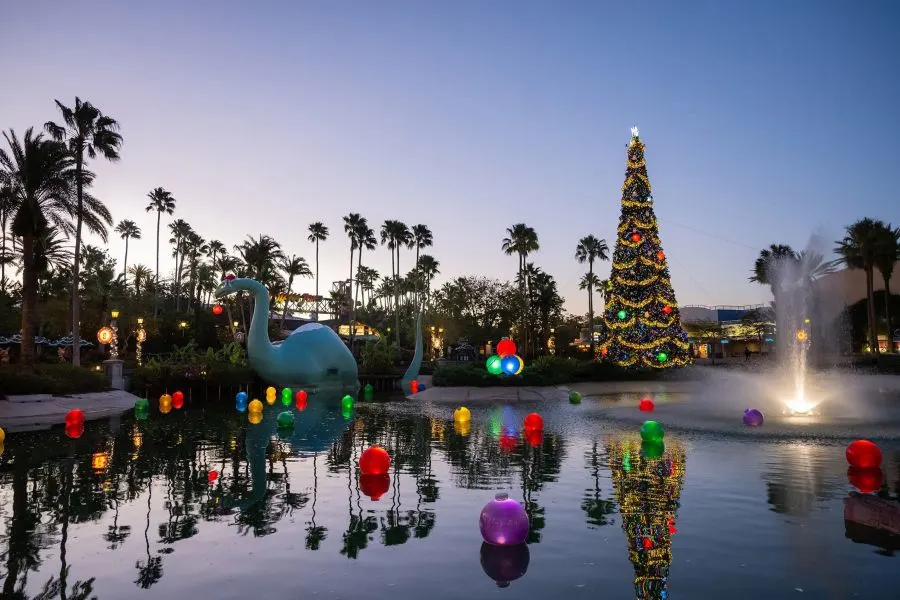 This year, we are expecting some changes due to the addition of the Jollywood Nights special ticketed event. We don't yet know if the experiences prior to 2023 will be the same or if they will be limited since they are now part of the Hollywood Studios Christmas party.
Hollywood Studios Christmas Celebration
It is a magical time throughout Disney World and when you get to Hollywood Studios, you are going to be amazed at how they welcome the holiday season!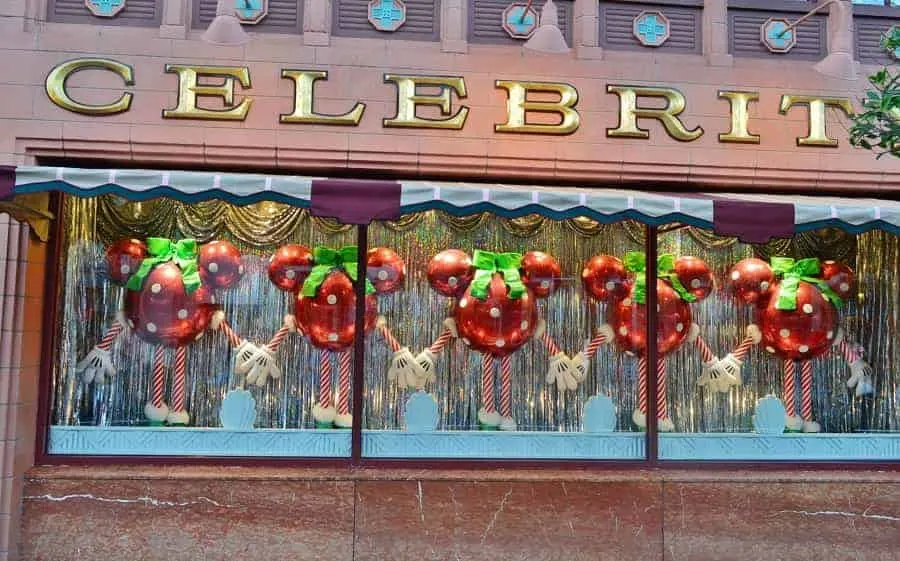 Hollywood Studios Christmas Decorations
When you enter Hollywood Studios at Christmas, you will find that Hollywood Boulevard has been transformed with holiday decorations.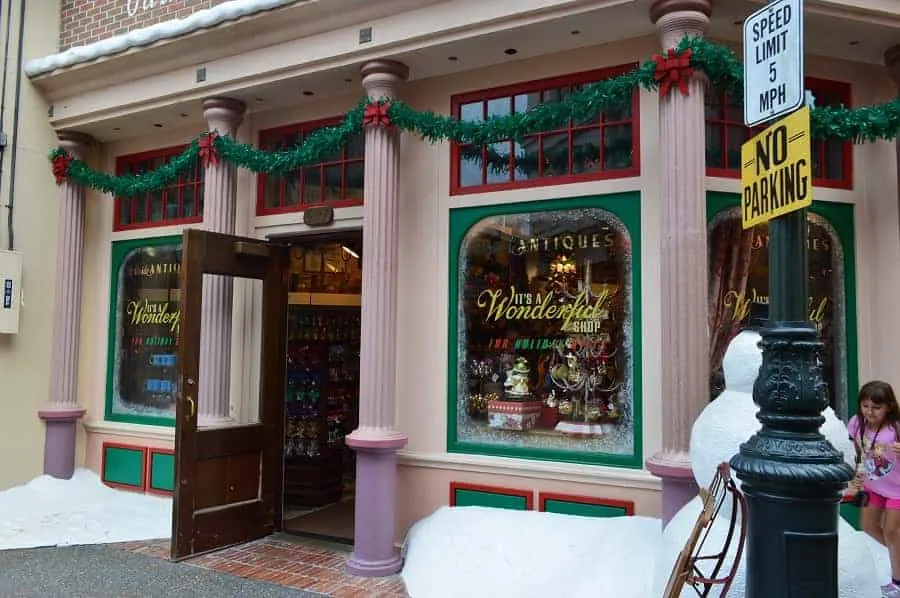 Garland hangs above the street, store windows feature Christmas displays and Christmas music fills the air.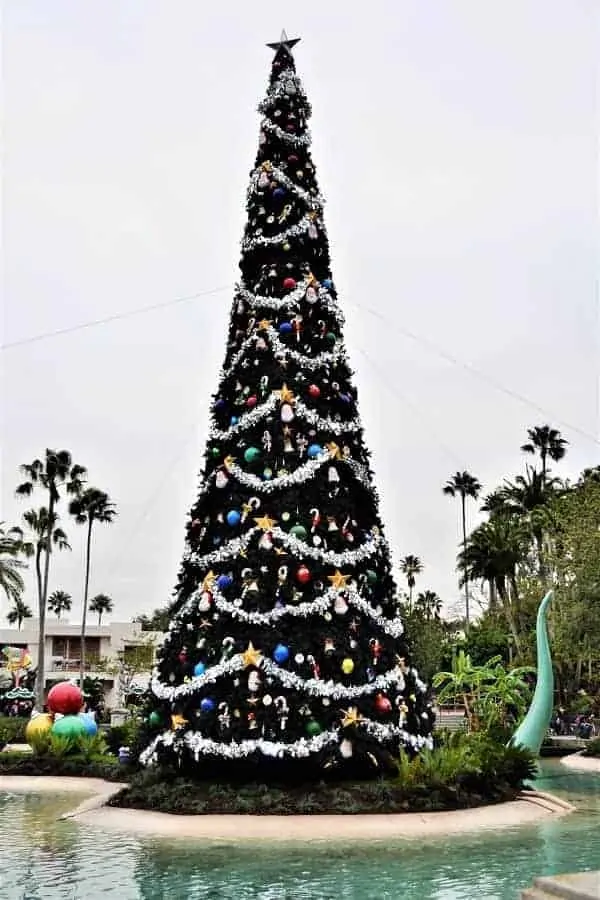 Be sure to stop by Echo Lake to see the magnificent Christmas Tree sitting in the middle of the lake.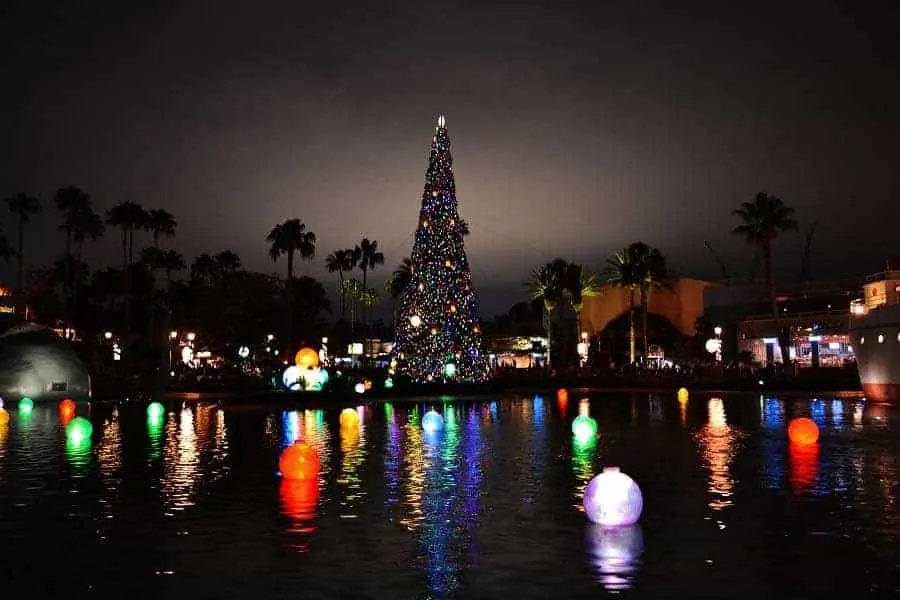 The Christmas tree on Echo Lake is 65 feet tall, with a 25-foot-wide base. At night, the 40 floating ornaments light up & reflect on the water.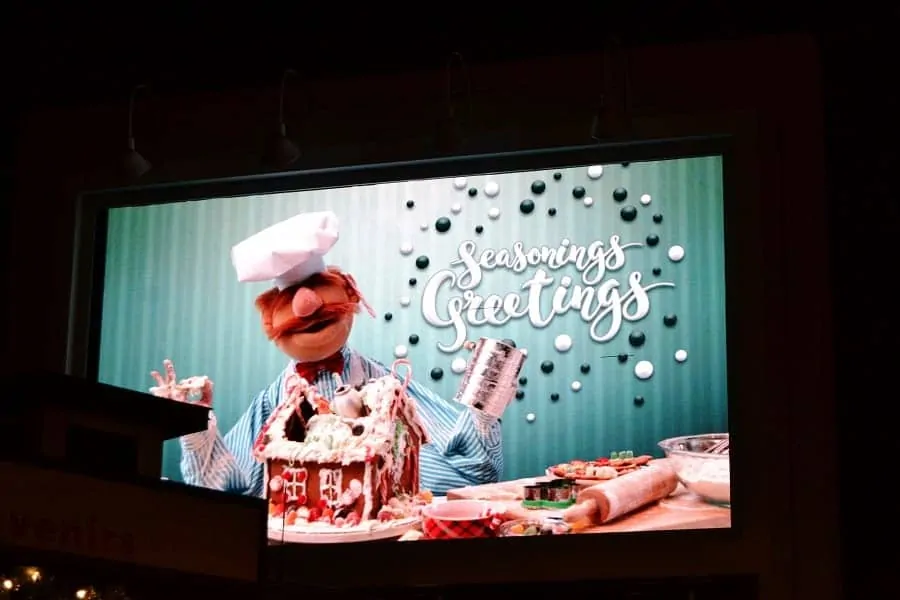 Sunset Greetings Christmas Billboards
Sunset Boulevard is also where you will find Sunset Seasons Greetings.
Billboards suddenly transform into a cartoon that features popular Disney characters discussing their love for the season.
Christmas-themed Tower of Terror
During the evening hours, the Hollywood Tower Hotel (The Twilight Zone Tower of Terror) magically transforms.
There are currently 4 different cartoon clips: Mickey and Minnie reminiscing about a hometown Christmas, the Toy Story characters guessing which new toys are coming this Christmas, the Swedish Chef from The Muppets babbling, and Olaf pining over his holiday wish.
At the end of Sunset Season's Greetings, Snow will begin to fall on Sunset Boulevard.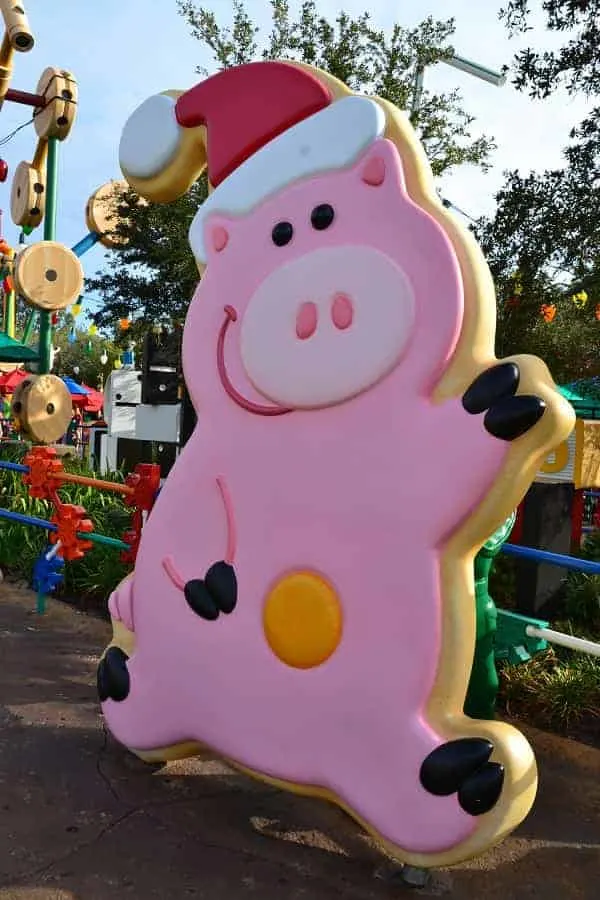 Toy Story Land during Christmas
In the new Toy Story Land, you will find special seasonal fun too. Don't be surprised if you hear holiday tunes on Alien Swirling Saucers or hear sleigh bells ringing on Slinky Dog Dash.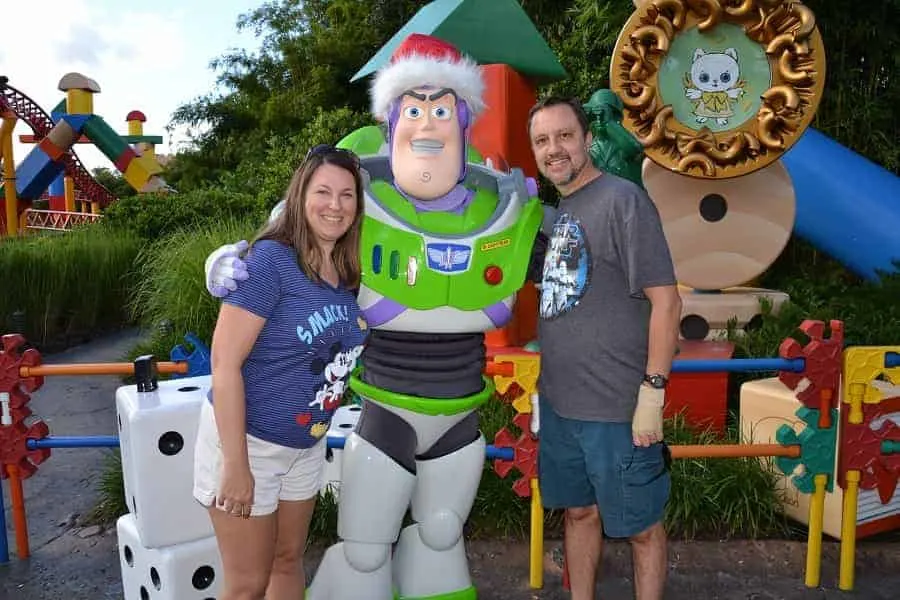 Toy Story characters will be wearing their Holiday Attire for the season. Woody and Jessie will wear special holiday vests and Buzz Lightyear will be wearing a Santa hat.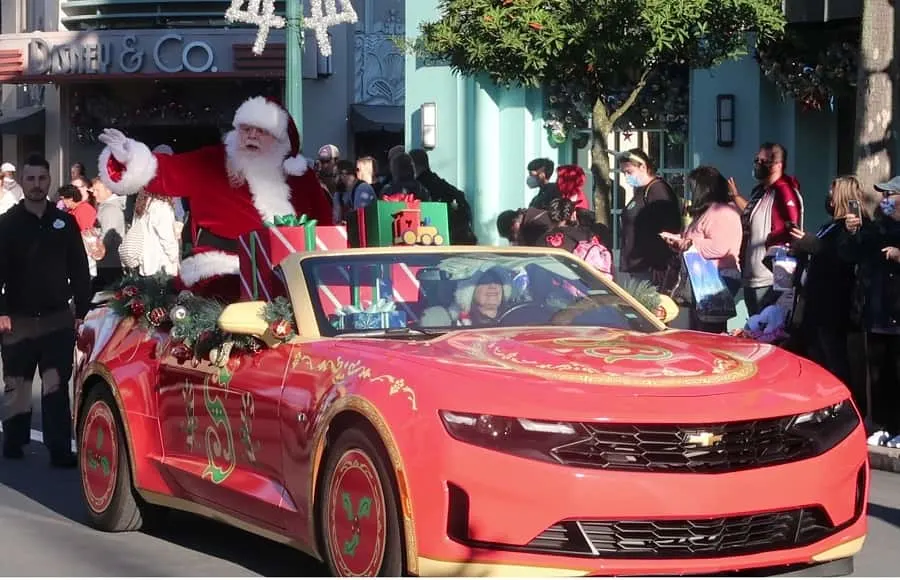 Merry Motorcade
Looking to see Santa Claus in Disney World this year? You can catch the Santa Claus Merry Motorcade, where old St. Nick will travel up Hollywood Blvd. In his candy-apple red convertible, packed with a sack of presents!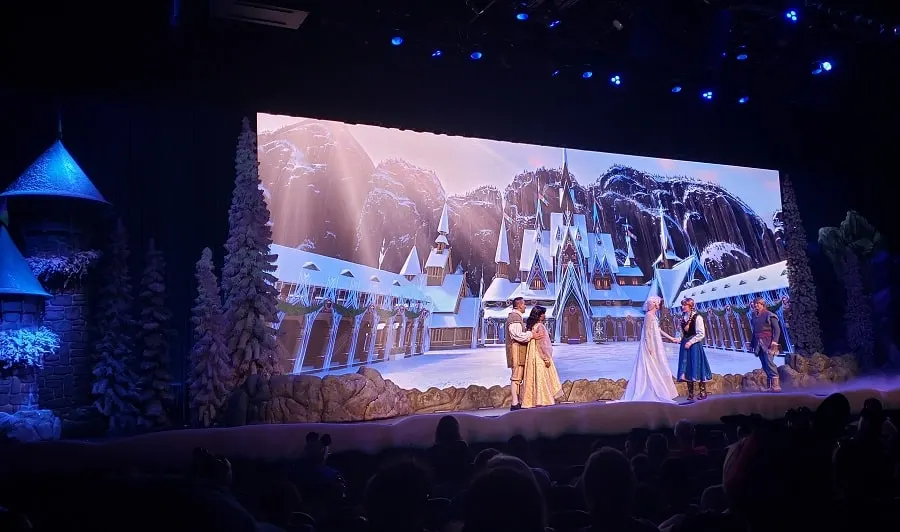 Frozen Sing-Along Celebration
Just in time for the holidays, "For the First Time in Forever: A Frozen Sing-Along Celebration" adds a festive finale, featuring everyone's favorite snowman, Olaf, and celebratory songs of the season.
---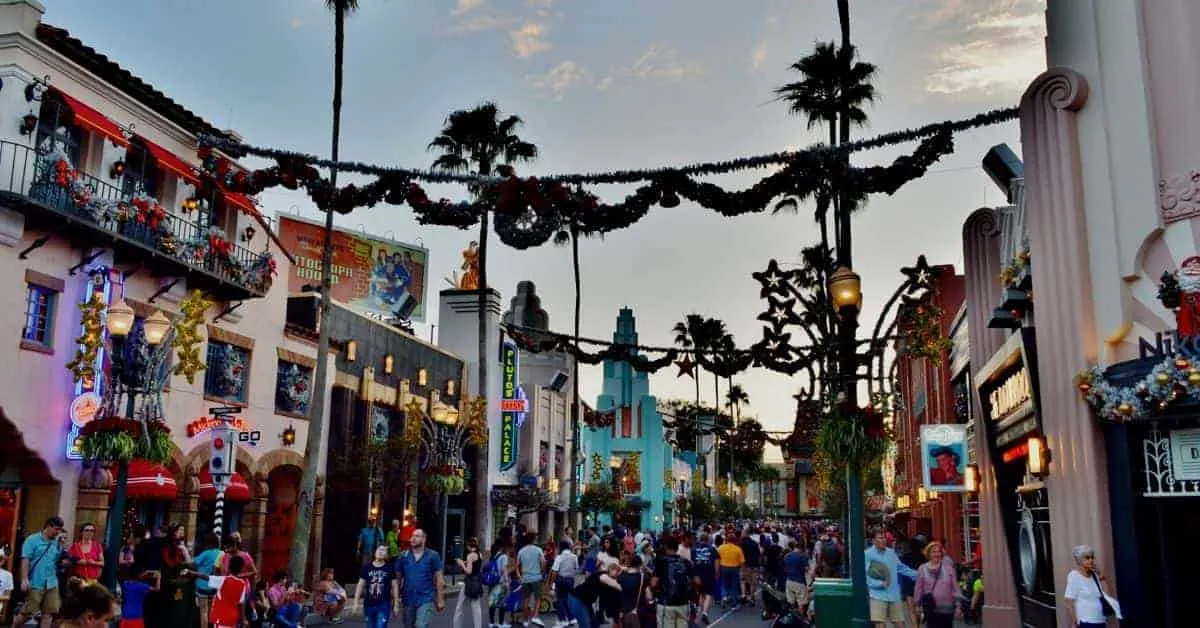 Many people overlook Hollywood Studios during the holidays because they don't expect that much to be going on. I hope this shows you how much you will be able to experience in Hollywood Studios at Christmas!
Have you had a chance to visit Hollywood Studios at Christmas? What is your favorite part?