(Note: The links in this post are affiliate links, and we will be compensated when you make a purchase by clicking through our links. Read our disclosure policy here.)
If you are travelling to Disney World with preschoolers, you are probably wondering whether or not you will need a stroller at Disney. Each one of the Disney parks is pretty expansive and you need to prepare for a lot of walking. When you think about it, little ones do nearly double the walking that we do as adults because their little legs have half our stride.  The last thing you want is an overtired child whose little legs can't take the pace of a trip to Disney. It is a recipe for disaster!
I strongly believe that if you are going to Disney with children under the age of 6, strollers are a necessity.
Here are my reasons why having a stroller at Disney is essential:
They give kids a way of taking a break in between rides and attractions.
You can move a lot faster with a stroller than if your kids were walking next to you.
You won't have to carry your tired child through the park
They give the kids a place to nap.
Kids can sit (comfortably) in them to see the Disney parades
You can store all your things easily.
They have cup holder (which is like having an extra set of hands)
They have visors to shade them from the sun (and rain)
You have a few different options when it comes to getting a stroller while you are at Disney.  You can bring  your own stroller with you  OR  you can rent strollers at the Disney parks or from a third party vendor (which is much less expensive).
Disney Parks Stroller Prices: $15 for Single   $31 for Double
No matter which choice you make, you will find that the park is overloaded with strollers and each time you get on a ride, you will have to park your stroller prior to getting on the ride. Now, this doesn't seem like a big deal because it is pretty easy to find a place to park it. The problem arises when you go back to retrieve it.
What you are going to find is that while you were away, chances are a cast member moved your stroller to a different location. The purpose for this isn't to confuse you. They are trying to organize the strollers so that no space is wasted.
This is great for them, but can cause your a problem when you come back to retrieve your stroller.   You just might find yourself looking through 50-75 look-a-like strollers before you find yours.
Want to know how to locate your stroller at Disney easily?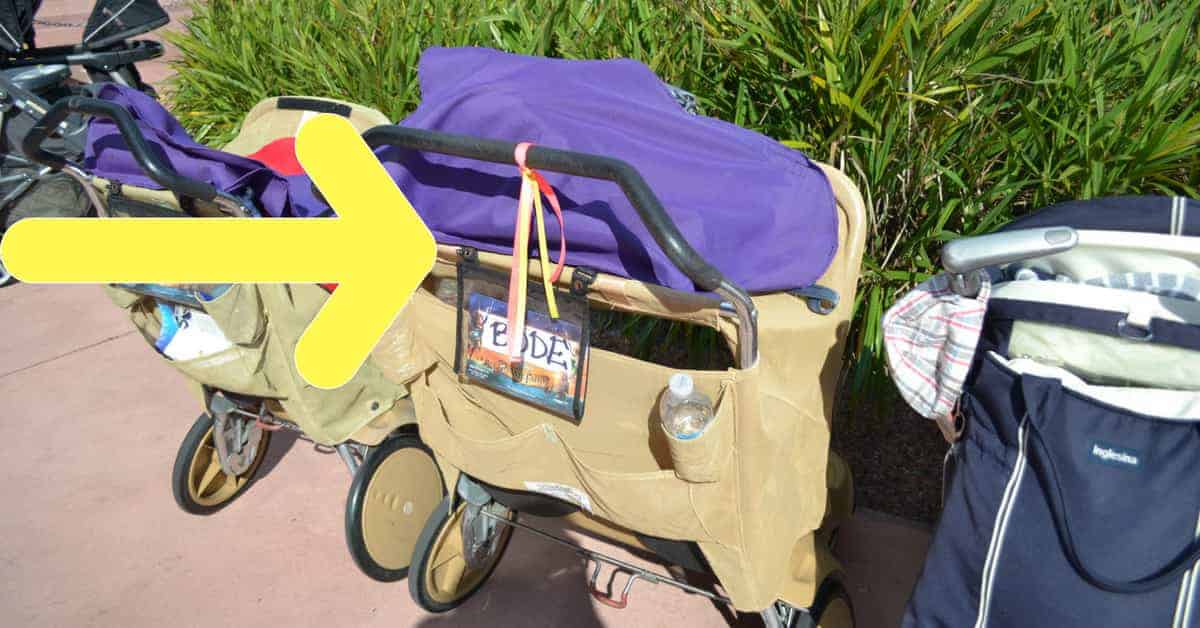 Bring a piece of bright colored ribbon to tie to the handle. The ribbon makes your stroller stand out from the rest and much easier to spot! When you look out at the sea of strollers, the only thing you really see is the top canopy and the handle. By having a bright ribbon tied to the handle, you'll be surprised at how much easier yours will be to find!
So, do you think you will need a stroller at Disney?  I'd love to hear your thoughts!