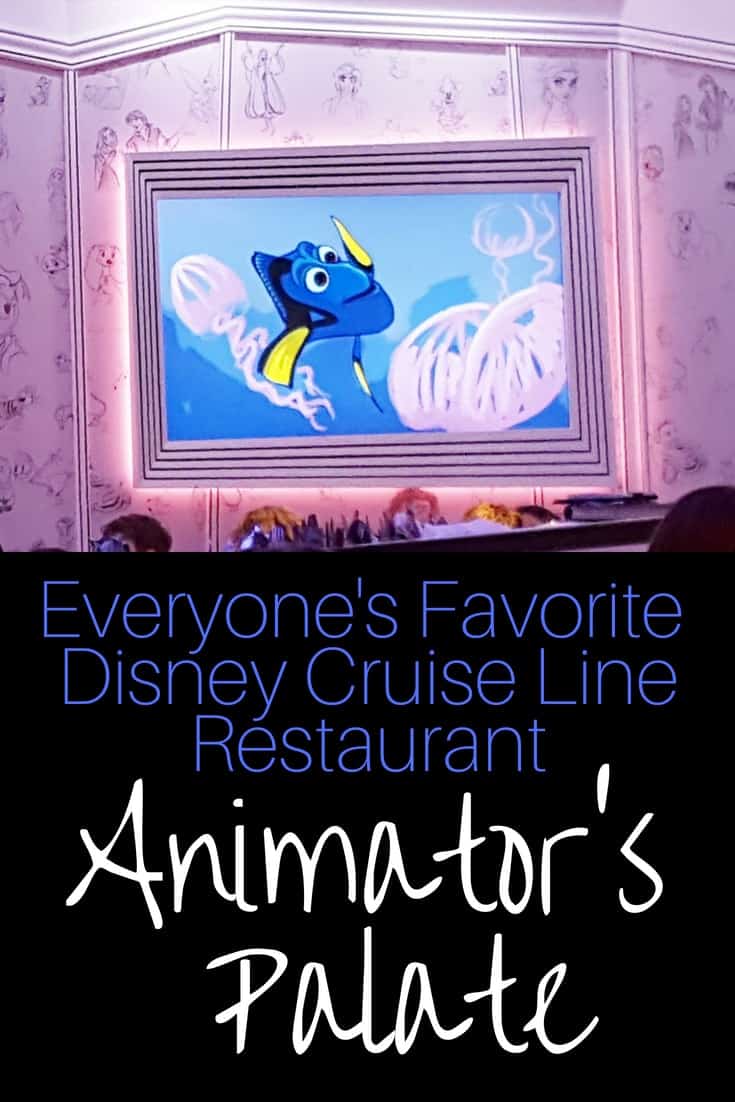 No matter which Disney Cruise Ship you take, the one restaurant that you will be unable to stop talking about is Animator's Palate. This restaurant will truly be the highlight dining experience during your cruise so don't miss it!
What you can expect at Animator's Palate
While the food is fantastic (contemporary Pacific Rim cuisine with an American flair), that isn't what makes Animator's Palate a step above the other restaurants on the cruise ship.
What makes this restaurant spectacular is the atmosphere.
Inside you will find character sketches that come to life, paint brushes that turn the colors of the rainbow, and characters from popular Disney films across each wall.
We have had the pleasure to dine at Animator's Palate on different Disney Cruise ships and each gives you a little bit of a different experience.
Differences at Animator's Palate:
Disney Wonder
Animator's Palate on the Disney Wonder comes to life with one of the best dinner shows I've ever seen! When you enter the restaurant, everything will be in black and white.
By the time you leave, the entire place is filled with brilliant color.
It is visually stunning and will keep your children entertained just by trying to guess what will happen next. The show, as I mentioned, it fantastic.
At the end of the evening, once the videos begin playing in color, you will notice that all of your servers disappear. It is because they are gearing up for the grand finale of the night, when none other than Mickey Mouse makes an appearance.
Disney Magic
On this ship, the restaurant while similar has something quite unique. While waiting for your meal, your server will bring you a sheet of paper and request that you draw a picture of yourself.
Later, once your meal is finished, you will begin to notice a show that features all the images drawn by the restaurant guest.
What makes this amazing is that the drawings actually come to life and dance on screen!
Disney Dream & Fantasy
Unlike the restaurant on the Disney Wonder and Magic, on the Dream & Fantasy are drenched in color as soon as you step through the doors.
The entire space takes on the colors of Mickey Mouse, with red, black and white.
As you dine, you will notice some of Nemo's friends appear (and disappear) on the screens inside the restaurant.

While there is no dinner show, you just might have a special guest stop by to interact with you during the course of your dinner via the many screens throughout the restaurant. Be aware, this guest enjoys picking on unsuspecting diners!
If you have had a chance to dine at Animator's Palate on any of the Disney Cruise ships?
Everything You Need to Know about Taking a Disney Cruise
If you are planning to take a Disney cruise this year, be sure to check out the following posts