Two of the best parts of a Disney Cruise are the food and entertainment. Animator's Palate combines both in a one of a kind experience that you will find unforgettable!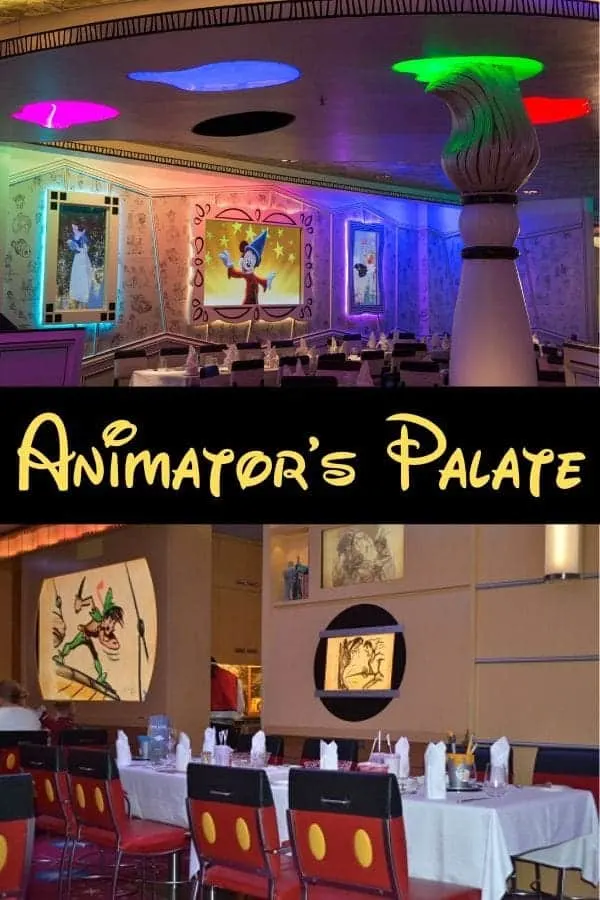 Guide to Animator's Palate
No matter which Disney Cruise ship you decide to set sail on, you will get to dine for at least one night at Animator's Palate.
This is just one of the restaurants in the Disney Cruise Line restaurant rotation, but is a family favorite for many reasons.
Inside this restaurant you will find character sketches that come to life, paint brushes that turn the colors of the rainbow, and characters from popular Disney films across each wall.
We have had the pleasure to dine at Animator's Palate on each of the Disney Cruise ships and what I can tell you is that each gives you a little bit of a different experience.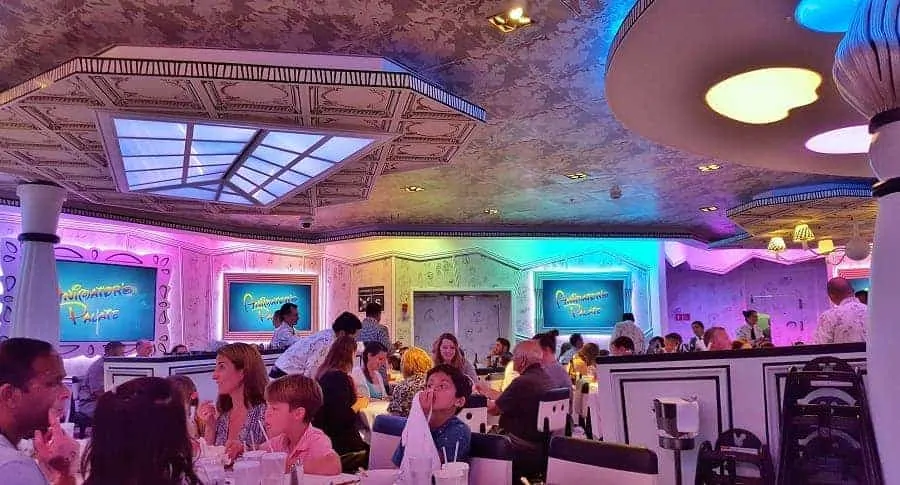 Animator's Palate on the Disney Wonder
When you arrive at the restaurant on the Disney Wonder, you will notice that everything seems to be without color.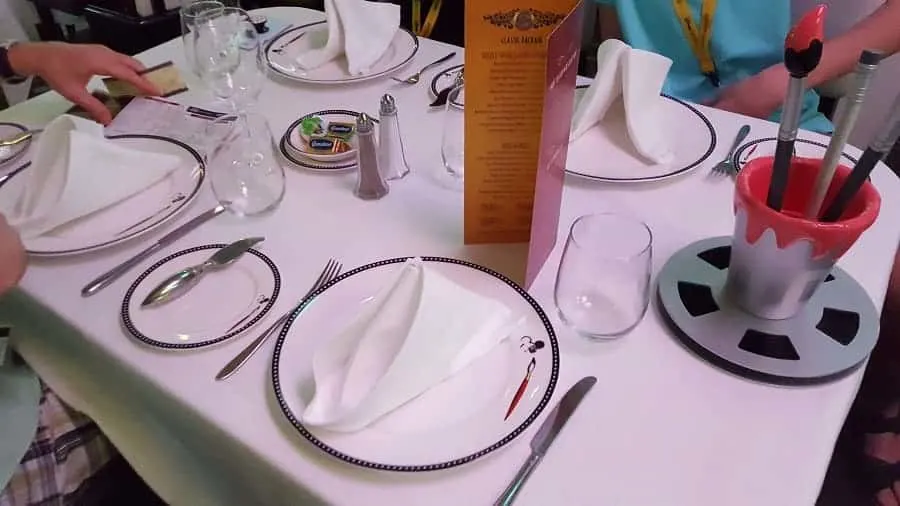 The tables are white and the pictures on the wall are all black & white sketches.
During the course of the evening, the black and white sketches that adorn the walls will change to color and eventually begin to transform into video.
Your servers who were once also wearing black & white, will gradually change into colored uniforms as well.
The night ends will the videos being synced to music, and a special visit from Sorcerer Mickey!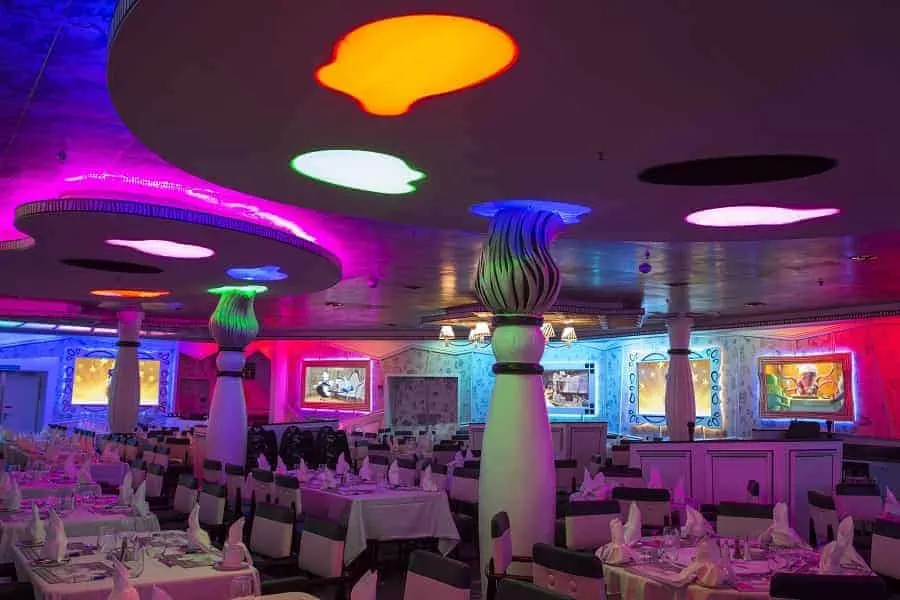 Animator's Palate on the Disney Magic
On the Disney Magic, the restaurant itself looks just like the Disney Wonder. And while it looks similar, the experience is totally different.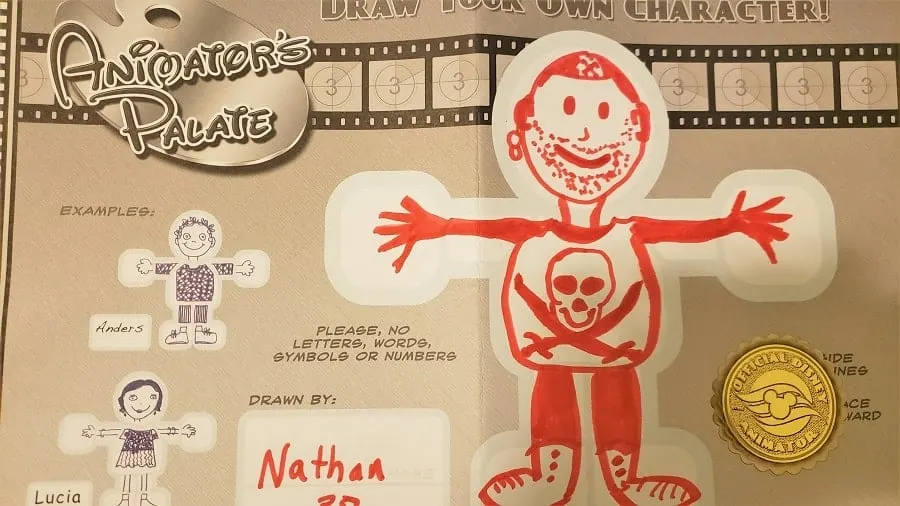 Before your meal arrives, your server will bring you a sheet of paper and request that you draw a picture of yourself.
They will collect all of the drawings and later, once your meal is over, you will watch a show featuring your creation!
What makes this amazing is that the drawings actually come to life and dance on screen!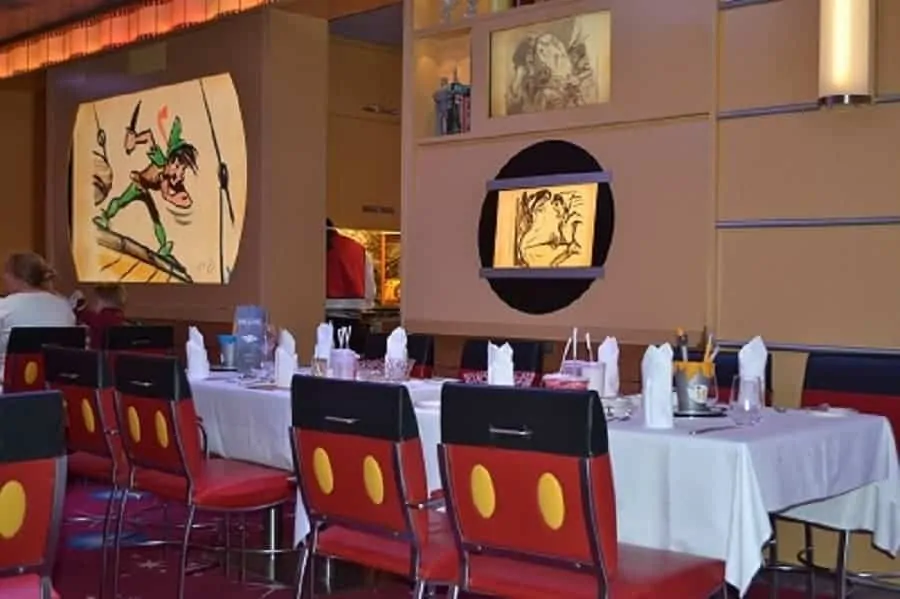 Animator's Palate on the Disney Dream & Fantasy
Unlike the restaurant on the Disney Wonder and Magic, Animator's Palate on the Disney Dream & Fantasy takes on the traditional colors of Mickey Mouse: red, black and yellow.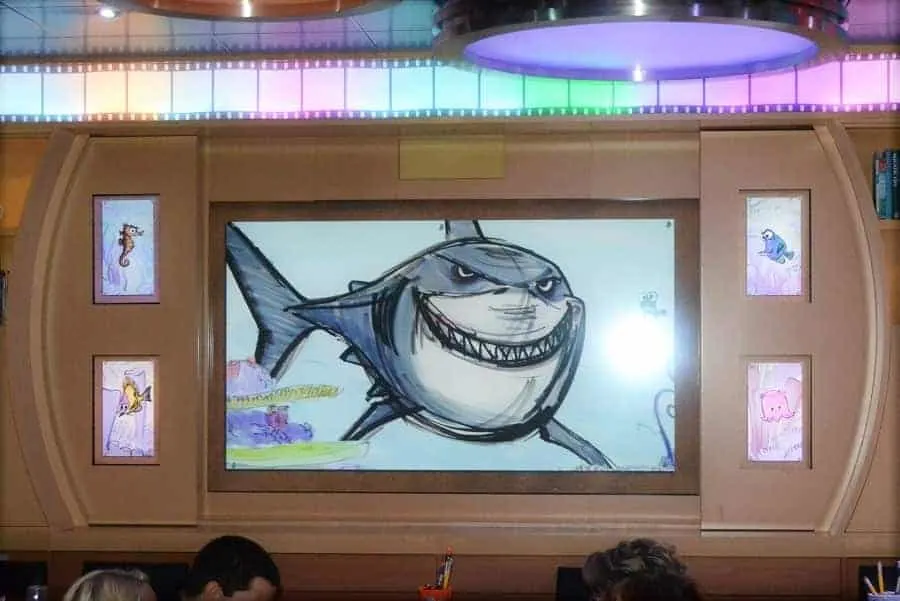 As you dine, the pictures on the wall will gradually change into an aquarium where you will see some of Nemo's friends appear (and disappear) on the screens inside the restaurant.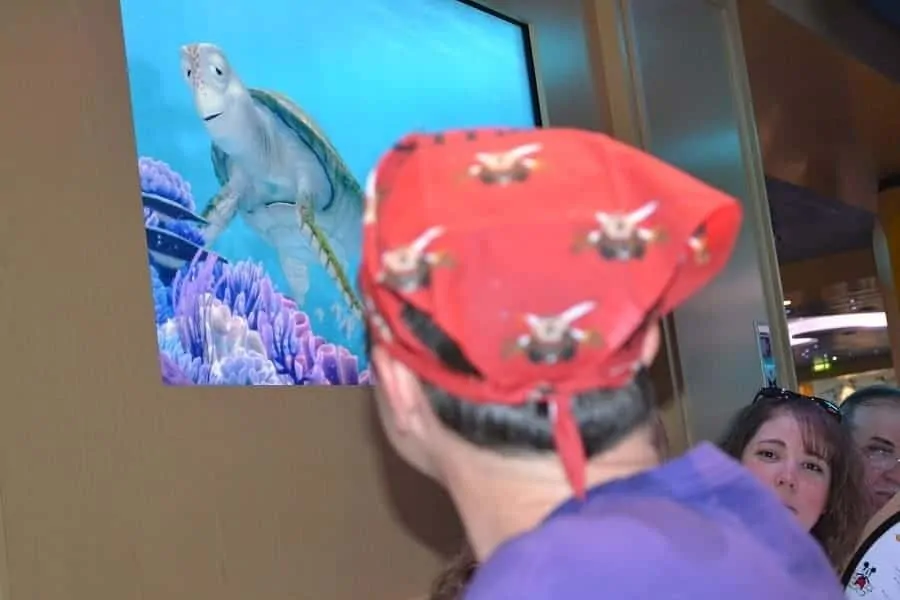 While there is no dinner show, you just might have a special guest stop by to interact with you during the course of your dinner via the many screens throughout the restaurant.
Be aware, this guest enjoys picking on unsuspecting diners!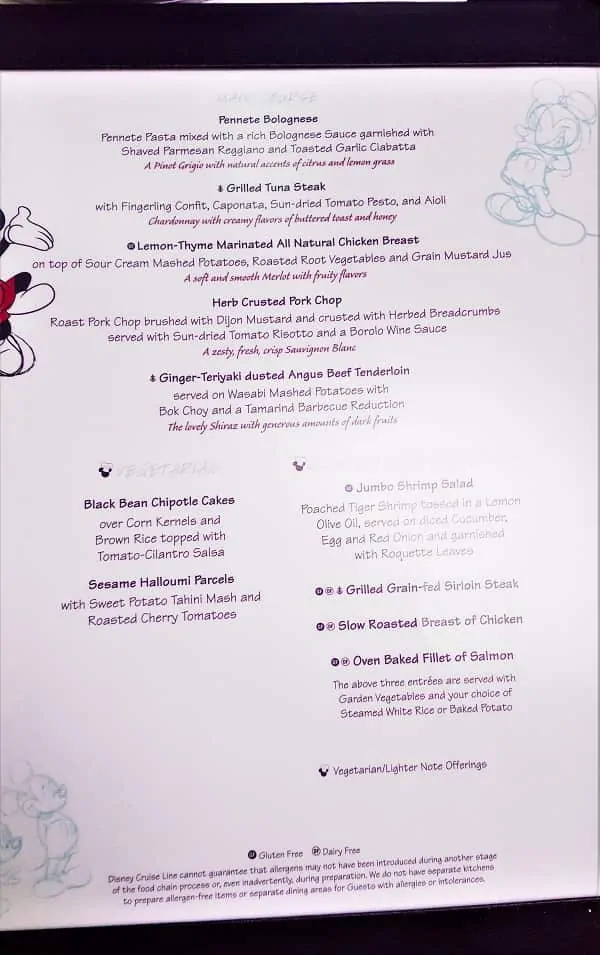 Animator's Palate Menu
The nightly menu at Animator's Palate is contemporary Pacific Rim cuisine with an American flair (unless you dine on Pirate Night when the menu changes to Caribbean).
All meals come with fresh baked bread, an appetizer, entree and dessert.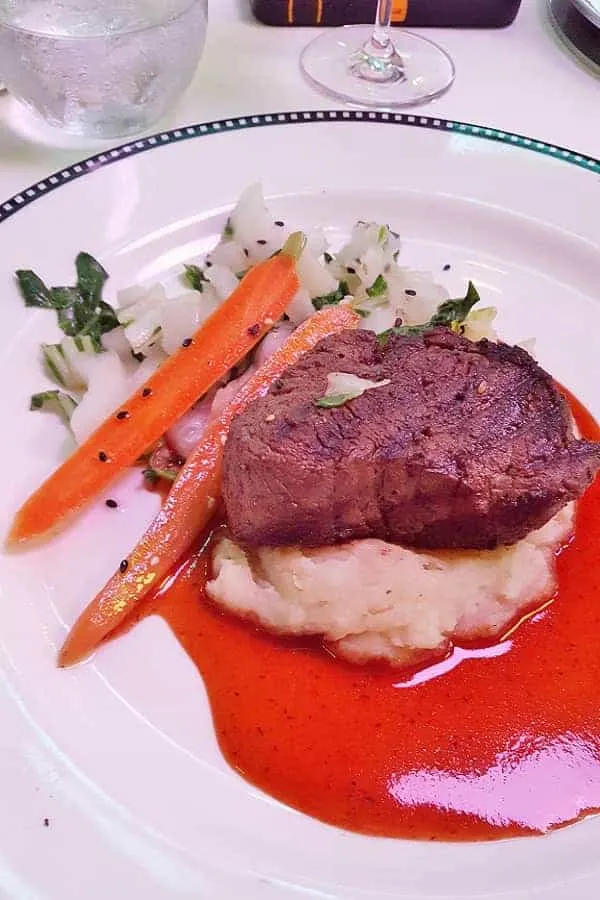 While the Animator's Palate Pacific Rim menu does change periodically, you can expect to find some of the following:
Grilled Tuna Steak — with Fingerling Confit, Camponata, and Sun Dried Tomato Pesto & Aioli
Lemon-thyme Marinated Organic Chicken Breast — With Sour Cream Mashed potatoes, Roasted root vegetables and Grain Mustard Jus
Black Bean Chipotle Cakes — over Corn Kernels and brown rice topped with Tomato-Cilanto Salsa
Ginger Teriyaki Angus Beef Tenderloin — carved to order on Wasabi Mashed Potatoes with Bok Choy and a Tamarind-Barbecue Reduction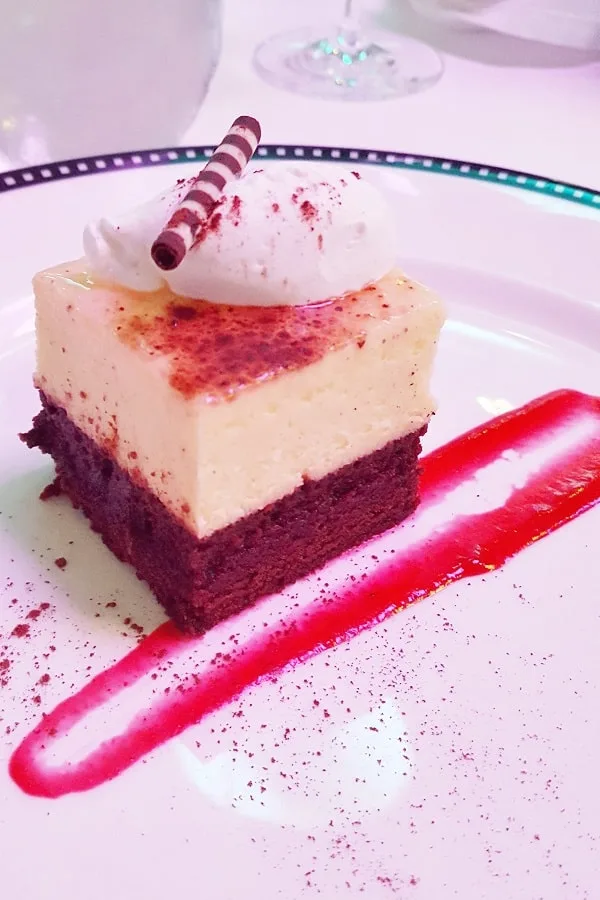 Desserts at Animator's Palate are of course are phenomenal and you will have trouble choosing just one!
Animator's Palate Dessert Menu Choices include:
Crunch Walnut Cake with Dark Chocolate Mousse and Raspberry Coulia.
Chocolate Fudge Cheesecake with layer of creamy Vanilla Cheesecake.
Cookies 'n Cream Sundae with Chocolate Sauce and Chocolate Chip Cookie.
Apple Crumble Rice Pudding with Vanilla Bean Ice Cream.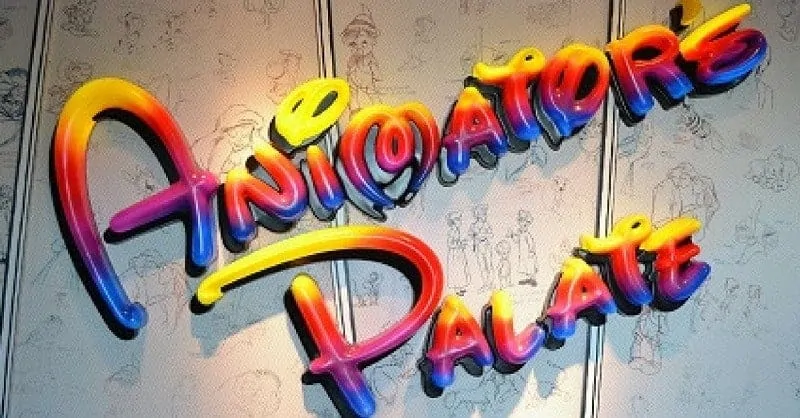 Animator's Palate is a restaurant that you and your children are going to love!
If you are on a 7 night cruise, you might even get lucky enough to visit it twice!
Have you had a chance to dine at Animator's Palate on any of the Disney Cruise ships? What did you love most about the experience?