What little girl doesn't want to sleep in a room that reminds them of being in a fairy tale?
While you could go ahead and get that elaborately decorated Disney Princess Bed that is shaped like a princess carriage, understand that your princess will outgrow it in a few years and you will find yourself having to buy an entirely new bed.
Who has money for that? Not me.
When we were decorating our daughter's princess room, we had to do so on a budget.
The key to turning a girl's bedroom into a room fit for a princess without a royal budget involves a little planning.
The good news is that anyone can do it, you just need to think a little outside the box.
How We Decorated a Princess Room on a Budget
Paint
First thing we did to the room was paint it. Home Depot has a line of Disney inspired paints and we decided on Sleeping Beauty Pink.
Bedding
Many people go straight to looking for Disney Princesses Comforter Sets
as the central piece to purchase for a new bedroom look.
I did just the opposite. I used bedding we already had and purchased a Disney Princess Pillow
as an accent piece.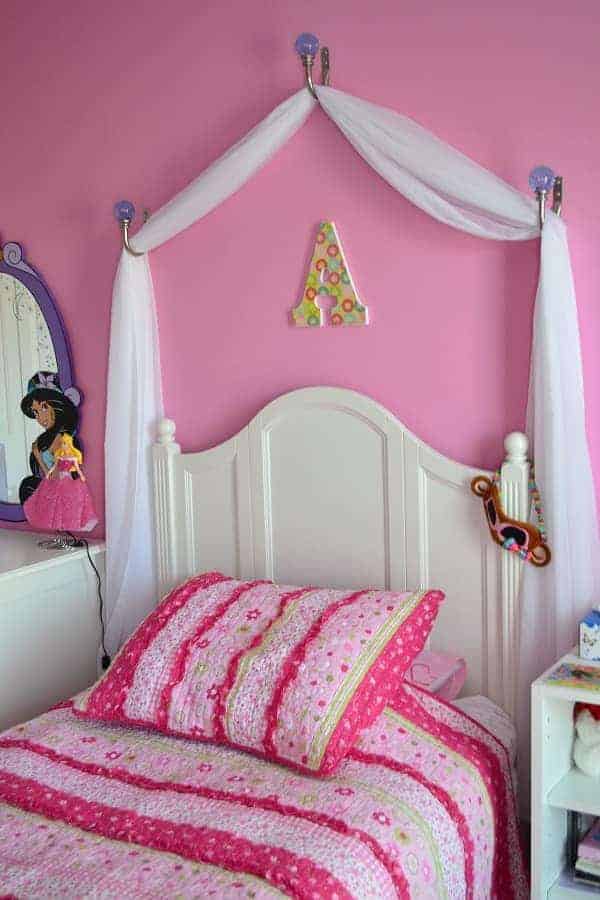 Canopy
My daughter liked the look of canopy beds, but they are just too expensive.
To give her the royal feel of a Princess room, we simply draped a white window scarf
above her bed on some glass-knobbed curtain pulls we already owned.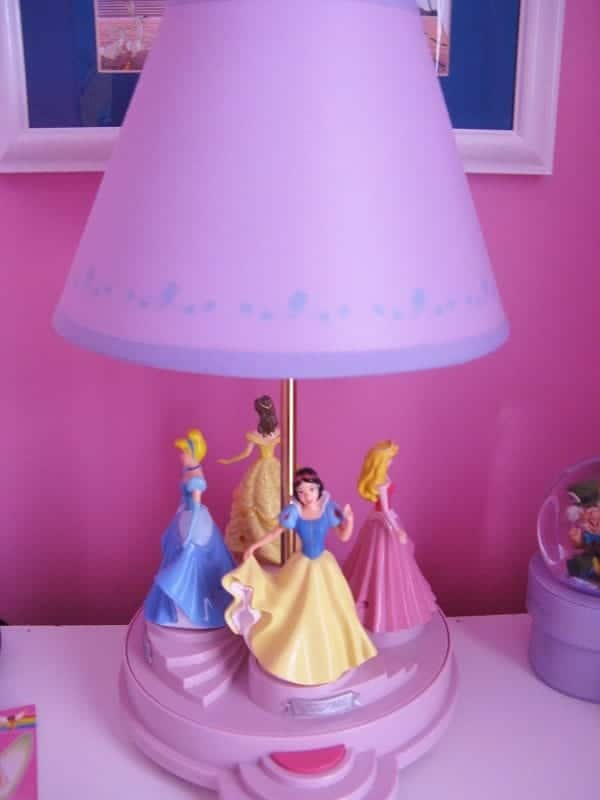 Accessories
This sweet Disney princess lamp was something I found someone selling on a local Facebook group.
I found a set of Disney Store Princess lithograph prints a yard sale for $1 each and just reused frames I already had.
Can't find affordable Disney Princess Prints
?
Another easy way to add a theme to any room is with wall decals. They are affordable and what is nice is that they are easy to remove when your child outgrows them or wants to change the theme of their room.
Looking at yard sale, consignment stores and thrift stores is a great way to score on accent pieces. I really got lucky when I stumbled upon a beautiful Jasmine mirror at our local Goodwill store.
I scooped it up as soon as I saw her put it out and it was a steal at $3.99!
As you can see, we didn't go over the top with our princess room. It was easy to incorporate small, affordable pieces to get the desired effect.
Have you created a Disney Princess Room on a budget? I'd love to hear what you did!