(Note: The links in this post are affiliate links, and we will be compensated when you make a purchase by clicking through our links. Read our disclosure policy here.)
A trip to Disney World is not complete unless you have one of the most popular desserts there: The Disney Dole Whip. This delicious treat is a pineapple based dairy free dessert that is tart, creamy and packs a powerful punch of flavor. Wondering where to find a pineapple Dole Whip at Disney World?
Ingredient List for the Pineapple Dole Whip:
Sugar
Dextrose
Stabilizers (Cellulose, Gum, Xanthan Gum, Locust Bean Gum, Guar Gum, Karaya Gum, Pectin)
Coconut Oil
2% or less of the following:
Maltodextrin
Citric Acid
Natural and Artificial Flavor (contains Pineapple Juice)
Modified Food Starch
Malic Acid
Beta Carotene (color)
Mano & Diglycerides
Silion Dioxide (anticaking)
Vegan Statement on package: The ingredients used in this product do not contain dairy, therefore, the product is considered dairy free. The Rabbinial Guidelines classify this product to be kosher-dairy. Allergen control and sanitation procedures are in place and are strictly followed. In addition, this product does not contain animal based ingredients.
You can also get a Dole whip swirled with Vanilla soft serve. Just know that if you do this, you may find that it is no longer vegan and dairy free.
There are currently only five places where you can find a pineapple Dole Whip at Disney World. Two are at Disney Parks, two more are inside the Disney Polynesian resort, and one inside a Disney Water park.
Where to Find a Pineapple Dole Whip at Disney World
Sunshine Tree Terrace at Magic Kingdom
Tamu Tamu Refreshments in Animal Kingdom
Captain Cooks at Polynesian Resort
Pineapple Lanai at Polynesian Resort
Typhoon Tilley's at Typhoon Lagoon
Not only will you find the traditional Dole Whip soft serve at these location, but you can also find its sister beverage, the Pineapple Dole Whip Float. This is just a larger amount of Dole Whip surrounded by pineapple juice.
While the traditional Pineapple Dole Whip & the Pineapple Dole Whip Float is only served at these locations, we have found similar types of Pineapple Dole Whip drinks elsewhere.
These aren't your normal Dole Whips though, they are more like a drink than a creamy dessert you eat with a spoon.
Where you should look for other Pineapple Dole Whip variations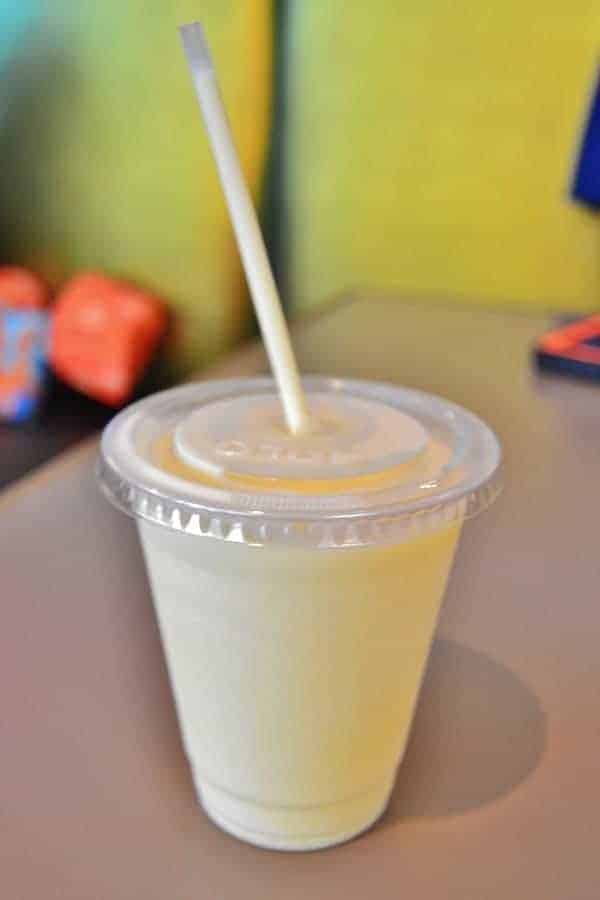 In Landscape of Flavors at Art of Animation resort, you can find the Pineapple Paradise. It is similar to the traditional Dole Whip, only drinkable, like a milkshake.
You can grab a Spikey Pineapple at Polynesian's Tiki Terrace. This one is for adults only because it is spiked with Rum.
Epcot has Pineapple Dole Whip periodically. You may find them during the Food and Wine Festival at the Pineapple Promenade. You will usually find them served with or without alcohol.
---
Are you a fan of Disney's Pineapple Dole Whip and looking for great gear to show off your love? Check out the cool things you can buy…
Our Favorite Disney Dole Whip Gear
Dole Whip Iron on Patch
Pineapple Dole Whip Minnie Ears
Disney Dole Whip themed bracelet
Disney Dole Whip themed canvas shoes
Dole Whip inspired Headband
The Disney Dole Whip items are just too cute and I'm not sure which one to choose! What about you? Do you love Disney Pineapple Dole Whips the way I do? Which type is your favorite?