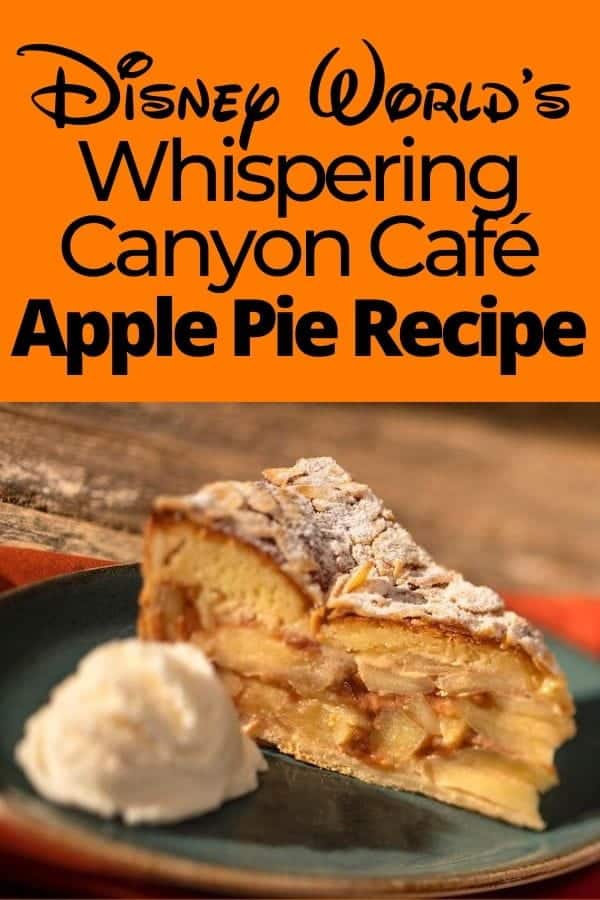 (Note: The links in this post are affiliate links, and we will be compensated when you make a purchase by clicking through our links. Read our disclosure policy.)
If you have dined at Whispering Canyon Cafe in Wilderness Lodge, you probably have had their Apple pie for dessert. If you are looking to recreate some of that Disney magic, we are going to share with you the Whispering Canyon Café Apple Pie Recipe so you can make it at home.
The apple pie at Whispering Canyon is not your typical pie. It is really part pie, and part cake.
That is what makes is so uniquely wonderful!
Whispering Canyon Café Apple Pie Recipe
Total Time:
1 hour
30 minutes
This is not your traditional Apple pie.
Our version of Whispering Canyon Cafe's Apple Pie features both pie crust, cake layer, and of course, apple filling.
Ingredients
1 Refrigerated Pie Crust
6 Granny Smith apples, peeled and sliced
2 teaspoons Apple pie spice
1/2 cup butter, softened
2/3 cup sugar
2 eggs
1 1/2 cups flour
1 1/2 teaspoons baking powder
1/8 teaspoon salt
1/4 cup heavy cream
Instructions
Cook Apples. Peel and slice apples. Bring water to simmer in large pot. Place apple slices in a steamer basket inside the water pot. Steam for 10 minutes. Remove from water & drain. Allow to come to room temperature and toss with apple pie spice
Create Apple Cake Batter. Cream butter and sugar with a mixer until fluffy. Add eggs and mix until incorporated.. In a separate bowl, mix dry ingredients (flour, baking powder, and salt}. Add the dry ingredients a little at a time to mixer and beat on medium speed until combined. Add cream and mix until smooth. Set aside.
Preheat oven to 350°F. Place 1/2 cup apple pie batter on top of pie crust, spread until smooth. Top with apples and remaining apple pie batter. Cover with foil and bake for 40 minutes. Remove foil and bake 20 more minutes, until golden brown. Cool to room temperature before serving.
Notes
While the original has a homemade pie crust, our version makes it a bit simpler by using a premade pie crust.
If you prefer to make your own pie crust, we understand.
Recommended Products
As an Amazon Associate and member of other affiliate programs, I earn from qualifying purchases.
Whispering Canyon Café Apple Pie Recipe Tips
This is a very versatile recipe and you can definitely add a few things to make it your own twist.
For our recipe, we used apples that we picked in the North Carolina Mountains.
The key to great apple pies is the type of apple you use.
You want to choose a tart apple or a mix of both tart and sweet for the right flavor.
We also didn't make our own pie crust.
While some believe that a great apple pie is all about the crust, for this recipe, you are only using a crust for the bottom and we opted for an easier take and used a refigerated pie crust.
We thought the pie turned out pretty great even with a few modifications!