(We may earn a commission via affiliate links in this post. Read our full disclosure policy.)
The epidemic has brought many changes to the Disney parks and if you are considering a trip in 2021 to Disney World you are going to want to know what to expect. Disney World is taking coronavirus precautions seriously and having visited recently, we can attest that they are doing a great job of making people feel safe.
Disney World 2021 Procedures
The first thing you need to know is that Disney World parks is operating on a limited basis with shortened park hours and several new park density limitations.
This means you are going to have to plan your trip in advance.
Gone are the days of just arriving at the Disney World parks without buying a ticket.
Because of the coronavirus epidemic, Disney World wants you to reserve your ticket prior to coming to the parks.
Because the parks are limited in terms of how many people can be at any one park on a given day, you will have to choose the exact day you plan to visit a park.
Parks do fill up quickly and if you can't go to a certain park on the day you had hoped, you may have to stalk the site on a daily basis to see if days open up.
When we planned our December Disney World trip, we initially found that Hollywood Studios was not available any of the days we were going to be there.
We waiting a few weeks and sure enough, a day opened up and we were able to change the park from Animal Kingdom to Hollywood Studios.
You will do all of this through the My Disney Experience app.
What to Expect with Disney World Coronavirus Safety Protocols
Arriving at the Disney World Parks
The safety procedures at Disney World begin as soon as you arrive.
If you are driving into the Disney World parks, you will find that the parking attendants will have to park every other space. Eventually other cars will fill in the gaps, but they are pacing so that you won't be getting out of the cars at the same time.
As of May 2021, no trams were running at any of the Disney parks. Be prepared for a walk.
There is still no monorail running between EPCOT and Magic Kingdom. You can take the monorail from the Transportation hub into Magic Kingdom. There are barriers that separate parties into sets of 2 (4 people per bench with a barrier between).
When you arrive at any of the Disney World parks, you will undergo temperature screenings done by nurses.
There are no longer bag checks, but you will walk through metal detectors.
Inside Disney World Parks (Coronavirus safety protocols)
Face Masks at Disney World
Disney World makes it very clear that you are to wear your mask indoors and in the queues for rides. You will find signage stating this and it will be broadcast frequently over the speaker system.
You are free to go without masks outside.
ShopDisney has Disney themed fabric masks available that you can purchase for your trip or you can get great deals on Face Masks with cute Disney prints on Etsy.
Face Masks are also available for purchase at shops throughout all of the Disney World parks.
Social Distancing
Disney wants you to stay 6 feet apart. You will find 6 foot markers on the pavement and standing circles when you are at places where they are no lines, but are gatherings. This will change in the next few weeks to 3 feet.
When you are lined up, you will find clear maze-like plastic barriers between the lines.
Overall, we felt like everyone kept safe distances. You have to monitor yourself because there are times when the lines move and you have to catch yourself moving to close to the people in front of you.
The key is to really focus on the floor markers which will tell you where you should be standing.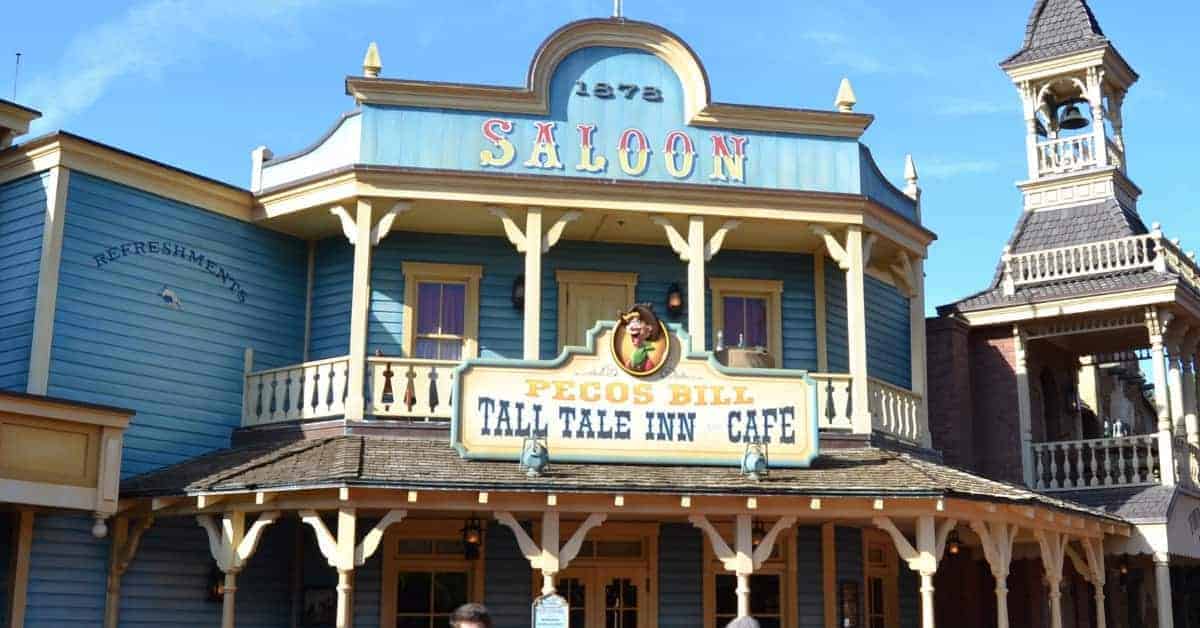 Dining in the Parks
You will find the dining is very limited inside the Disney World Parks post-pandemic.
Some table service restaurants are open, with limited seating. We didn't do any table service restaurants on our trip so I can't speak for them specifically.
Dining at Disney World quick service is totally different due to the pandemic.
You will be ordering your food online and cannot enter the restaurant to get your food until you receive a notification that your meal is prepared.
Ordering can be tricky, so make sure that you choose your sides from the drop down menu or you will get a hand picked selection.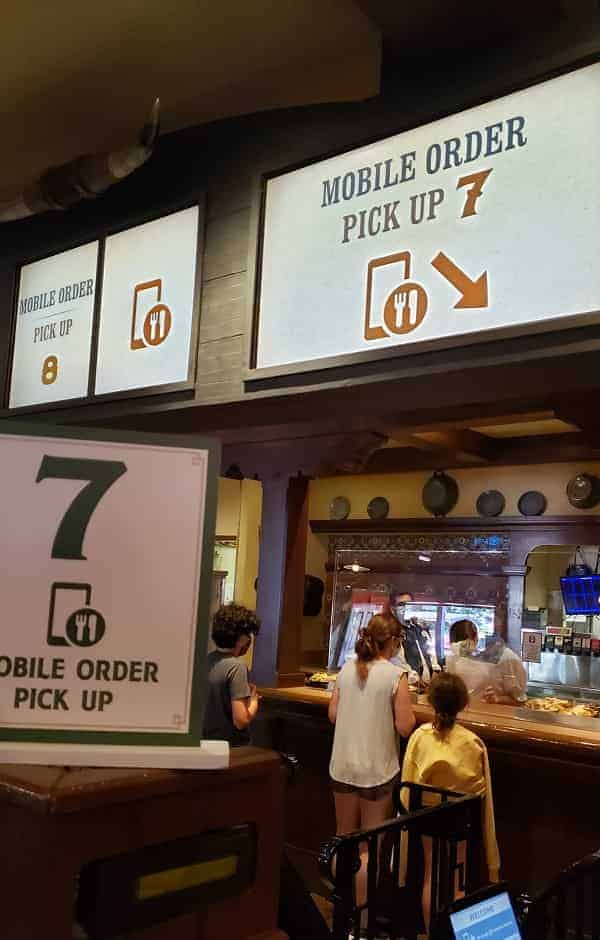 You will then be allowed indoors to get your meal at a specific window and be able to find a table to sit.
There are condiment stations with napkins, straws, and single serve utensil machines.
Events at Each of the Disney World Parks Have Changed
You will no longer find the traditional events at Disney World. There are no Disney Character Meet & Greets, no buffets, and no scheduled parades.
Instead, the parks have created new & different Disney World experiences to give you that Disney magic despite Covid restrictions.
Magic Kingdom Park
"The Royal Princess Processional" –Several times daily, favorite Disney princesses travel through the streets of Magic Kingdom. Princess Merida leads the way on her steed Angus, followed closely by a gazebo float and crystal castle carrying Cinderella, Tiana, Belle, Jasmine, Snow White, Rapunzel and others.
"Mickey and Friends Cavalcade" – Mickey Mouse, Minnie Mouse and their pals pop up throughout the day, inviting everyone to "Get Their Ears On" as they wave to guests along the park's parade route.
Cinderella's Evil Stepsisters – From time to time, guests in Fantasyland may spot the dastardly Anastasia and Drizella and can interact with them from afar while they're perched on a balcony of Cinderella Castle.
Cinderella's Carriage is on display with Disney pass photographer.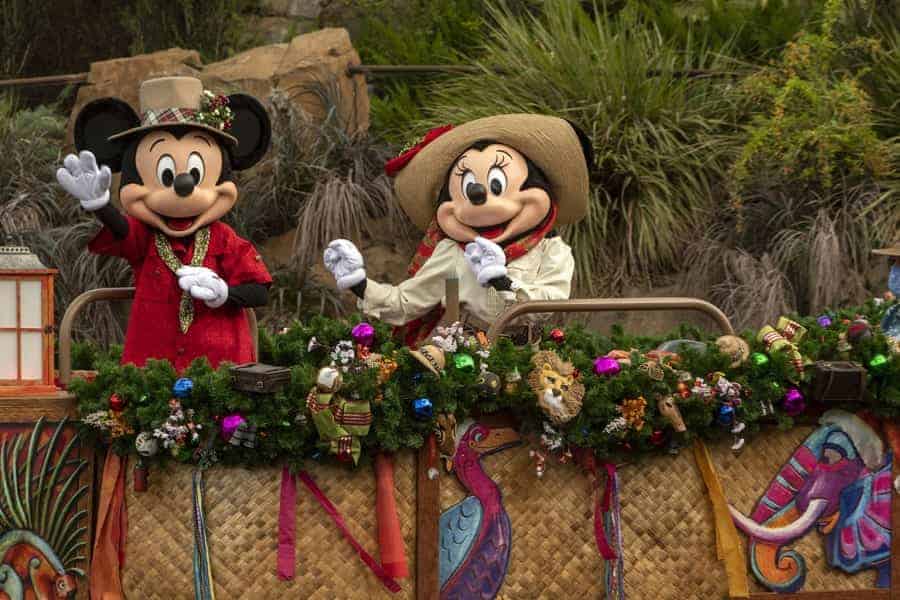 Disney's Animal Kingdom Theme Park
"Donald's Dino Boat Bash!"– Donald Duck, Daisy Duck and Launchpad McQuack wave to guests from their party boat as "Donald's Dino Bash!" moves from DinoLand U.S.A. to Discovery River.
"Discovery River Character Cruise" – Throughout the day, guests can see Timon and Rafiki or Pocahontas with Meeko, who will set sail on the parks' waterways.
Discovery Island Drummers – These high-energy percussionists cruise along Discovery River, entertaining guests on the shore with an energetic beat.
EPCOT
The Taste of EPCOT International Food & Wine Festival marks the 25th year for the theme park's culinary event at Walt Disney World . This year's festival will be the longest in Walt Disney World Resort history.
"Mickey and Friends World Tour" – As guests travel around World Showcase, they may come upon Mickey Mouse, Minnie Mouse, Pluto and Goofy all out sightseeing and waving to their friends.
"Frozen Promenade" – Queen Anna and Elsa venture into the unknown around World Showcase, journeying from country to country and waving hello to guests along the way.
Disney Character Spottings– You will find characters popping up in new places through out the parks. They are distanced so that you can see them but not have direct access.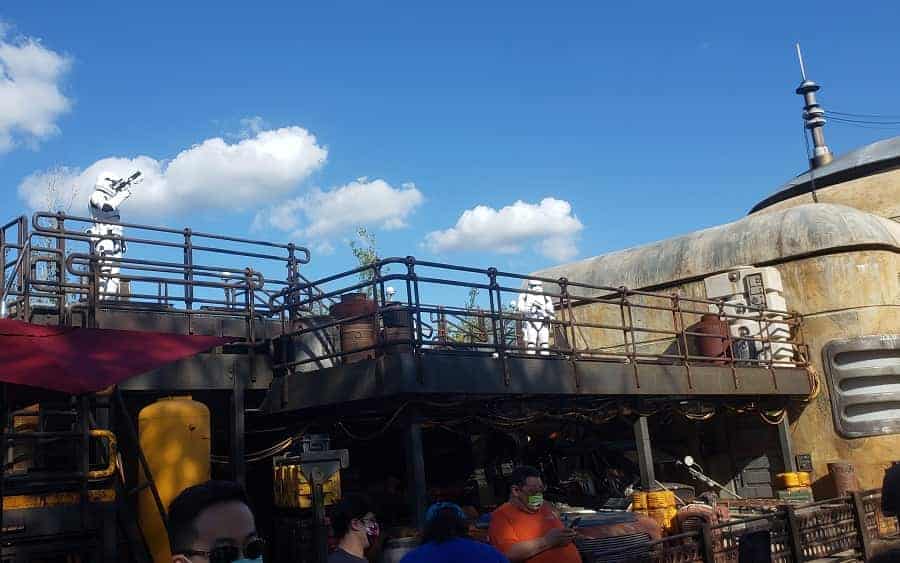 Disney's Hollywood Studios
Star Wars: Galaxy's Edge – While living their own adventures in a galaxy far, far away, guests are likely to come across some familiar faces as they explore Black Spire Outpost on the planet Batuu:

Heroes of the Resistance, including Rey, Chewbacca and Vi Moradi, may be spotted on platforms above the garage in Black Spire Station or surveying activity around the spaceport where the Millennium Falcon has landed.
A contingent of First Order Stormtroopers join Kylo Ren in patrolling the landing platform at Docking Bay 9 beneath their TIE Echelon assault vehicle.

"Pixar Pals Motorcade" – Some of the biggest stars from Pixar Animation Studios' films arrive on Hollywood Boulevard, from The Incredibles to Toy Story pals and more. They'll wave to their fans as they head down the avenue accompanied by a celebratory musical score.
"Disney Junior Stars Motorcade" – Throughout the day, Disney Junior stars including Fancy Nancy, Doc McStuffins and Vampirina will cruise down Hollywood Boulevard waving to fans from colorful custom convertibles.
Changes coming for 2021 Disney World Travel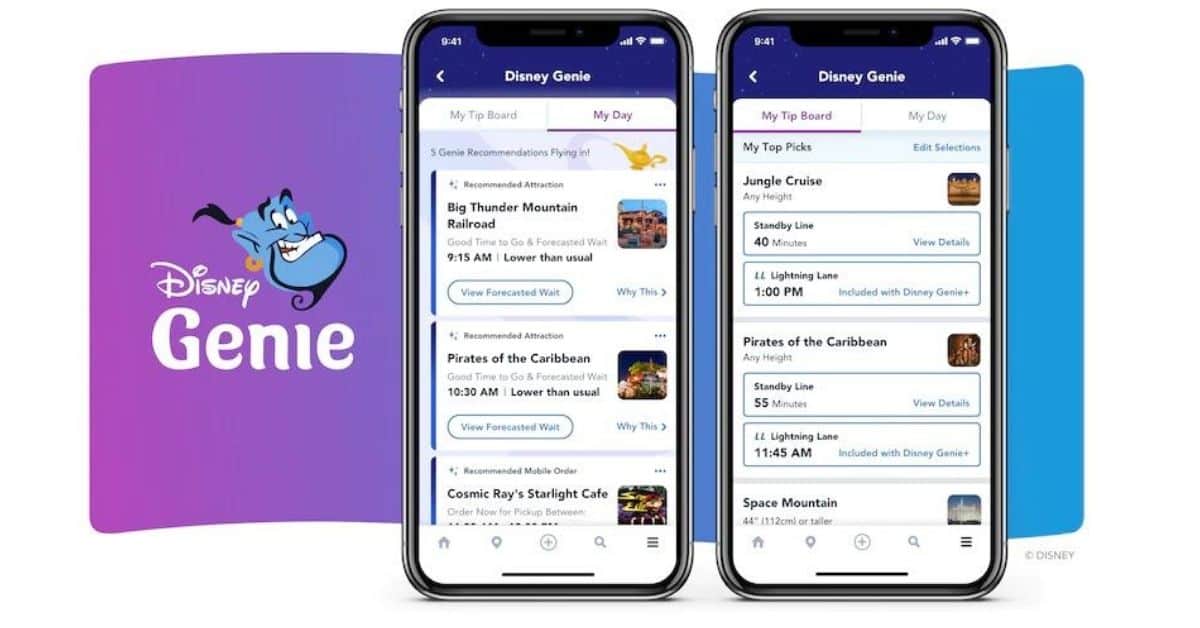 Disney Genie System
Disney Genie service will begin to be rolled out Fall of 2021 & we expect it to coinside with the 50th Anniversary celebration.
This new planning tool will help you to maximize your park time.
It allows guest to create a personalized itinerary. Guests can add their preferred attractions, foodie experiences and entertainment and allow the app to customize the perfect schedule.
It will also allow you to do things like order food online, join virtual queues and make reservations.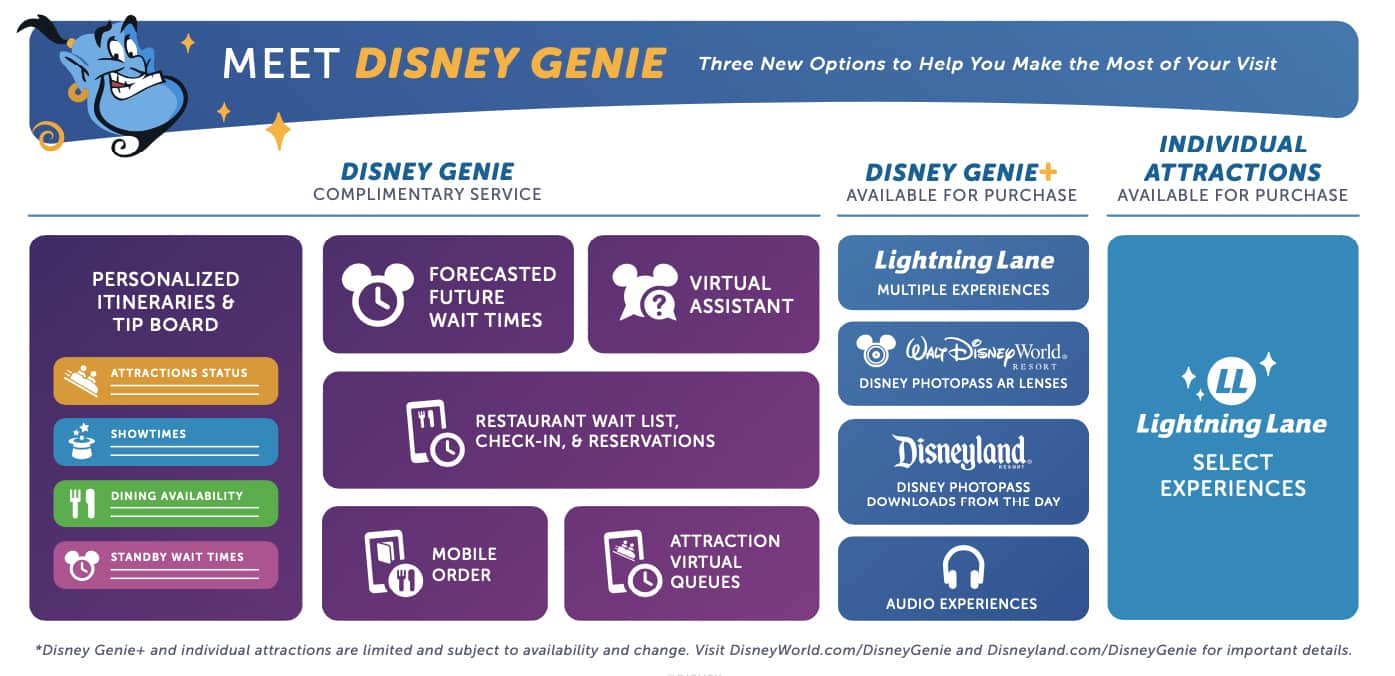 There will no longer be Fastpasses. Instead, you can pay to add Genie+ which will allow you to skip to the front of the line.
Disney MagicBands
In the past, Disney resort guests have received complimentary Disney MagicBands. As of Jan. 1, 2021, Magicbands are no longer given for free.
Disney is moving away from MagicBands and making the features MagicBands offer available through the My Disney Experience App.
MagicBands won't necessarily become obsolete, Disney is just trying to cut costs.
You can still purchase MagicBands (Disney Resort Guests can do so at a discount) and they will continue to release both new colors and band designs.
Do you have plans to go to Disney World this year? What steps & measures will you be taking in preparing for your trip?