If you are in the midst of planning a Disney Cruise, it might help to know what to expect when it comes to Disney Cruise Line Gratuities. While Disney Cruise Line will give you an idea on how much they expect you to give, you do have the choice on exactly how much gratuities you give out.
You should base this on both Disney Cruise Line's tipping guidelines and your personal experience with the staff.
All Disney Cruise gratuities (with the exception of the bar) will be done at the end of your cruise (usually the night before debarkation), so you will have a good chance to reflect on your entire cruise experience prior to leaving gratuities.
These tips can be paid in cash or gratuity can be added to your on board account and charged to the card you have on file.
What you need to know about Disney Cruise Gratuities
Your Stateroom Host
You will meet your stateroom host on the day your arrive and can expect to see him/her daily the rest of your cruise. The stateroom host will come to your room twice a day (to change linens and clean up).
They will also do fun things like decorate your room for a special occasion, leave chocolates on your pillows during turn down service and use towels (and sometimes your personal items) to make cute animals!
Disney Cruise Line recommends tipping your stateroom host $4 per guest per night of your cruise.
Restaurant Servers
If you eat at any of the Disney Cruise Line Main Dining restaurants, you will have a server, assistant server and head server who will stay with you during your entire voyage.
As you change restaurants, your servers do the same. Your main server will be responsible for your meals and the assistant typically handles your drink orders.
The head server is in charge of the entire team of servers and usually visits your table once at the end of your meal to inform you of the next days restaurant.
This Disney Cruise Line recommend tipping your server $4 per person per night, assistant $3 per person per night, and $1 per person per night for the head server.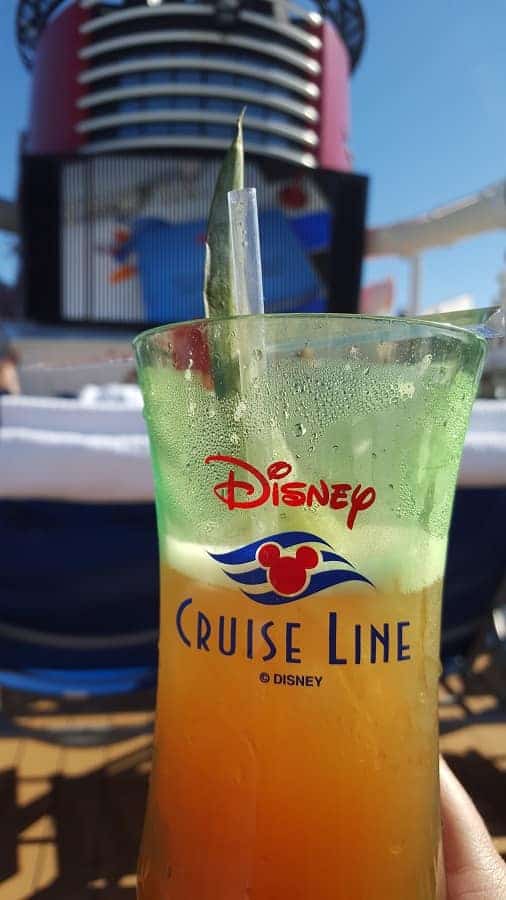 Bartenders
During your cruise, you may decide to have a mixed beverage from the bar or through a bar attendant at the pool.
You need to be aware that Disney Cruise Line automatically adds a 15% gratuity to all beverages purchased in restaurants, bars, poolside and on the beach at Castaway Cay.
Room Service
As many already know, room service is FREE on a Disney Cruise. While the meal is free, you might want to leave a tip for the attendant that brings the food to your room.
It is customary to give them a few dollars in cash, but it isn't required.
Do you have any questions about Disney Cruise Line Gratuities?