(Note: The links in this post are affiliate links, and we will be compensated when you make a purchase by clicking through our links. Read our disclosure policy.)
When it comes to coffee inside the Disney parks, your choices are very limited. Disney has it's own brand of coffee (Joffrey) that is served through out the park. While some may like it (not me), I know that others will be pleased to know that you can also find Disney World Starbucks locations at each of the four Disney World Parks.
There is one Starbucks at each of the Disney World parks and two in Disney Springs.
This makes it possible to have a Starbucks coffee at least once per day while you are on vacation!
What You'll find Inside Disney World Starbucks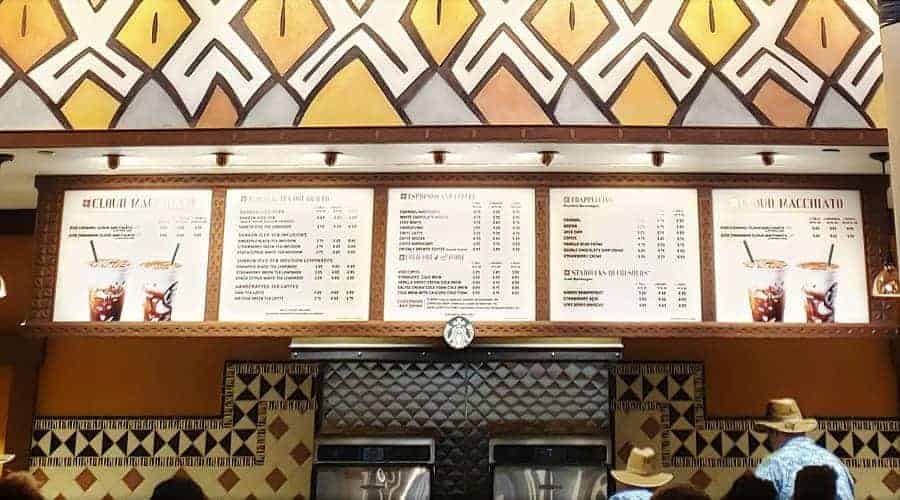 Menu items at the Starbucks locations in Disney World seem to be inline with traditional Starbucks outside the parks. You will find specialty seasonal coffees as well as many secret drinks.
If you are on the Disney Dining Plan, you can use your Disney Dining Snack Credit to purchase any size Starbucks beverage!
Disney Treats
Looking for Disney treats? You'll find your favorite Starbucks treats (Pound cakes and Cake Pops) alongside some specialty Disney treats (like themed cupcakes and cookies).
Many Starbucks treats qualify for a Snack Credit on the Disney Dining plan.
Disney Starbucks Merchandise
Each Disney World Starbucks location has different themed Disney Starbucks merchandise. You will find souvenir coffee mugs based on the specific theme park and also specialty coffee mugs that celebrate certain events or anniversaries.
You can also find Disney Starbucks tumblers!
These Disney Starbucks mugs & tumblers make wonderful gifts to bring back from your trip!
Self Serve Water Station
If you ever need a cold water, every Starbucks in Disney has cold water available in self dispensing stations inside the store.
Paying at Starbucks in Disney World
Want to pay with your Starbucks App? You can and you can earn points.
This is even better when Starbucks gives you extra points for visiting different locations because each park qualifies as a different store.
The only thing you can't do is use your Star Rewards to get free coffee at the Disney Parks. You can, however, use them in Disney Springs.
Want to pay with your Disney MagicBand instead of using your Starbucks app? That's fine too! They'll simply bill your account just like the rest of Walt Disney World restaurants and stores.
If you have a Disney Gift Card, they will work in all of the Disney Starbucks!
---
While some people are put off by the idea of Starbucks in the Disney theme parks, I am thrilled. Some of us can't stand Disney's Joffrey's coffee. so it really helps to have another option when you need coffee to get your day started!
Now, if we could just get Starbucks in the Disney resorts! I would be over the moon.
Have you been to any of the Starbucks in Disney World?