(We may earn a commission via affiliate links in this post. Read our full disclosure policy.)
One part puppet show, one part musical adventure, Mariachi Cobre & the Folklórico dancers come together to tell the tale of Miguel Rivera from the animated movie Coco.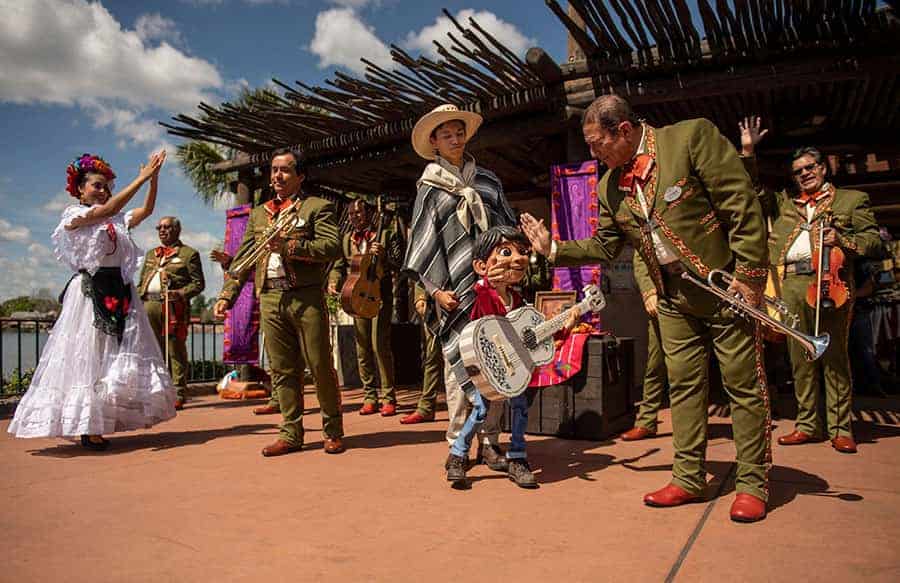 The dancers perform to the music of the film (played by Mariachi Cobre), and Miguel himself appears in the form of a whimsical, hand-crafted puppet.
This musical Coco experience in Epcot will be a great addition to the Coco features already inside of the Mayan Pyramid ruins in Mexico Pavilion!
If you haven't seen Disney Pixar's animated hit movie Coco, it tells the extraordinary journey of a young boy who unlocks the story behind his family history.
When Coco (Miguel's Grandmother) was a little girl, her musician father deserts her family. The effects of this event cause the family to instate a ban on music that plagues generation after generation.

When Miguel dreams of becoming an accomplished musician like his idol, Ernesto de la Cruz, the family forbids him from realizing his dream.

Desperate to prove his talent as a musician, Miguel finds himself in the stunning and colorful Land of the Dead following a mysterious chain of events.

Along the way, he meets charming trickster, Hector, and together, they uncover the real story of Miguel's lineage.
Are you excited to see the Coco experiences in Epcot?