If you are looking for a special way to start your holiday season this year, consider attending Mickey's Very Merry Christmas Party in Magic Kingdom.
This special ticketed event begins as early as the first week of November and is a great way to start getting into the holiday spirit.
Wondering what you will get to experience at Mickey's Very Merry Christmas Party? Let me fill you in!
Mickey's Very Merry Christmas Party Experiences
As soon as you enter Main Street USA, you will feel like you have walked into Disney's winter wonderland.
There will be a enormous decorated Christmas tree, larger-than-life nutcrackers and even a special meet & greet area with the big man, Santa Claus!
Be sure that you aren't so overtaken with all the holiday magic that you forget to pick up your special guide to Mickey's Very Merry Christmas Party.
This will give you the details on everything from which restaurants are open, which rides are running (because they all won't be), special holiday meet & greet locations, and places where you can find all the yummy special FREE Christmas treats!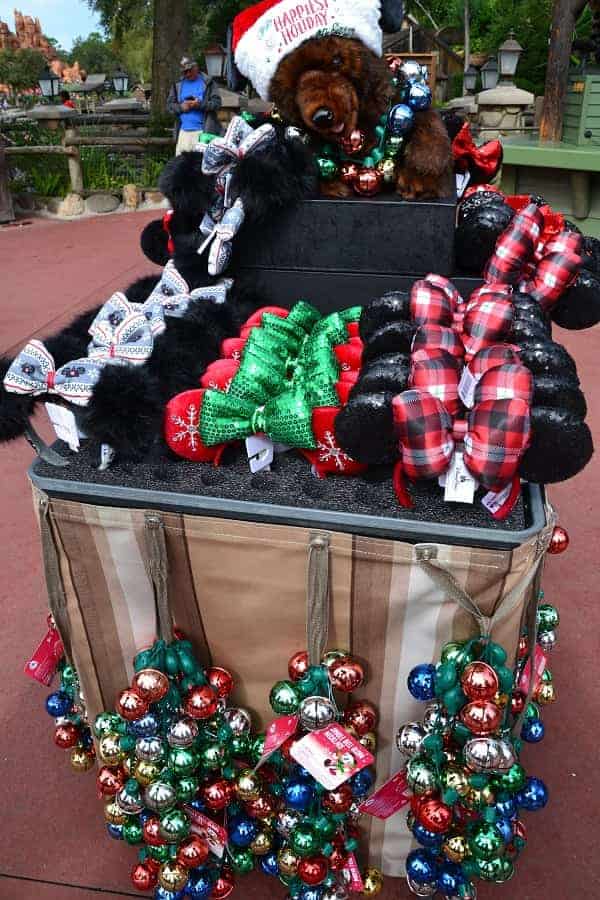 Want to buy something special for the night of the Disney Christmas party? You will find plenty of shops and stands selling all sorts of holiday things for you to wear!
Be sure to stop by the Firehouse on Main Street USA to get your FREE Mickey's Christmas Party Sorcerer Spell card.
This card changes annually and is highly sought after by collectors. Even if you don't play the game, this makes a great souvenir!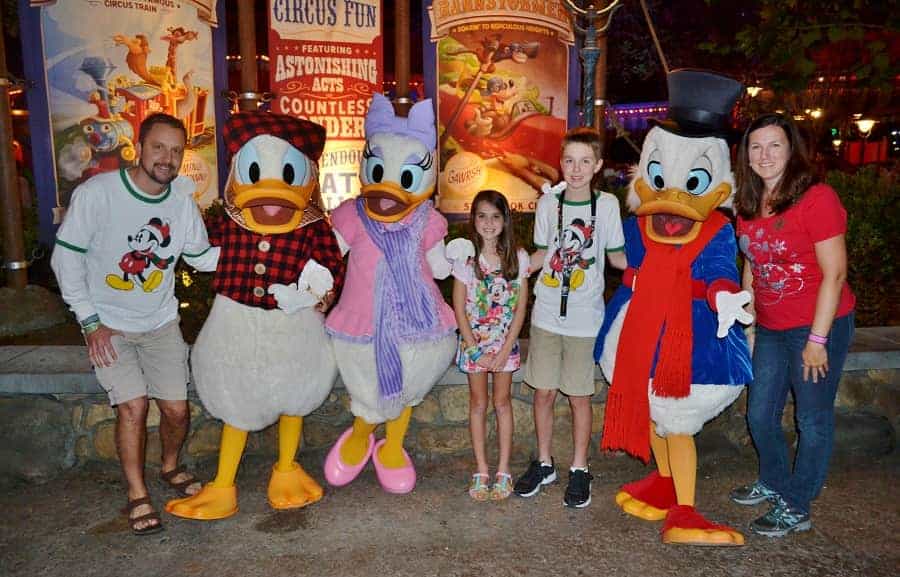 While standing in line for character meet & greets aren't the way you want to spend your time at Mickey's Very Merry Christmas Party, there are certain Disney Characters you can only meet at special holiday events.
We've seen everyone from Donald's Uncle Scrooge to Jack Skellington. I would try to hit at least one.
Once it begins to get dark, head over to the stage at Cinderella's castle for "A Frozen Holiday Wish."
There you will find everyone's favorite royal sisters, Anna and Elsa, lead a celebration that ends with Queen Elsa using her incredible powers to transform Cinderella Castle into a shimmering ice palace for the holidays.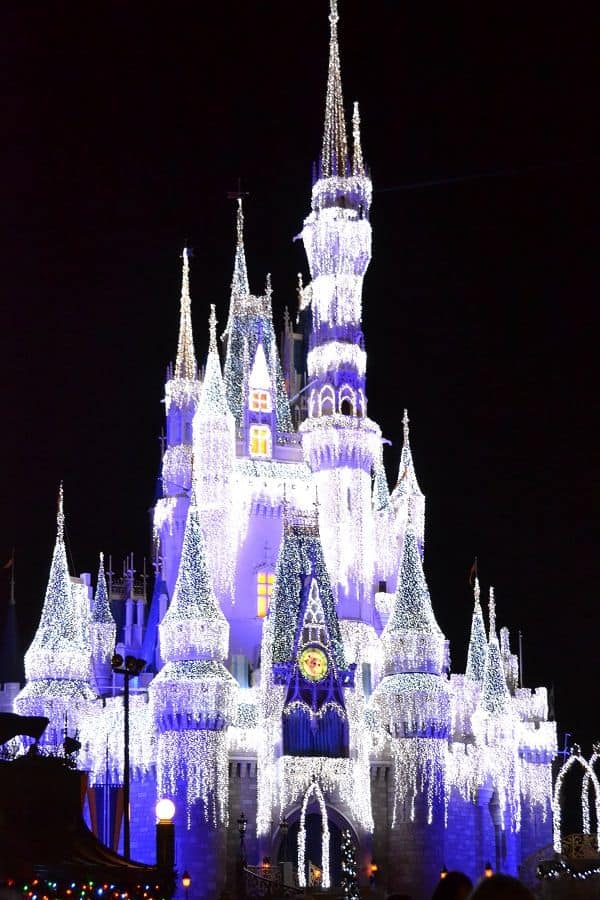 Talk about magical!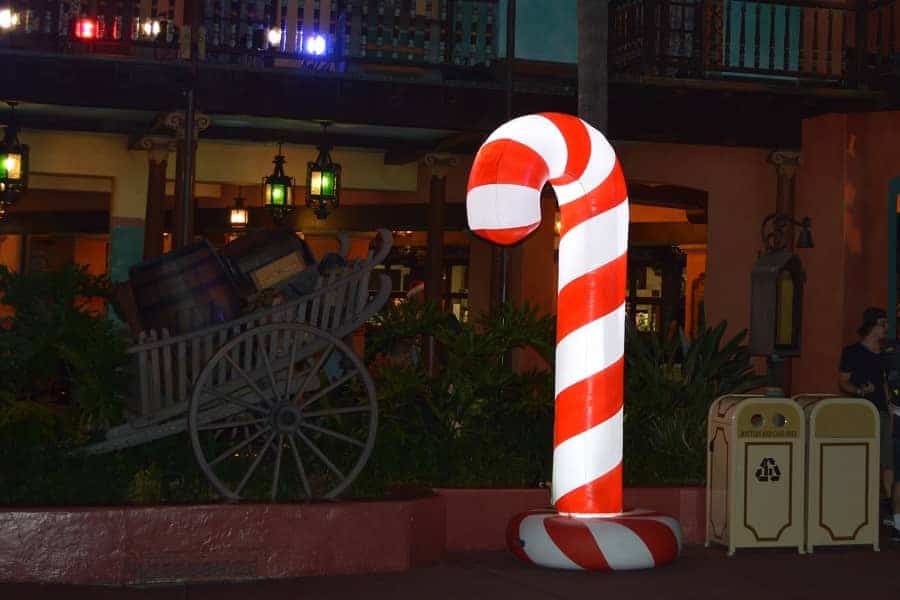 One of my favorite things to do at Mickey's Very Merry Christmas Party is indulging in the yummy treats. You will find Christmas treat stations located throughout Magic Kingdom. Just look for the large, lit up candy cane!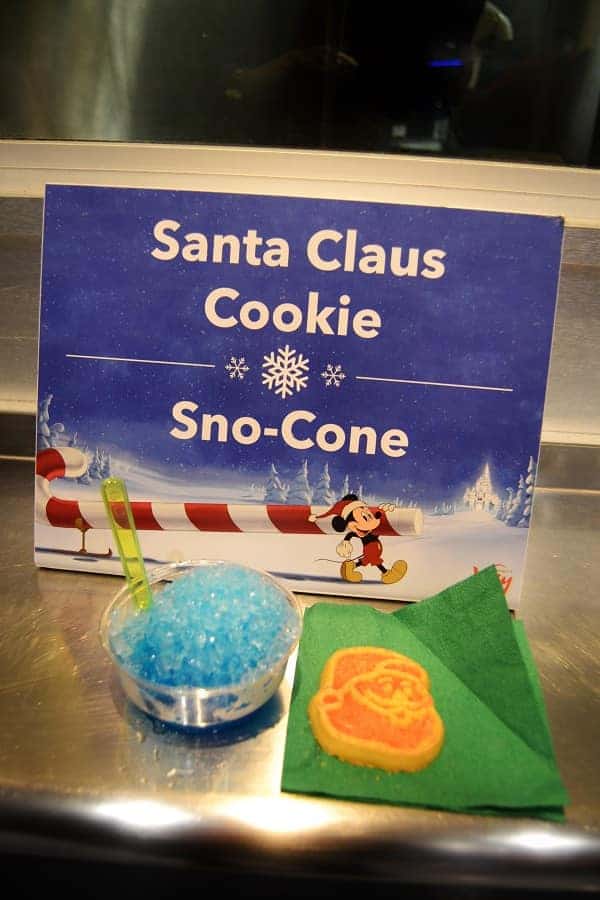 Each stop features a different treat and beverage. There are cookies, Snow cones, pretzels, Hot chocolate, eggnog and more!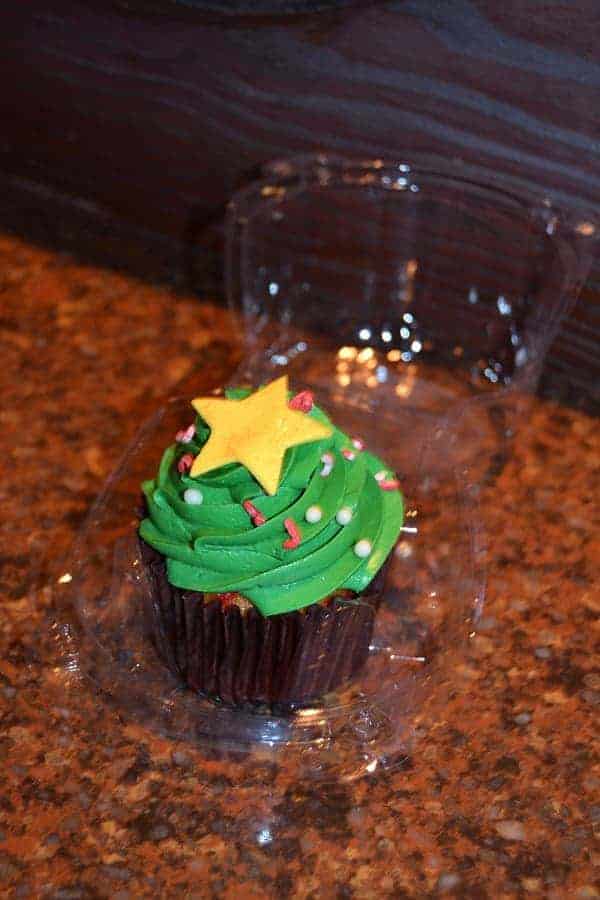 You will also special Christmas treats at various quick service spots throughout the park. While you could easily indulge on these while at the park, you are better off eating all the FREE treats and taking one of the Christmas goodies home with you!
Over in Tomorrowland, you will find two fun activities. Hosted by Haley Comet, It's A Totally Tomorrowland Christmas features Stitch, Mike Wazowski, Buzz Lightyear and a troupe of intergalactic dancers!
And at Cosmic Ray's Starlight Café there is CLUB TINSEL where you can dance to some favorite tunes!
Disney is known for putting on some of the most spectacular parades and Mickey's Very Merry Christmas Parade is no different.
This parade features some of your favorite characters wearing their Christmas best and concludes with Santa himself!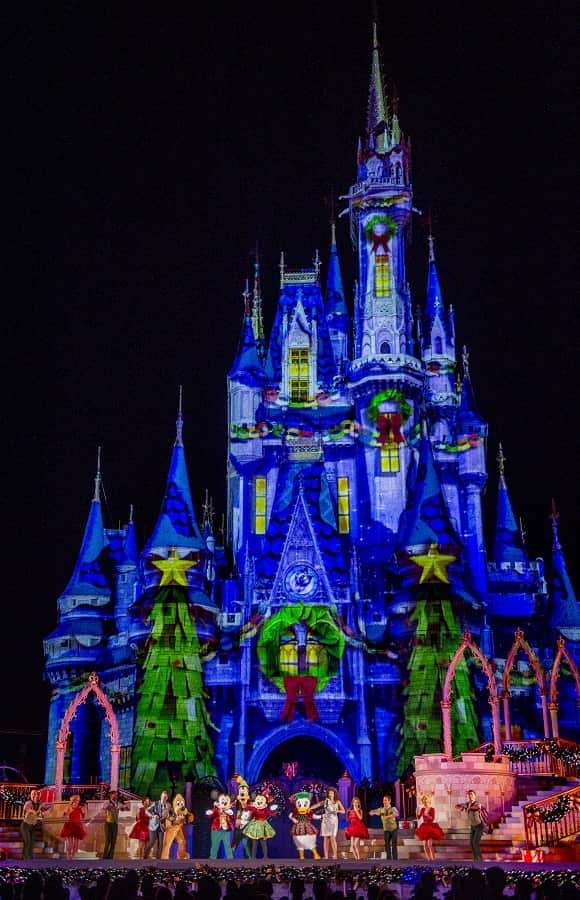 Afterward, head over to Cinderella's Castle to watch the new Minnie's Wonderful Christmastime Fireworks show!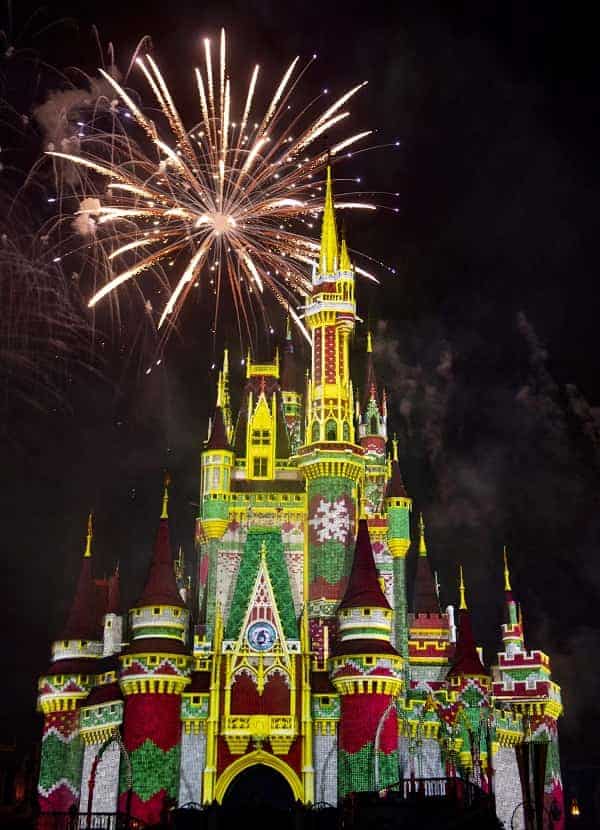 Hosted by Minnie Mouse, the NEW spectacular fireworks show begins with a holiday-themed projection show featuring seasonal songs and ends with a firework display like no other!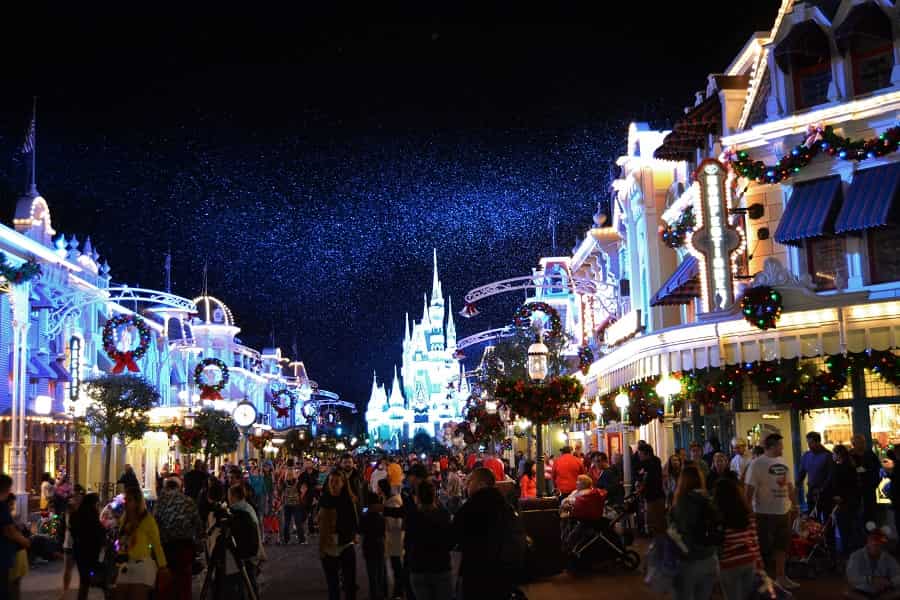 After the party has ended, you will find it snowing on Main Street USA. This is the only time it snows in Magic Kingdom, so enjoy it!
Mickey's Very Merry Christmas party is one of the most popular times to visit Magic Kingdom. Even the expensive ticket price doesn't sway people from experiencing all the Christmas magic Magic Kingdom has to offer.
Depending on the night you attend, it could get very crowded at the park during the Christmas Party.
This is why you will want to know our top Mickey's Very Merry Christmas party tips so you can make the most of your time at the party.
Mickey's Very Merry Christmas Party Tips
Buy your Mickey's Very Merry Christmas Party tickets in advance because they do sell out. We always buy ours through Undercover Tourist because they offer discounted tickets!
Get your Disney Christmas themed shirts before you arrive. You will find Disney Christmas shirts throughout the parks, but you will pay much more than if you buy them ahead of your trip.
Get there early! You can arrive as early as 3:45pm (even though your ticket will state 7pm). You will receive a special wristband that shows you have purchased a party ticket.
Stop by the Fire House to get your FREE Sorcerers of the Magic Kingdom Card.
Not all restaurants are open during the party, so keep that in mind when planning your dinner.
Have your kids bring their Christmas letters for Santa. They can leave them in Ye Olde Christmas Shoppe.
There are 2 Mickey's Once Upon A Christmastime Parades. The 2nd is usually less crowded. Santa appears on his sleigh at the end of the parade so stay until the end!
After the fireworks, it will snow on Main Street USA. This is the only time you will get to see this and it is magical!
Is Mickey's Very Merry Christmas Party Worth It?
The first thing I am asked when discussing Mickey's Very Merry Christmas Party is: "Is it worth it?". Unequivocally, my answer is YES!
If you love Christmas, there is just no better place to get in the holiday spirit than at Mickey's Very Merry Christmas party!
The key to making this party worth the price of an extra ticket is to make sure you plan accordingly so that you can make the most of your time in the park!
Dates for this years Mickey's Christmas Party
Mickey's Very Merry Christmas Party will be held on the following nights:
Nov. 8, 11, 12, 14, 15, 17, 19, 21, 22, 24
Dec. 1, 3, 5, 6, 8, 10, 12, 13, 15, 17, 19, 20, 22.
If you are planning to attend the Christmas party this year, be sure to get your ticket in advance! The best place to buy them is at
Undercover Tourist
where you can get them for a discount.
Will you be attending the 2019 Mickey's Very Merry Christmas Party?