(Note: The links in this post are affiliate links, and we will be compensated when you make a purchase by clicking through our links. Read our disclosure policy here.)
Be Our Guest Restaurant, located in the expanded Fantasyland, is one of the most highly sought after dining options at Magic Kingdom.  Why?  Probably because it has one of the most majestic settings in all of Magic Kingdom!  That and the food is really good.
Be Our Guest is open for breakfast from 8 – 10 am; lunch 11-2:30 pm; and dinner 4-9:30
Both Breakfast & Lunch at Be Our Guest is considered quick service, but breakfast has a set pricing menu.  Cost is $21.29 for adults, $12.77 for children under 10. Lunch is a la carte.  If you are dining on the Disney Dining Plan, you can use your quick service credit for your meal. Those that have a breakfast or lunch reservation can also take advantage of 0rder-ahead dining where you  pre-order your meals online (up to 30 days in advance).
Dinner, however, is considered table service. This means that you won't stop at the kiosk station to place your order like you do for breakfast or lunch. You will immediately be seated by a server and place your order with them. If you are dining on the Disney Dining Plan, be prepared to use a Table Credit for this meal.
No matter which type of meal you choose, you will get a full experience in Be Our Guest.
Here is what you can expect at Be Our Guest:
As you approach the entrance to Be Our Guest, you will walk over a beautifully decorated bridge that features some of the most gruesome gargoyles you've ever seen. These sculptures are so realistic that you feel like they could move at any moment!  Don't rush into the restaurant. Take time to look up, down and around. There are so many beautifully designed details that take you back into the story of Beauty and the Beast.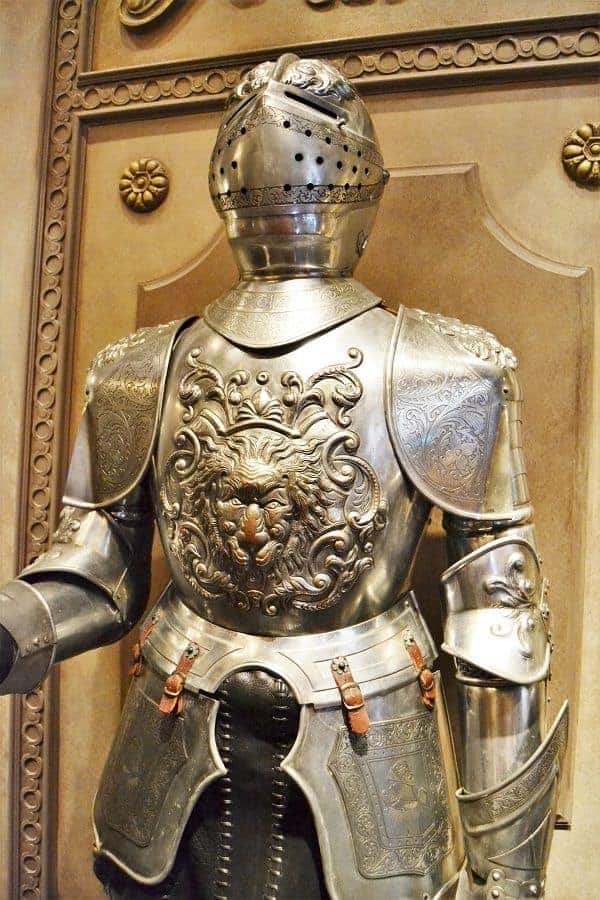 As you come upon the knights in armor, be sure to listen carefully. Some are sleeping and some are having conversations.  It is worth standing a few more minutes in line to experience this!
If you are at Be Our Guest for breakfast or lunch, you will be using the Quick Service dining option.  First, you will be escorted into the front hall where you will be given a magical rose and allowed to place your order via a kiosk.  There is no pressure to make a quick decision. You can take as long as you would like to choose your menu options.
After your are done selecting your meals, someone will help you use your rose to finish placing the order. This rose is quite magical as once you find a seat, your meal will be brought straight to your location!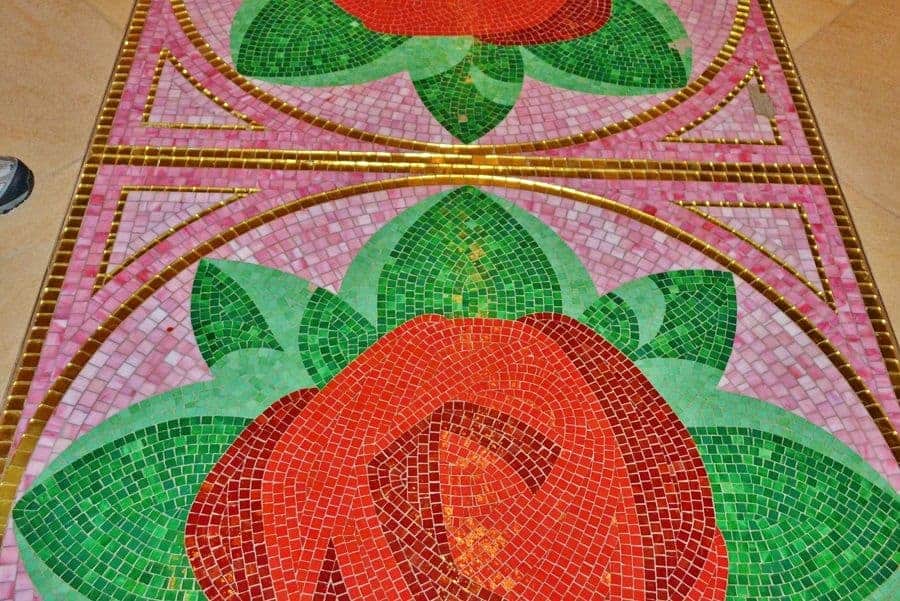 As you walk through Be Our Guest, you will find that the entire restaurant has a rose theme. Not only will you find them on the ceiling, they can be spotted on the floor too. One fun activity to keep kids busy if you have to wait in line or for your food is to count how many roses you can spot!
When you are ready to sit down, you will have your choice of three locations based upon availability. Each area is a little different and you may have a hard time deciding which one to dine in.
Here are your seating options at Be Our Guest Restaurant :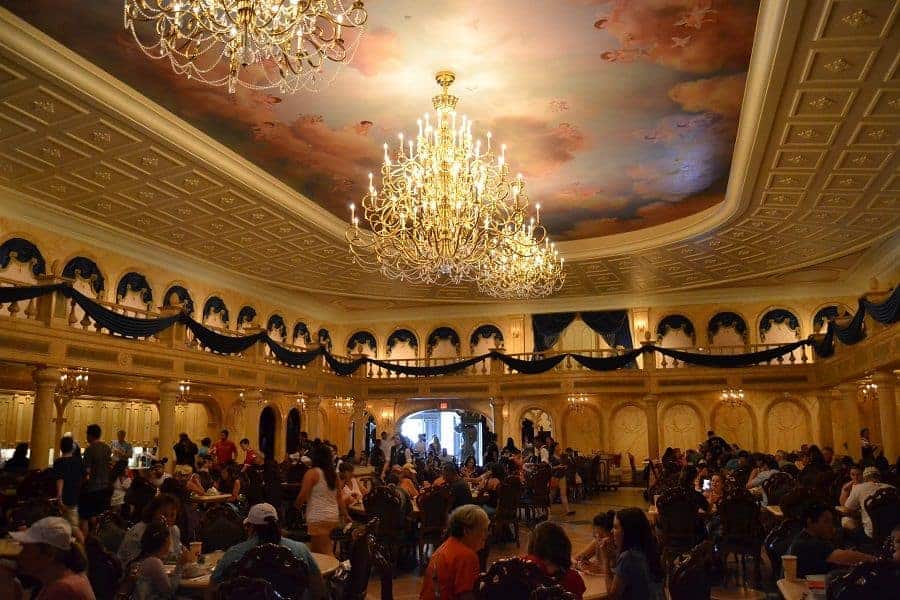 The main area is the Grand Ballroom. It is magnificent. Here you will find an enormous chandelier and cherubs on the ceiling.  If you sit near the large windows, you will even be able to see snow falling!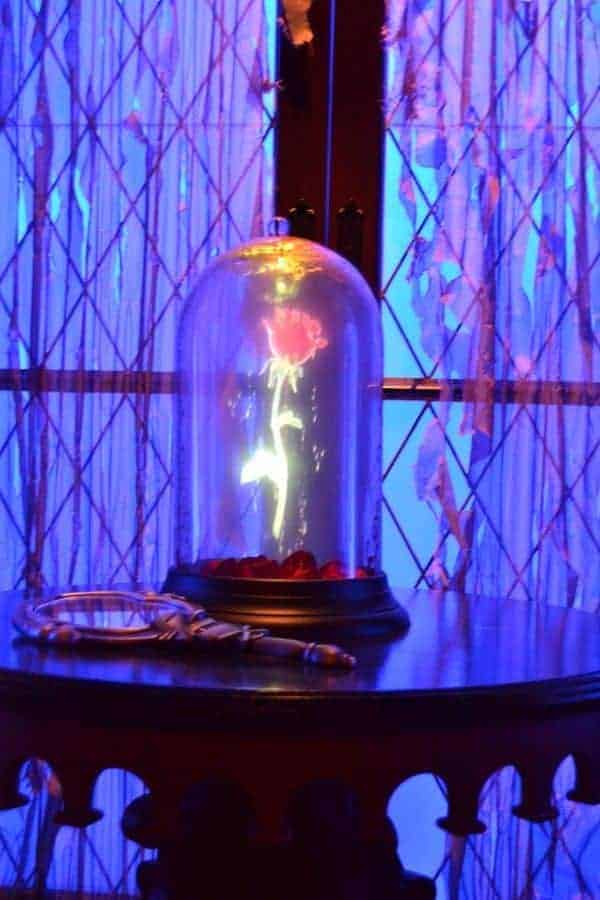 The Beast's West Wing features a fireplace with picture of the former prince as well as the enchanted rose encased in glass. This room is on the dark side (both literally and figuratively) and has sound effects to match! If your kids are easily spooked or frightened by noise, you might want to sit elsewhere.
Beast's Library has a larger figure of Belle & the Beast dancing in the center of the room. There are beautiful hand-painted tapestries and pictures from the movie that decorate the walls. This is probably my favorite place to sit.
Once you have found your seat, grab your silverware from a station nearby and prepare your own drinks.  You will place your rose on the table and once your meal is ready, your server will arrive with a cart containing your food.  You will dine just like a true guest, on fine china and use real flatware!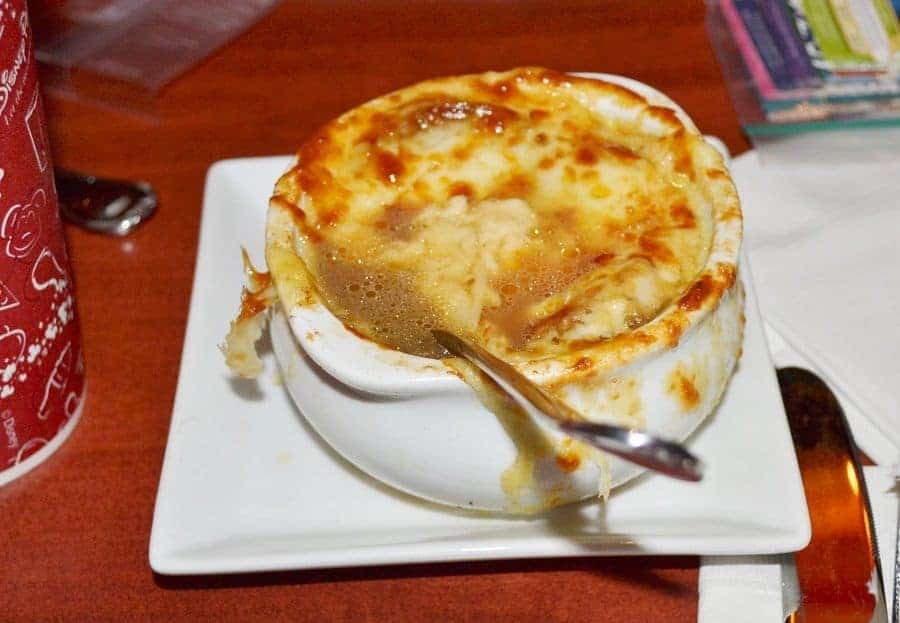 The food is fantastic!  The menu is French cuisine. I had their French Onion soup made with dry sherry. It was the best I've ever had.
We also tried the Braised Pork. It came with mashed potatoes, green beans & red peppers. Talk about melt in your mouth.  The meat was flavorful and the mashed potatoes were to die for!
No meal is complete without dessert! And  as the song goes, "Try the Gray Stuff, it's delicious!"
As you can see, Be Our Guest is quite an experience.  If you are hoping to dine here, be sure to make a reservation in advance because it is very hard to get in through stand by.  Looking for Belle & the Beast? You might try finding them at Belle's enchanted cottage.
Have you dined at Be Our Guest Restaurant? What was your favorite part?
(Visited 1,440 times, 1 visits today)