Caribbean Beach is a Disney Moderate Disney Resort that will make you feel like your in the tropics. One of the special features of this resort is the Pirate Rooms!
Inside Pirate Rooms at Disney's Caribbean Beach Resort
These specialty rooms are a little more pricey than the traditional room at Caribbean Beach Resort, but worth it if you want a one of a kind experience fit for a pirate!
The Pirate Rooms are filled with furniture you might find on a pirate ship.
The beds are designed to look like a ship, the floors appear to be wooded beams, there are barrels,a treasure chest, and even a Jolly Roger on the curtain.
The bathroom's in the Pirate rooms are just as impressively decorated. The colors are rustic and earthy. The shower curtains features different pirate ships. The shower even has an inlay of the Flying Dutchman.
I'm not sure if all rooms have the same picture, but who wouldn't want to fall asleep looking at Jack Sparrow (Johnny Depp)?
Overall, I really loved staying in the pirate room for the theme factor, but there are some drawbacks.
Why You Might Not Want to Stay in the Caribbean Beach Pirate Rooms
For some odd reason, Disney decided to put in full size beds in the Pirate rooms (there are queen beds in the regular rooms at Caribbean Beach).
If you have big people who are used to big beds, this is going to be challenging.
Another drawback of staying in the Caribbean Beach Pirate Rooms is that they seem to be located the furthest walking distance from Centertown (pool & restaurants) than the other buildings.

More Pirate Fun at Caribbean Beach Resort
It is no wonder why Disney choose to put their pirate rooms in Caribbean Beach Resort. The resort has a tropical theme with its common areas, restaurants and even pool area.
You will feel as though you have landed in the middle of a set for Pirates of the Caribbean!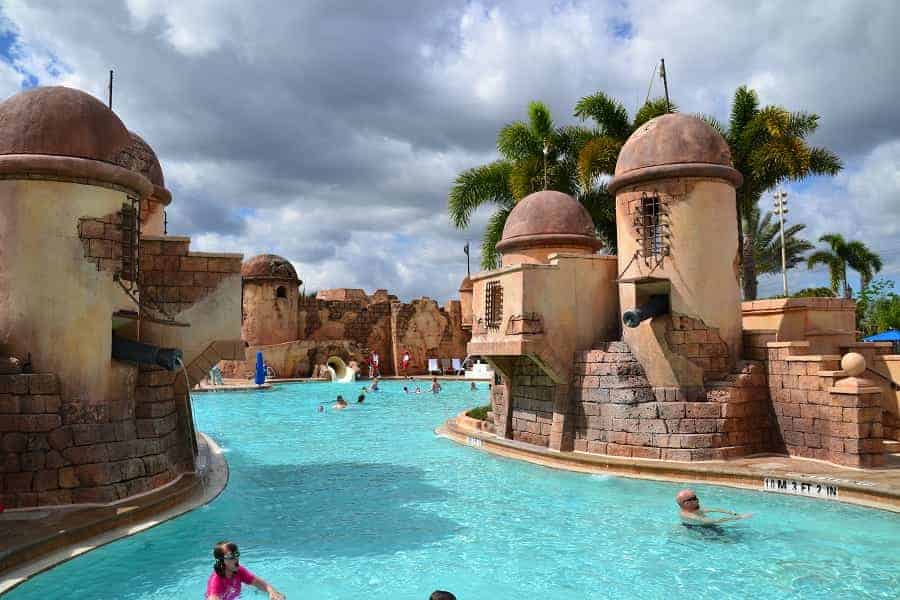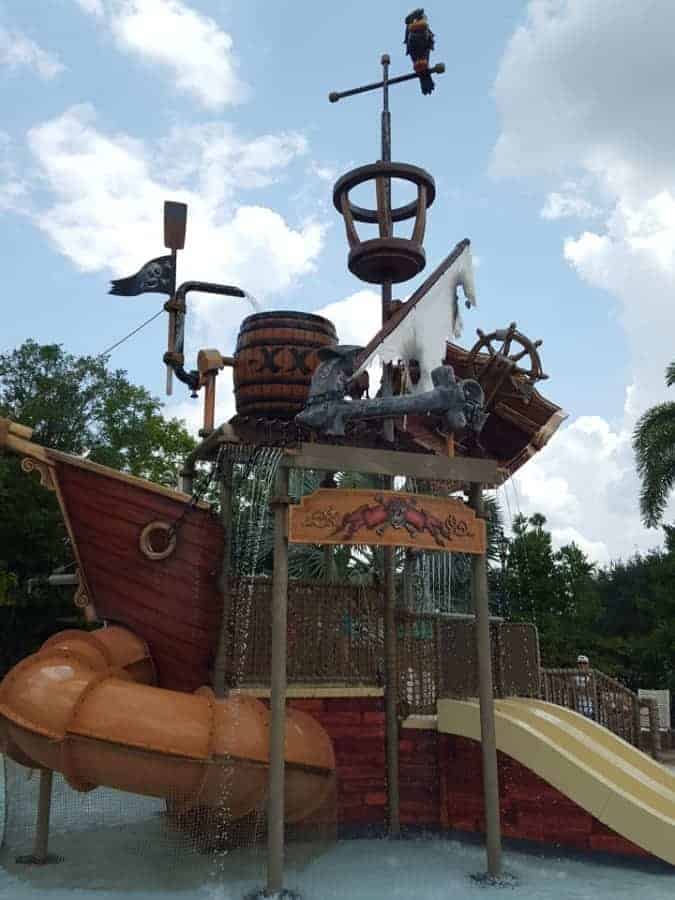 \The central pool at Caribbean Beach is built like a Spanish fort and next to it is a splash area for little ones that features a full pirate ship for them to explore!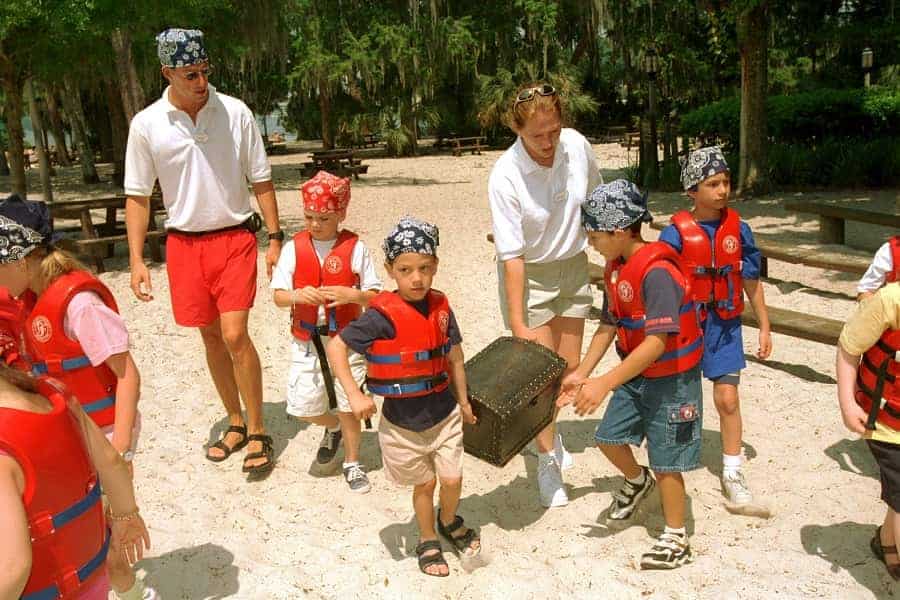 Caribbean Beach resort is one of the few resorts that offers a Pirate Adventure Cruise for kids 4-12.
The Islands of the Caribbean Pirate Cruise sets sail from Barefoot Bay Bike Works 3 times a week beginning at 9:30am.
Kids can set sail with Disney cast members on a 2 hour journey that will take them to different ports of call (resort marinas) in search of treasure.
At the final port of call, kids split up the pirate booty, as they enjoy a snack (goldfish crackers or pretzels) and a drink (water or a juice box).
The cost for the trip is $39-$49 per person and reservations can be made by calling (407) WDW-PLAY
What can I say, Caribbean Beach Resort is certainly a pirate paradise! If you are looking for the perfect resort for someone who loves pirates, Disney's Caribbean Beach is where you need to stay!
Have you stayed in the Pirate rooms? What did you think?