Just in time for Halloween, Disney World is showing off some of their most yummy and ghoulish desserts. These Disney Halloween treats are available for a limited time during September & October at Magic Kingdom.
Special Limited Edition Halloween Treats at Magic Kingdom:
Golden Oak Outpost
Apple Ginger Dale – Frozen apple cider with ginger ale & topped with whipped cream and TWIX cookies bits.
Mocha Chocolate Chip – Frozen mocha slush that is topped with whipped cream, chocolate chips, and a sugary acorn.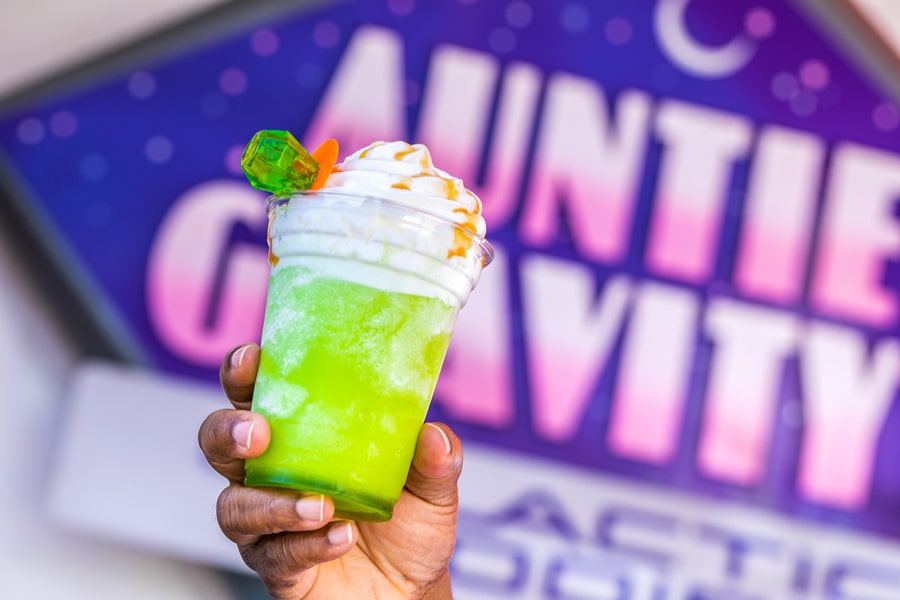 Auntie Gravity's Galactic Goodies
Prince John Sucker – Green apple lemonade slushie topped with whipped cream and an apple ring pop.
Storybook Treats
Five Dozen Egg Slush – Frozen custard with brown sugar & whipped cream, topped with a cinnamon stick.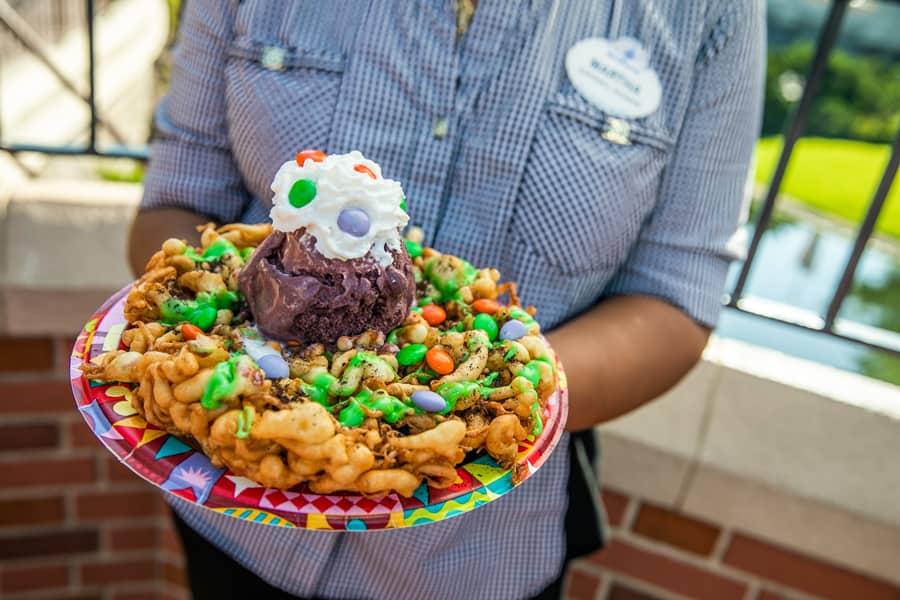 Sleepy Hollow Inn
Foolish Mortal Funnel Cake – Custom Funnel cake topped with chocolate cookie crumbles, purple ice cream (vanilla), caramel drizzle, and M&M's.
Main Street Outdoor Vending Carts
Maleficent Churro – Churros covered in chocolate cookie crumble drizzled with purple icing topped with green and purple sugar.
Other Various Halloween Treats found throughout the Magic Kingdom
Candy Apples. You can find Disney Halloween themed candy apples at the Confectionery on Main Street USA and at the Circus Big Top tent in Fantasyland.
Bagged Halloween Candy. This candy corn is great to snack on during the parade or to take back home as a reminder of your vacation.
Mickey Mouse jack-o-lantern Cookies. You will find a ton of different Halloween cookies at the confectionary or prepackaged at various stores throughout Magic Kingdom. We just love the look of these in the shape of Mickey Jack-o-lanterns.
Disney Halloween Popcorn Buckets
Oogie Boogie Premium Popcorn Bucket
Mickey Pumpkin Premium Popcorn Bucket
Halloween Base Popcorn Bucket
Hitchhiking Ghost Premium Popcorn Bucket
What is your favorite Halloween Treat at Magic Kingdom?