(We may earn a commission via affiliate links in this post. Read our full disclosure policy.)
Having a Disney Visa Card certainly has its benefits. You get to earn points to use on your Disney vacation, you get first bookings during special promotions like free Disney dining weeks, and you save a percent of your purchases at Disney Store and certain restaurants on Disney property.
One of these is the secret Kylo Ren Meet and Greet at Hollywood Studios for Disney Chase Visa customers.
While anyone can stand in lines to meet Kylo Ren & Chewbacca, there is another line just for Disney Visa Card holders that will get you to Kylo Ren a whole lot faster. In fact, we had NO wait whatsoever!
The key is to know where this line is because it is TOTALLY HIDDEN.
If you ask a cast member, they will tell you, but it is not easy to find! It is not even in the pamphlet. The best hint I can tell you is to look for the plaque next to a side entrance away from the other character meet & greet areas.
Part of this Disney Visa Card perk is that you'll receive complimentary downloads of photos from your encounter.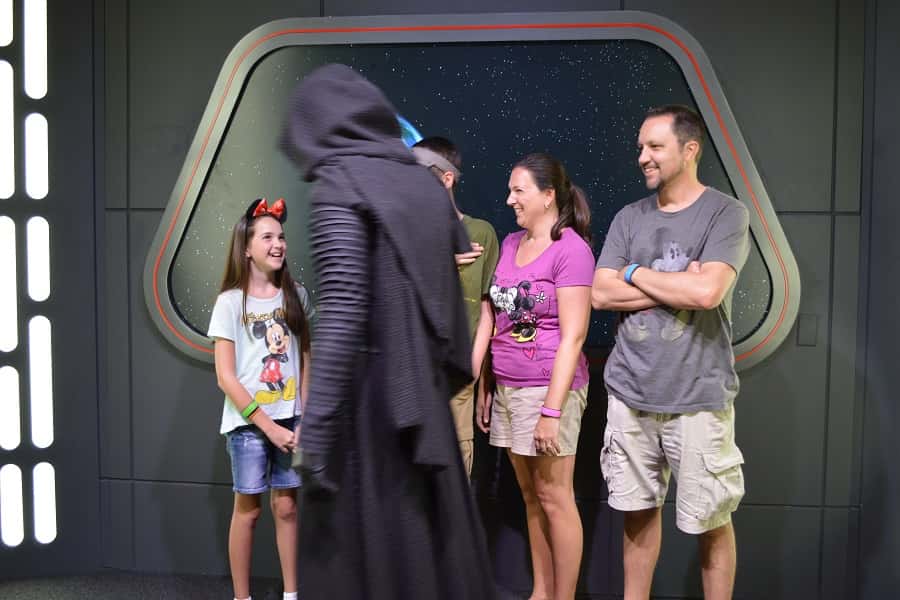 If you have small kids who frighten easily, be aware that Kylo Ren will talk to you and is fully in character.
Remember, even if you have your Disney Visa Card linked to a MagicBand, you still need to present your Disney Visa Card at the Cardmember Character Experience locations.
Have you taken advantage of the Kylo Ren Meet and Greet at Hollywood Studios using your Disney Visa card?