(Note: The links in this post are affiliate links, and we will be compensated when you make a purchase by clicking through our links. Read our disclosure policy here.)
Dining at Be Our Guest is very popular because it gives you a one of a kind experience of dining inside Beast's Castle. While meals for the Be Our Guest Breakfast, Lunch & Dinner are wonderful, it is the full experience that makes this restaurant so special.
Inside Be Our Guest Restaurant
As you approach the entrance to Be Our Guest, you will walk over a beautifully decorated bridge that features some of the most gruesome gargoyles you've ever seen.
These sculptures are so realistic that you feel like they could move at any moment!
Don't rush into the restaurant.
Take time to look up, down and around.
There are so many beautifully designed details that take you back into the story of Beauty and the Beast.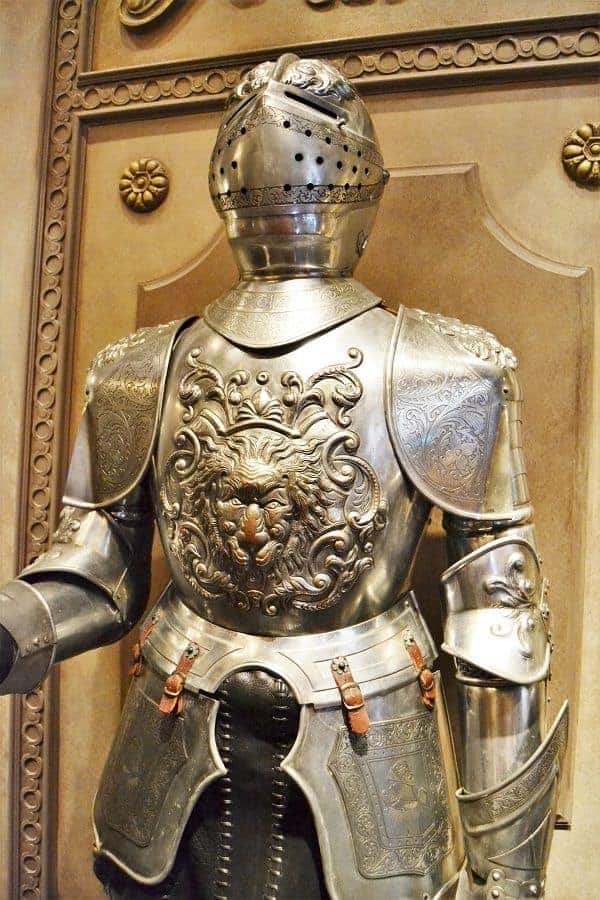 As you come upon the knights in armor, be sure to listen carefully. Some are sleeping and some are having conversations.
It is worth standing a few more minutes in line to experience this!
If you are dining at Be Our Guest for breakfast or lunch, you will be using the Quick Service dining option.
First, you will be escorted into the front hall where you will be given a magical rose and allowed to place your order via a kiosk.
There is no pressure to make a quick decision.
You can take as long as you would like to choose your menu options.
After your are done selecting your meals, someone will help you use your rose to finish placing the order.
This rose is quite magical as once you find a seat, your meal will be brought straight to your location!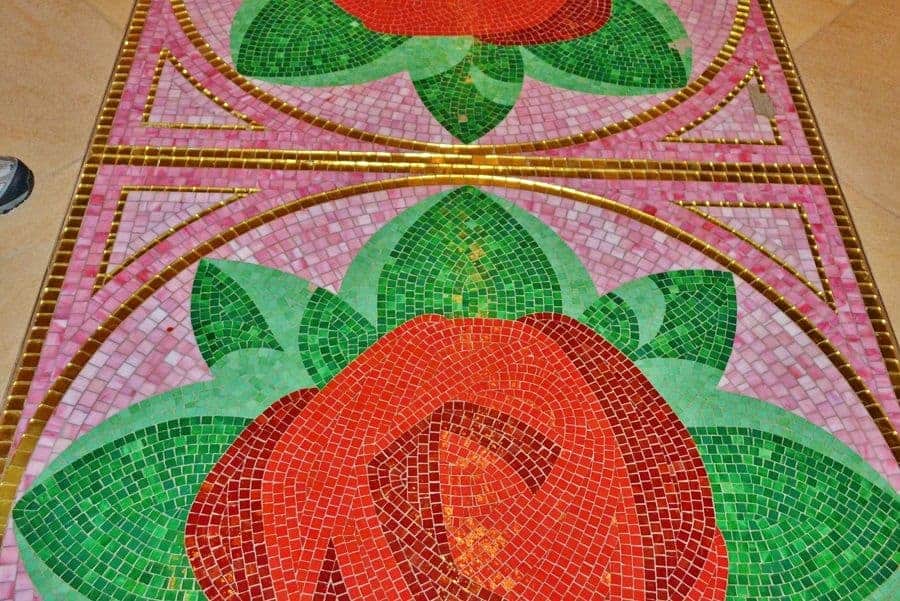 While you are dining at Be Our Guest, take time to notice all the ways that roses are incorporated into the design of the restaurant.
Not only will you find them on the ceiling, they can be spotted on the floor too.
One fun activity to keep kids busy if you have to wait in line or for your food is to count how many different roses they can spot!
When you are ready to sit down, you will have your choice of three dining locations based upon availability.
Each area is a little different and you may have a hard time deciding which one to dine in.
Be Our Guest Dining Rooms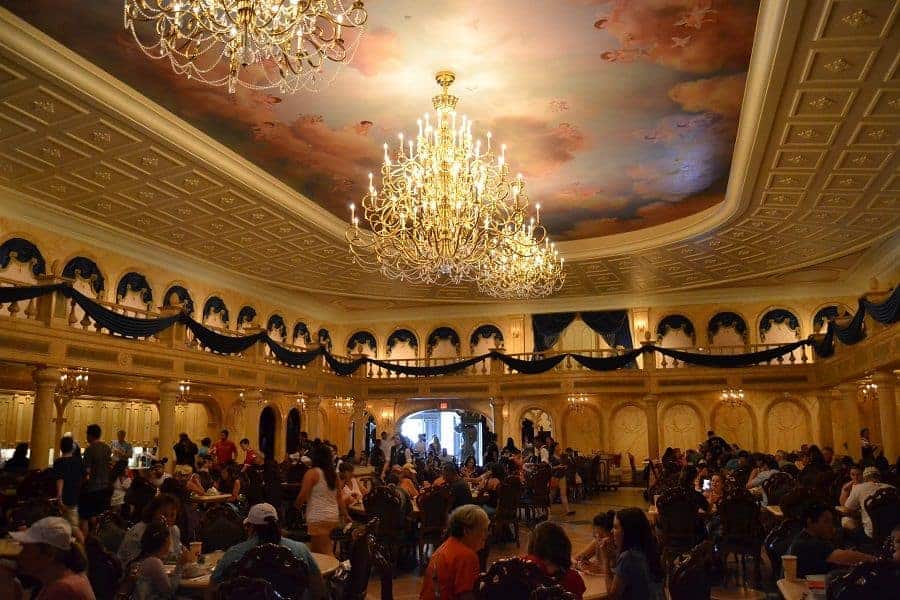 Grand Ballroom
The main area is the Grand Ballroom. It is magnificent. Here you will find an enormous chandelier and cherubs on the ceiling.
If you sit near the large windows, you will even be able to see snow falling!
West Wing
The Beast's West Wing features a fireplace with a picture of the former prince as well as the enchanted rose encased in glass.
This room is on the dark side (both literally and figuratively) and has sound effects to match!
If your kids are easily spooked or frightened by noise, you might want to sit elsewhere.
Rose Gallery
In the center of the Rose Gallery you will find a figure of Belle & the Beast dancing.
As the music plays in the room, that statue will turn.
There are beautiful hand-painted tapestries and pictures from the movie that decorate the walls. This is probably my favorite place to sit.
After you have found your seat, your Magic Rose will send out a signal to let the server know that you are ready to dine.
You can feel free to roam about, grab your silverware and prepare your own drink at the drink station.
Once your meal is ready, your server will arrive with a cart containing your food. You will dine just like a true guest, on fine china and use real flatware!
Be Our Guest Breakfast, Lunch or Dinner Options
Be our Guest Breakfast
Be Our Guest is open for breakfast from 8-10 am and has a set pricing menu.
While the menu is set price, you will have options to choose from including a traditional American breakfast.
This is what you will find available:
Feast a la Gaston: Scrambled Eggs, Herb-Roasted Potatoes, Apple Smoked Bacon, and Sausage served with Fresh Fruit and a selection of pastries.
Open-Faced Bacon and Egg Sandwich: Poached Eggs, Applewood Bacon, Brie Cheese, and Arugula on a Croissant served with Fresh Fruit and a selection of pastries.
Scrambled Egg Whites: Scrambled Egg Whites with Roasted Tomatoes, Chicken Apple Sausage, Fresh Fruit, and a selection of pastries.
Croissant Doughnut: Fried Doughnut topped with Banana-Caramel Sauce, Pastry Crème, and Chocolate Ganache served with fresh Fruit and a selection of pastries
Assorted Meats & Cheeses: Alpine-smoked Ham, Serrano Ham, Sopressata, and Cheese with Marmalade, Fresh Fruit, Toasted Baguette, and a selection of pastries.
Croque Madame: Open-faced Ham Sandwich topped with a Fried Egg, Gruyere Cheese, and Béchamel served with Fresh Fruit and a selection of pastries.
Vegetable Quiche: Mushroom, Zucchini, Bell Pepper, Onion and Chive Quiche served with Fresh Fruit and a selection of pastries
Cost for the Be Our Guest Breakfast is $28 for adults, $15 for children under 10. If you are dining on the Disney Dining Plan, you can use your quick service credit for your meal.
Be Our Guest Lunch
Lunch is served from 11-2:30 pm and is considered quick service.
If you are dining on the Disney Dining Plan, you can use your quick service credit for your meal.
Lunch is my favorite way to experience Be Our Guest because it is the only time of the day when you can order a la carte and meals are quite affordable.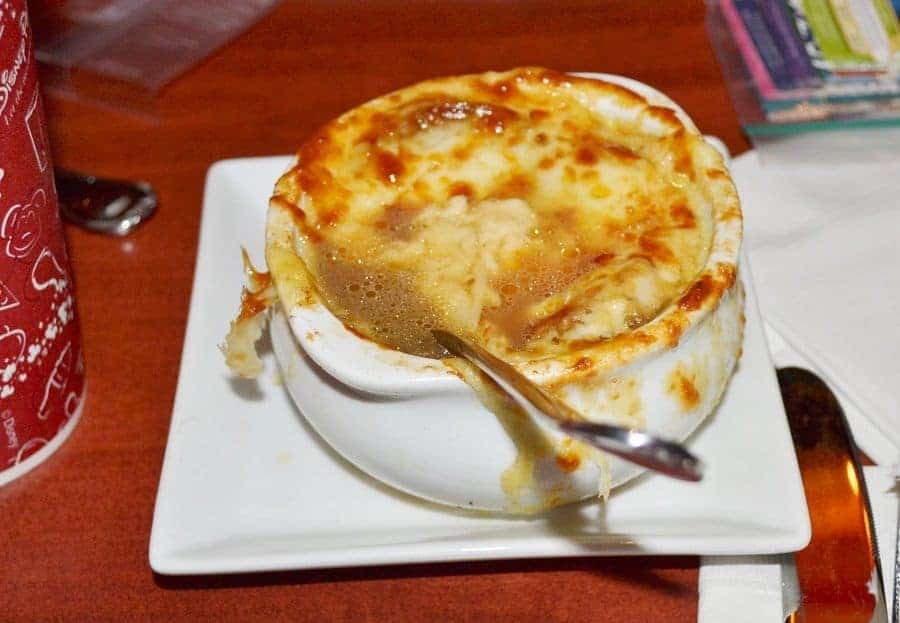 We've had both the French Onion Soup and Braised Pork (Coq Au Vin Style). Both are delicious!
Those that have a Be Our Guest breakfast or lunch reservation can also take advantage of order-ahead dining where you pre-order your meals online (up to 30 days in advance).
Be Our Guest Dinner
Be Our Guest turns into a table service restaurant from 4-9:30.
This means that you won't stop at the kiosk station to place your order like you do for the Be Our Guest breakfast or lunch.
You will immediately be seated by a server and place your order with them.
The menu allows you to choose one appetizer, one main entree and one dessert.
There are 6 entrees to choose from:
Roasted Pork Tenderloin
Spice-dusted Lamb Chops
Saffron-infused Seafood Bouillabaisse
Smoked Ricotta and Corn Tortellini
Center-cut Filet Mignon
Poulet Rouge Chicken
No meal is complete without dessert!
And as the song goes, "Try the Gray Stuff, it's delicious!" The Master's Cupcake is available at the Be Our Guest breakfast, lunch and dinner and it is the signature dessert.
It is made of Chocolate Sponge Cake and topped with Lumiere's special "Grey Stuff."
If you are dining on the Disney Dining Plan, be prepared to use a Table Credit for this meal.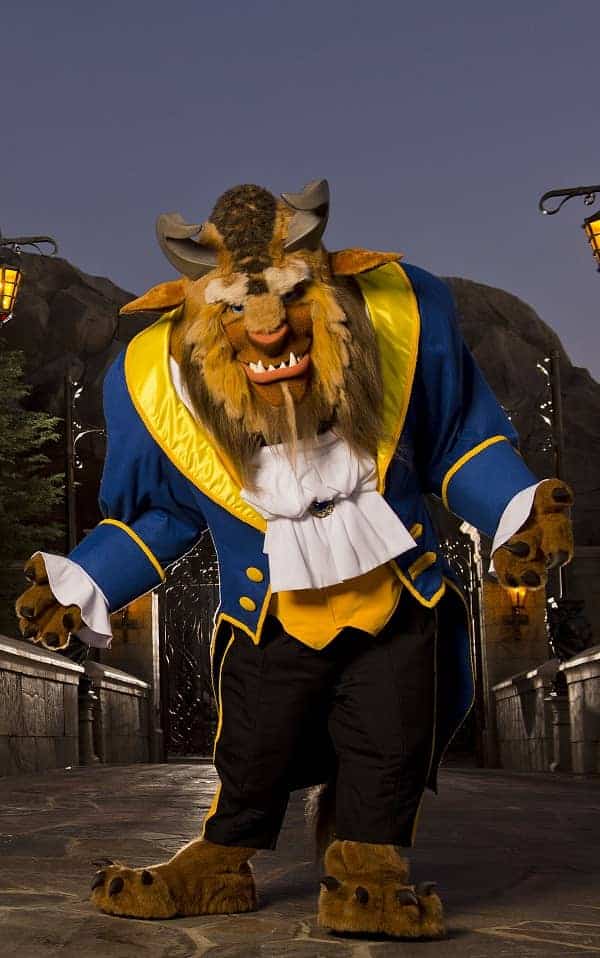 What makes dinner a bit more special (and deserving of the price) is that you will get to see Beast.
He makes an entrance around the start of dinner and then stays for a meet and greet as you leave the restaurant.
Looking for Belle? She isn't here.
You will find her at Enchanted Tales with Belle and in Epcot's France Pavilion.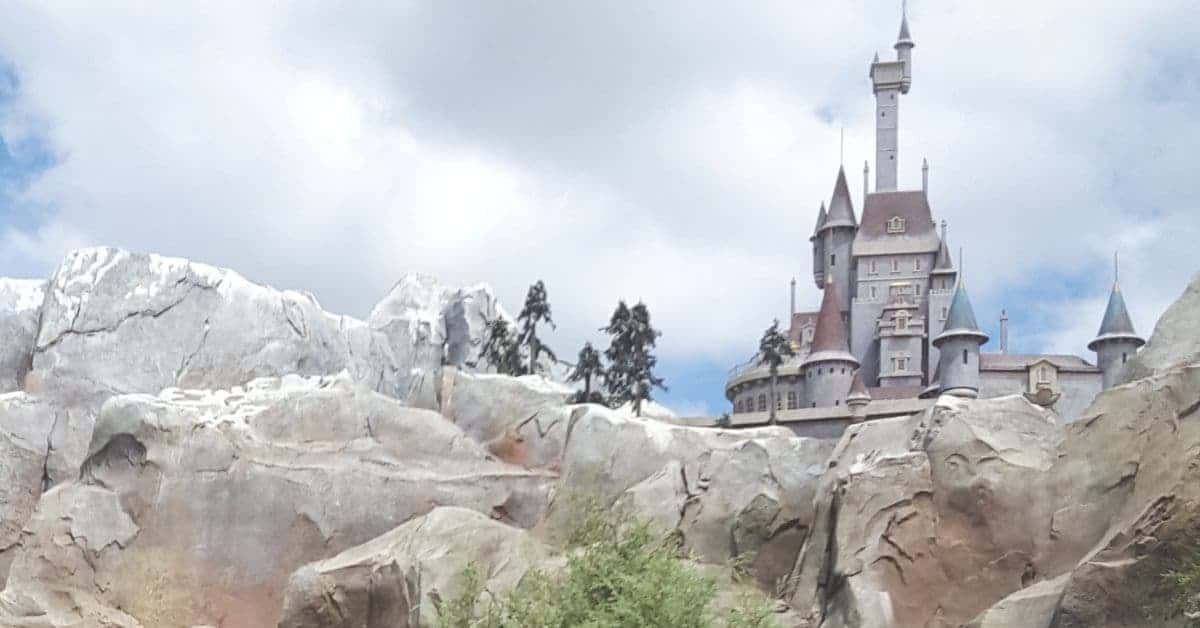 No matter which type of meal you choose to experience while dining at Be Our Guest, I have no doubt that you will enjoy your time there. Just be sure to book your reservation in advance!
How to Get Be Our Guest Reservations
One of the most difficult dining reservation to get in Magic Kingdom is Be Our Guest.
If you don't make a reservation in advance, chances are you will be waiting hours to get in or miss out getting the chance to eat there completely.
One of the perks to staying at Disney World Resorts is that you can book your dining reservations early.
You can make Be Our Guest Reservations 180 days before the start of your trip.
While you can make your Be Our Guest reservations the first day or your trip, you are going to be best served to book it for later in your trip.
This is because that is just a few days out from 180 days, giving you a better chance of getting the exact meal at Be Our Guest that you want!
Also know that you can book several Be Our Guest reservations for your stay. You are not limited to one.
Why would you want to book multiple Be Our Guest reservations?
When you book your dining reservations, you might not know which day you will be at the park or what time your fastpasses will be while in Magic Kingdom.
Booking several times will give you options that you can narrow down once you have decided on how you are going to be spending your day at Magic Kingdom.
You will just need to make sure you cancel the reservations you don't want as soon as you have your day at Magic Kingdom figured out.
Have you dined at Be Our Guest Restaurant? What was your favorite part?