When going to Disney one of the things that can really make your trip special is custom Disney shirts. They are just one of those small things that can really bring some extra magic to your Disney trip. We love them and have come up with our 10 favorite Disney family shirts to share.
If you've traveled to Disney before, you probably have seen families wearing matching shirts either all the same color or with their family name.
Custom Disney shirts are a great item to keep track of your large group in crowds while also showcasing your love for Disney.
These shirts come in a variety of styles and graphics and if you are considering getting custom shirts for Disney, you will want to make sure that you plan in advance.
Where can you find custom Disney Shirts?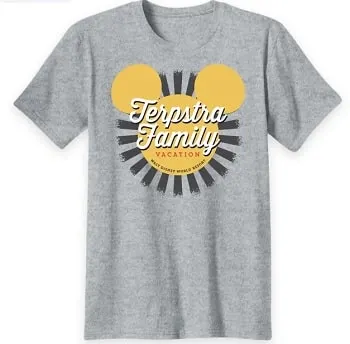 Shop Disney
The first place you might want to check for custom Disney family shirts is ShopDisney. They have a selection of tops for the whole family that features both Disney & Star Wars logos printed with your last name.
While the selection is not vast, they do have quality shirts that will showcase your family's name.
Etsy
The best place to buy matching Disney Shirts is on Etsy. There are many different designs from shirts with images of Mickey Mouse and Friends to tops with the iconic Disney World & Disneyland Castle.
You can also find Custom Disney Shirts with Star Wars options which are going to be great to wear to Star Wars Galaxy Edge!
Many people choose to customize the shirts with your family name and year of your Disney vacation.
No matter which style you choose, make sure that you order your shirts well in advance of your trip. We suggest at least having a two-month window.
This will allow you time to get the shirts in advance of your trip, try them on, and then make any adjustments you might need to do prior to your trip!
Do you wear matching Disney shirts when you go to the parks?