If you have ever had the cinnamon sugar almonds at Blizzard Beach or Typhoon Lagoon, you know how addictive they can be. You might start by just popping a couple in your mouth, but after a few, you'll be grabbing them by the handful.
I looked high & low for the exact candy almond recipe Disney uses but never could find one that seemed to have the same taste.
After doing a few experiments with recipes, I feel like I have perfected a recipe for candied almonds that taste just like the ones you find at Blizzard Beach.
They are very easy to make and taste amazing!
The added benefit is that when you make these, your entire house will smell like this cinnamon goodness!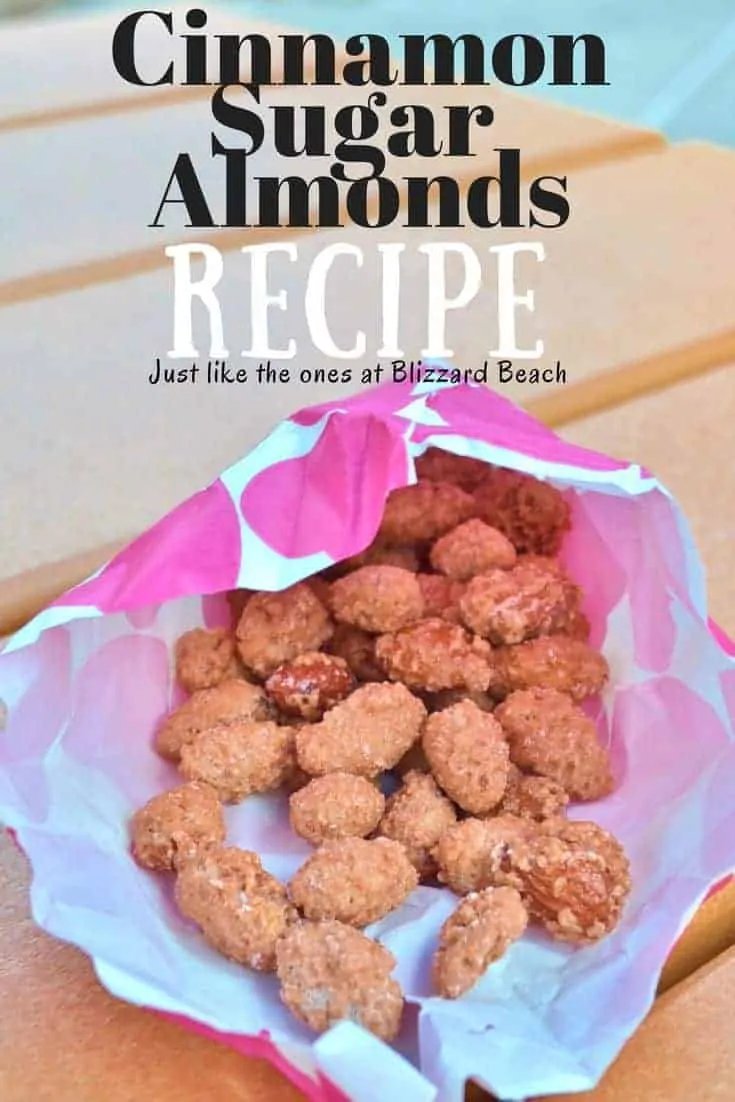 This is such a super easy crock pot recipe and one you can use over and over again and can be used with more than just almonds.
Simply substitute your favorite nuts to make other versions like candied pecans or peanuts!
Giving Candied Almonds as Gifts
We love to give Cinnamon Sugared Almonds as gifts during the holidays, to teachers during Teacher Appreciation Week, and as housewarming gifts.
Simply place some wax paper inside a small treat box and you have a gift that will be appreciated because it was something you took the time to make from scratch.
Just be advised that these should not be given to anyone who has or shares a house with anyone with nut allergies.
Have you had the Cinnamon & Sugar Almonds at Disney? If not, be sure to make these delicious treats and try them for yourself!