(Note: The links in this post are affiliate links, and we will be compensated when you make a purchase by clicking through our links. Read our disclosure policy here.)
While at Disney World this holiday season, be sure to take the monorail over to the Contemporary Resort to see the Cinderella Gingerbread Display on the fourth floor. This gingerbread display recreates Cinderella's castle in the style of Mary Blair on a backdrop that is inspired by "it's a small world."
You'll find enormous gingerbread cookies of Cinderella and Prince Charming standing in front of Cinderella's Castle. It's hard to believe that the entire display is edible! There are so many details from the Christmas trees to the decorations on them.
But if you look ever-so-closely, you will notice that there are several hidden Mickeys (17 to be exact) on the display! As you can see above, some are easier to spot than others. You should be able to spot them all if you look carefully enough.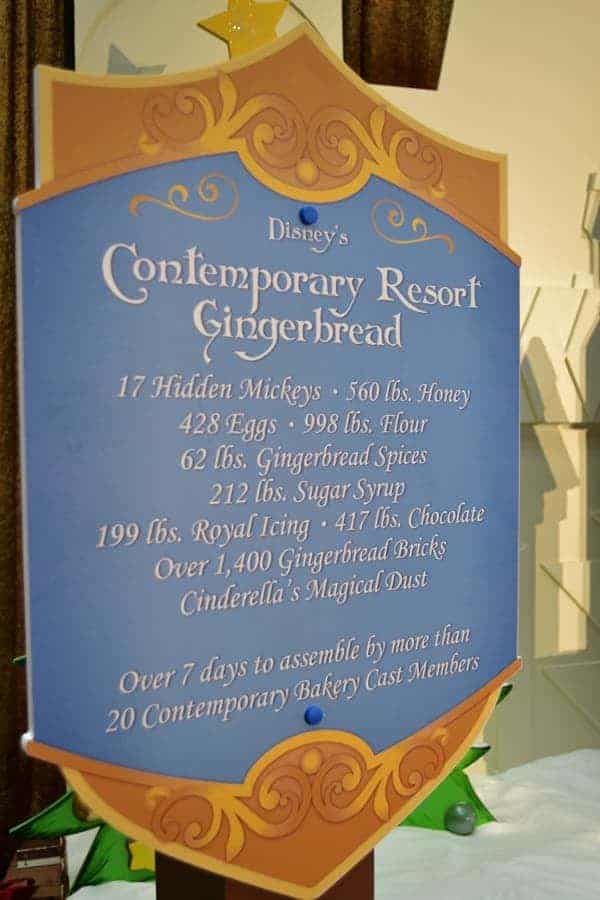 Wondering how this Cinderella Gingerbread display was created? Well, it took 20 Contemporary Bakers and seven days to complete!
Cinderella Gingerbread display Ingredients:
560 lbs of honey
998 cups flour
428 eggs
62 lbs. gingerbread spices
212 lbs. sugar syrup
199 lbs. icing
417 lbs. chocolate
1,400 gingerbread bricks
17 hidden Mickey's
Cinderella's special dust
Right beside the Cinderella Gingerbread Display is a stand where you can buy all different types of Christmas goodies and gifts. There are holiday pins, cookbooks, cookie mix and the absolutely cutest holiday tray ever featuring Minnie & Mickey!
Here is a sampling of the treats you will find:
Linzer Cookies
Chocolate Peppermint Cookies
Gingerbread Men
Christmas Tree Cookies
Gingerbread Gelato
Candy Cane Gelato
Frozen Apple Cider
Frozen Hot Chocolate
Remember, you don't need to stay at the Contemporary Resort to see the Cinderella Gingerbread Display! Just hop on the monorail at the gates of the Magic Kingdom!
While you are at it, be sure to visit The Grand Floridian to see the amazing Gingerbread House and enormous Christmas tree in the lobby!
Have you taken in the holiday magic at Disney resorts? What is your favorite?