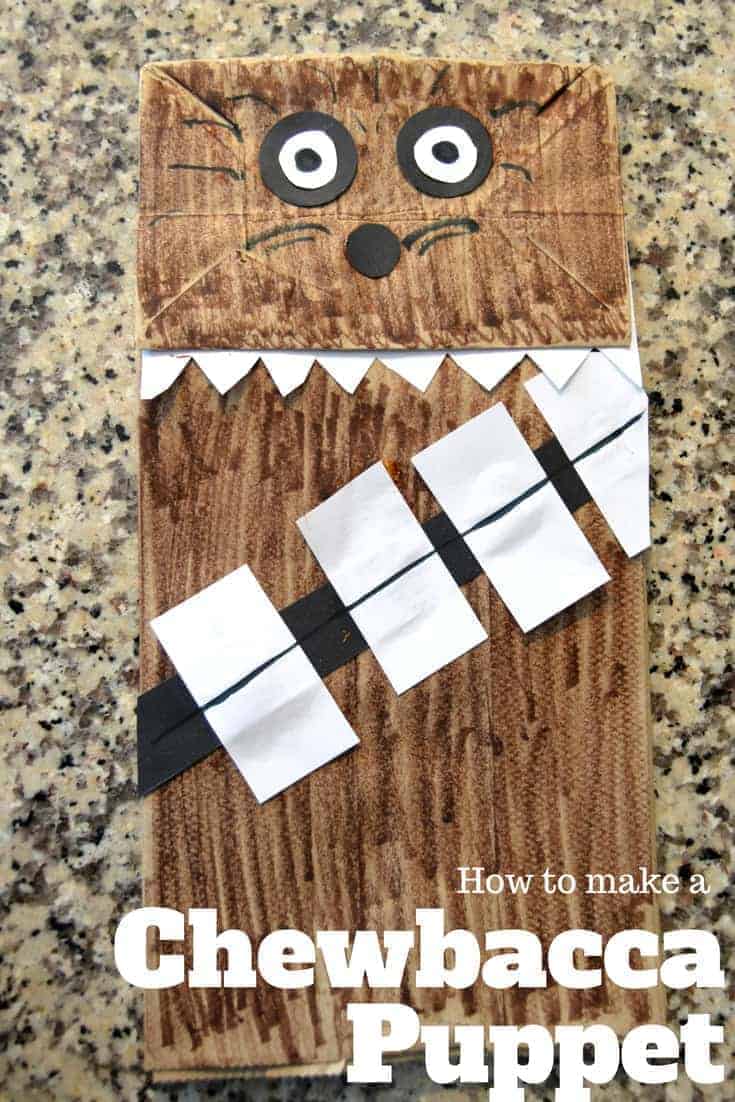 May the 4th be with you! Yes, it is that time of year when we celebrate all things Star Wars.
If you can't be at Hollywood Studios celebrating over at Star Wars Launch Bay, you can do this cool Star Wars craft instead!
It is a Chewbacca Puppet Craft that your young Star Wars fan can create in your house with supplies you probably already have on hand!
What you need to make your Chewbacca Puppet Craft:
1 brown paper bag
1 sheet of black cardstock/construction paper
1 sheet of white cardstock/construction paper
pair of scissors (if you have a circle punch great, if not, that's okay)
glue
Few markers (black & brown, and maybe red)
If you are working with little ones who have a hard time manipulating scissors or larger groups of children, you may want to go ahead and pre-cut the paper as I have done in the supplies photo above.
Step One:
Cut out all the pieces for your Chewbacca. You will need Eyes, nose, teeth and utility belt.
Step Two:
Color Chewbacca. He is brown and furry. Encourage children to color in an up & down motion instead of in circles. If you have variations of brown markers, this would be a great time to use them!
Step Three:
Cut some jagged teeth and add them to the underside of the mouth.. If they want to create a tongue inside the mouth, that is another option.
Step Four:
Add eyes, nose and draw in whiskers with marker. If you have googly eyes, you can use them!
Step Five:
Glue on Chewbacca's utility belt. You may have to trim the belt since it is place on an angle. Draw a line through the belt to create a division.
And there you have it! An easy craft for you and your little Star Wars fan to create to celebrate May the 4th!