Those taking a Disney World vacation and planning on using the Disney Fastpass system might be struggling with determining the best fastpasses for Magic Kingdom. Your choice of Fastpasses will really depend on the ages of your children and the types of experiences you want to have.
If you are unfamiliar with Disney Fastpass system, it is a way for park guests to skip the lines for some of it's more popular rides and attractions.
List of Magic Kingdom FastPass Rides & Attractions
Ariel's Grotto
The Barnstormer
Big Thunder Mountain Railroad
Buzz Lightyear's Space Ranger Spin
Dumbo the Flying Elephant
The Haunted Mansion
It's a Small World
Jungle Cruise
Mad Tea Party
The Magic Carpets of Aladdin
The Many Adventures of Winnie the Pooh
Mickey's PhilharMagic
Monsters, Inc. Laugh Floor
Peter Pan's Flight
Pirates of the Caribbean
Space Mountain
Splash Mountain
Tomorrowland Speedway
Town Square Theater Mickey Mouse Meet and Greet
When using the Disney Fastpass System, each person gets allotted three Disney Fastpasses to use per day.
After looking over this list, you are going to want to decide which rides and attractions are most important for your family to experience.
The great thing about Disney Fastpasses is that not everyone in your group has to choose the same Fastpass.
For example, if your daughter & wife really wants to meet Disney princesses at Fairytale Hall, but you and your son would rather ride Space Mountain, you can do that!
The key to getting the most for your Magic Kingdom Fastpass reservations is knowing which rides and attractions are the most popular.
If those in your party want to ride the more popular rides, you should try to get a Fastpass for them. Otherwise, you may spend 1-3 hours in line (per ride).
4 Best Fastpasses for Magic Kingdom
Seven Dwarfs Mine Train
Splash Mountain
Thunder Mountain Railroad
Space Mountain
If you are travelling to Magic Kingdom with small children and know that you won't be riding any of the above rides, then you might want to consider the following Magic Kingdom Fastpass Reservations for different rides that are more little kid friendly.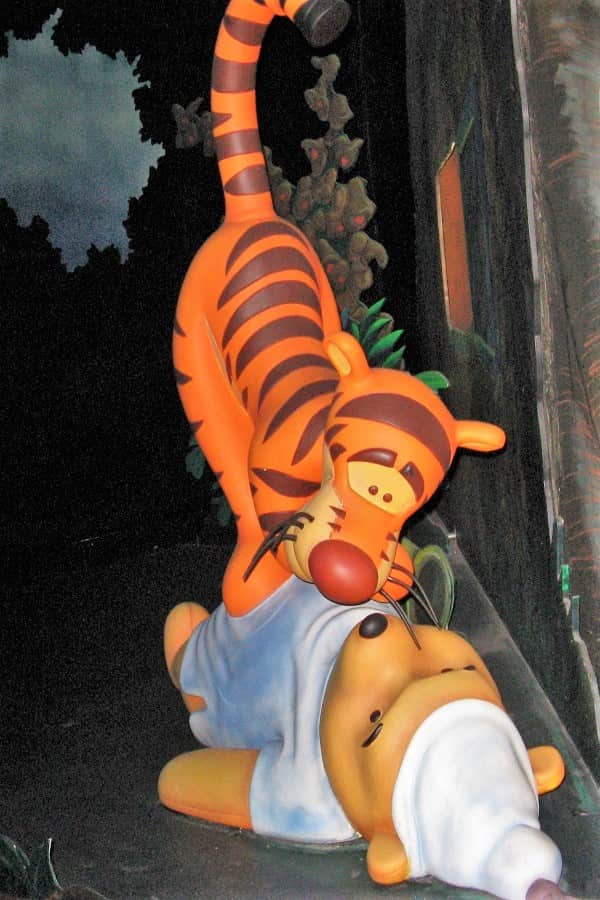 Best Fastpasses for Magic Kingdom when you are Traveling with Small Children
The Amazing Adventures of Winnie the Pooh
Peter Pan's Flight
Princess Fairytale Hall
Enchanted Tales with Belle
Magic Kingdom Fastpass Tips
Remember that if you are staying at a Disney resort, you can choose your Disney FastPasses 60 or more days before your trip. If you are staying off Disney property, you may make your FastPass selections up to 30 days in advance.
Typically, you can make your reservations as early as 7 am EST that morning.
I would suggest that you make your Magic Kingdom Fastpass reservations as soon as you have the opportunity! Magic Kingdom is the most popular of all four Disney World theme parks. This means that Fastpasses for Magic Kingdom go quickly.
Please understand that there are NO guarantees that you will get the Fastpass choices that you want.
So what happens if you don't get the one Magic Kingdom Fastpass that you really are hoping to get? There are some things you can do.
Keep checking back into the My Disney Experience app prior to your trip to see if it becomes available as people do cancel and change reservations all the time.
Make sure that you go straight to that ride as soon as you get to the park! You still might wait in a line, but it won't be as bad as it will be if you wait later in the day.
Use your first three Fastpasses and then check to see if you can book a fourth for the ride you are hoping to get. Remember, you can book using the My Disney Experience app or at a Magic Kingdom Fastpass Kiosk.
If all else fails, you will need to wait in the line for that ride. To avoid the longest lines, try to plan to get in line for the ride during the parade or at the end of the evening. Those tend to be the best times to try to ride the hard to get Magic Kingdom Fastpass rides and attractions.
What do you think are the Best Fastpasses for Magic Kingdom?