Special thanks to Rhiannon, who is guest posting about Disneyland in California. Rhiannon is a part time traveler with a love for exploring as much of the world as she can. She has always loved all things Disney, and hopes to one day visit all of the Disney parks around the world! Please take some time to visit her at rhiannontravels.com.
Anaheim is home to the Happiest Place on Earth: Disneyland! If you haven't yet had the chance to visit, I'm sure you've seen photos and watched movies or TV shows that are filmed at Disneyland in California.
It's a pretty spectacular place, with an endless amount of awesome rides, restaurants, souvenirs and Disney characters to meet! I've been lucky enough to have visited Disneyland Anaheim quite a few times now, and no matter how often I visit, it's always just as enjoyable. It's impossible to be anything but happy at Disneyland!
Disneyland in California was the first Disney park to open its doors in July 1955.
As of right now, there are 8 themed 'lands' within Disneyland Anaheim, each of them representing something unique and drawing in crowds of all ages.
Originally when Disneyland opened in 1955, there were only 5 lands: Main Street USA, Adventureland, Frontierland, Fantasyland and Tomorrowland. Since then, New Orleans Square, Critter Country and Mickey's Toontown have been added!
What to see & do at Disneyland Anaheim
MAIN STREET USA
This is where you shopping lovers will spend most of your time! Main Street USA is filled with souvenir shops (selling clothes, magnets, toys, food and more), restaurants and plenty of quick snack stalls to satisfy any craving (i.e the best Disneyland snack of all time: churros)
The main attraction of Main Street USA at Disneyland in California is Sleeping Beauty's Castle. You can see the castle almost as soon as you walk through the gate at Disneyland. It's a great place for photos, too. So have your camera ready and take some snaps before you get swept up in the magic of Disneyland!
If you're interested in the history of Walt Disney and Disneyland itself, there are some museums and stores right near the entrance. So put some time aside to check those out, and learn more about Disney's history.
ADVENTURELAND
Adventureland is one of the best decorated lands in the park (in my opinion). It's made to make you feel as though you're in an exotic tropical jungle, and I definitely think they've succeeded with that!
Adventureland is also home to one of my favorite rides: Indiana Jones. Whether you're a fan of the movies or not, you won't want to miss this ride. Get in early and grab a Fast Pass*, because the lines can get pretty long – especially during summer and other busy times throughout the year (school holidays/vacations, Christmas, New Years Eve etc).
*But wait, what's a Fast Pass?!
Most of the main, bigger rides throughout Disneyland have Fast Passes available. Insert your park ticket into one of the Fast Pass machines located outside of each participating ride (not every single ride has a Fast Passes).
You'll then get another ticket with the ride name, date of your visit and a time bracket to come back later in the day.
Return during your allotted time, and you'll be able to breeze through the line and get on before anyone else, giving you more time to explore the park!
For the less adventurous type, hope in the Jungle Cruise boat and cruise around Adventureland! You'll be able to admire the amazing scenery and give your feet a rest at the same time! (There's a LOT of walking involved at Disneyland, but you'll be having far too much fun to worry about that!)
The Tiki Juice Bar is a perfect place to stop for a snack. Given that Adventureland was created to make you feel as though you're in the jungle, expect to see a lot of tropical juices on the menu. They're super refreshing and are a welcome treat on a hot, Californian summer day.
Each land has a few of their own themed shops, too. So in various places around Adventureland, you'll find some cool jungle souvenir and snack shops!
NEW ORLEANS SQUARE
New Orleans Square was created to resemble New Orleans in Louisiana. I've never been to the actual New Orleans before, but I'm imagining it to be pretty spot on!
There aren't really many attractions in New Orleans, which is a bit of a bummer. But if you're a fan of the Pirates of the Caribbean series, you'll be happy to know there's a pretty impressive themed ride!
The Haunted Mansion is another cool ride to check out before you move onto the next land! Don't worry, kids, it's not as scary as it looks.
If you're looking for a nice restaurant to have dinner in New Orleans Square, make a booking for Blue Bayou Restaurant. They serve Cajun-style food, with a cool atmosphere!
There are a ton of snack stores and souvenir shops to browse through as well!
FRONTIERLAND
Frontierland is Disneyland's western themed section of the park.
Big Thunder Railroad is my favorite ride in Frontierland. It's a wooden roller coaster that goes for quite a long time, and is actually pretty fast! I was definitely surprised the first time I rode it (at an age that I can actually remember). It doesn't necessarily look like it's anything special, but it's lots of fun!
The Mark Twain Riverboat is another relaxing option if you're not a fan of high-speed rides.
There are 3 other attractions in Frontierland: Frontierland Shootin' Arcade, Pirate's Lair on Tom Sawyer Island and Sailing Ship Columbia.
I have never eaten in Frontierland, but there are a couple of restaurants you could check out: The Golden Horseshoe Cafe and Stage Door Cafe.
Note: Just like with most lands within the park, try to eat at off-peak times. So if you're planning on having lunch at Disneyland in California, eat a little bit earlier or later than everyone else. There'll be less crowds and shorter lines at restaurants!
For some western style outfits and souvenirs, head to the themed shops within Frontierland. It's cool seeing all the different stores, decorated totally differently everywhere you go!
CRITTER COUNTRY
Critter Country is home to one of Disneyland's most popular rides – Splash Mountain!
Note: This is a semi-water ride, as you're going down a steep slope through water, in a log!
There are 2 other attractions in Critter Country: Davy Crockett Explorer Canoes and The Many Adventures of Winnie the Pooh.
You'll find some super cute themed restaurants in Critter Country. Hungry Bear Restaurant is very kid friendly, and has a ton of unique meals available.
The decorations and theme of Critter Country is awesome, and if you're looking for a slightly quieter area to visit in Disneyland, this is probably your best bet!
FANTASYLAND
Fantasyland is one of the original lands of Disneyland in California. Walking through Sleeping Beauty's Castle brings you to a world of fantasy and childhood stories.
The most popular (and best) attractions in Fantasyland are Dumbo the Flying Elephant and It's A Small World. Be prepared to have the song from It's A Small World stuck in your head for at least the next 6 months.
Peter Pan's Flight, Pinocchio's Daring Journey, Mad Tea Party and Matterhorn Bobsleds are some other awesome attractions in Fantasyland.
If you've got younger children, they'll love the King Arthur Carousel.
Being one of the major lands in Disneyland, there are a ton of restaurants and shops, selling a huge range of fantasy themed snacks, meals and souvenirs.
Fantasyland is one of the most photogenic lands, so make sure you bring along a fully charged camera! Prepare for a lot of color, nostalgia and childhood memories.
MICKEY'S TOONTOWN
Mickey's Toontown is made for children. Especially children who love Disney characters!
Toontown is home to Mickey Mouse, Minnie Mouse, Chip 'n Dale, Donald Duck and Goofy.
Various times throughout the day, the Disney characters will come out for photos and autographs, so keep an eye out or ask a Disneyland Team Member!
You can explore each of the characters' houses, and there are quite a few interactive games in most of them!
Mickey's Toontown doesn't have any thrill rides, which is why it's perfect for the kids. They'll love Gadget's Go Coaster and Roger Rabbit's Car Toon Spin though! I know I did!
Mickey's Toontown also doesn't have any fancy sit-down restaurants either. But there are a few cute places for a quick snack!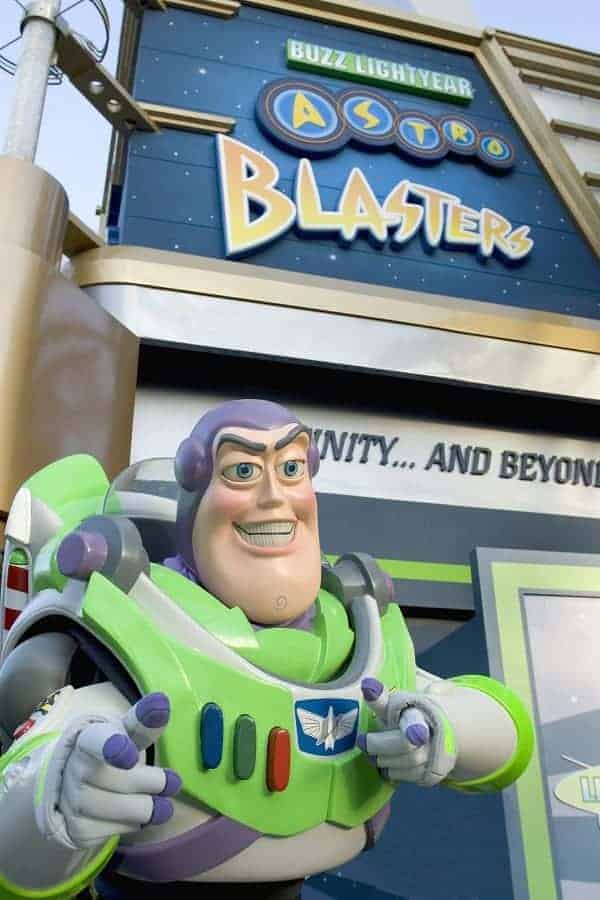 TOMORROWLAND
Tomorrowland is definitely my favorite area of Disneyland. Why? Space Mountain is my favourite ride of all time. Not only within Disneyland, but in general. I haven't yet come across a ride that is better than Space Mountain. It's THAT good.
For you Star Wars fans out there, Tomorrowland will be your own version of heaven. There are 3 main Star Wars themed attractions: Jedi Training Academy, Star Tours: The Adventure Continues and Star Wars Launch Bay.
Not to mention all the Star Wars themed stores in Tomorrowland. Yep, Disney's got you covered.
Other than the greatest ride of all time and Star Wars, there are 3 other attractions in Tomorrowland that you need to hit up: Astro Orbiter, Autopia and Buzz Lightyear's Astro Blasters (a super interactive ride which kids love!).
No matter your age, Disneyland in California has something for everyone, which is why it's such a popular place for visitors from all over the world. There are multiple Disney parks all over the world, but in my opinion, none compares to California's Disneyland. Make sure you visit at least once in your life. I promise, you'll have an incredible time. After all, it is the Happiest Place on Earth!
If you enjoyed this post, be sure to also check out Rhiannon's post on Tokyo Disneyland & Disney Sea.